nVidia's Scalable Link Interface (SLI), just three little words that until recently have separated top of the line graphics performance, and AMD and Intel platforms. With official support provided by nVIDIA's nForce4 SLI Intel Edition chipset, Pentium 4 users can at long last experience SLI goodness just like regular AMD users have all year long. But consider this, while most of the attention has been focused on nVIDIA's behemoth core logic chipsets, there are less expensive alternatives for Intel users on a budget looking to adopt SLI...
The legend goes, "Intel processors work best with Intel chipsets" and while we here at PCStats have been very impressed with what the nForce4 SLI Intel Edition can do, there are many die hard enthusiasts who would prefer the word "Intel" stamped on their motherboard chipsets. If you are one of those people, the upcoming Intel 975X is rumored to support both SLI and CrossFire. The only down side is the chipset will not be available till Q1 of 2006 so those who need a fix right now are out of luck, or are they?
Albatron is one of the more innovative motherboard manufacturers, and its team of engineers has actually figured out a way of running SLI on the budget Intel 915PL chipset! Albatron's method does not split the PCI Express bus evenly between videocards like a true SLI chipset does, but it's close enough and it works! We will get into how the 915PL is turned into an SLI chipset in just a moment.

Albatron Mars PX915SLI Motherboard



Includes:

Users Manual, Quick Install Guide, Ultra/133 IDE Cable, Floppy Cable, Serial ATA Cable, Molex to Serial ATA Power Cable, Driver CD, Rear I/O Bracket
Since the Albatron PX915SLI is based on the Intel 915PL chipset, the motherboard only supports Socket 775 Pentium 4 processors that run on a 533/800 MHz FSB. The two DIMM slots will handle a maximum of 2GB of PC3200 DDR RAM which will run in a dual channel configuration. There are not a lot of peripherals integrated directly onto the PCB in addition to the standard set of (4) SATA headers and USB jacks; really only 7.1-channel audio and 10/100 LAN. Users in need of more expansion functionality will have to turn to the two open 32 bit PCI slots. The retail price for the Albatron PX915SLI is just $105 CDN ($90 US) .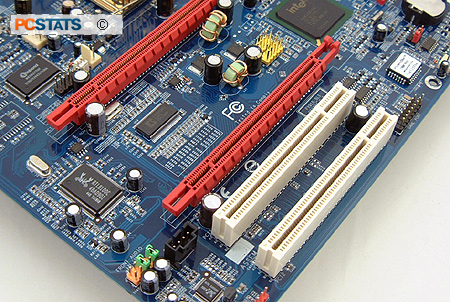 The Albatron PX915SLI motherboard is not quite full ATX size that should be good news for those who are thinking about upgrading a cramped case. In typical Albatron form, the motherboard is well labeled so novice users should have no problem navigating around the PCB during installation.
One thing I really like about Albatron is that it rounds the four corners of the motherboard. I do not know about you but I have a habit of scratching myself when installing motherboards into a case, I have got it down to a fine art. ;-)
As a hardware enthusiast, I am also happy to see that the two PCI Express x16 slots are physically farther apart than one single slot. This allows users to install larger after market heatsinks or water blocks without having to worrying too much about size.
Videocards like the GeForce 6800 Ultra, which by default uses a large heatsink, will also benefit from the increased space. The top card no longer has to suck the air directly off the back of the bottom card which should help lower its overall running temperature.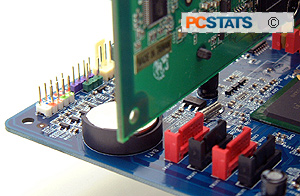 It is a bit surprising that the Albatron PX915SLI motherboard incorporates just two DDR DIMM slots, so we'd recommend installing at least a 512MB pair of DDR RAM. Another change we would have made would be adding a small passive heatsink to the Intel ICH6 Southbridge. It has a reputation of running hot.
Another big issue with the motherboard is that the first Serial ATA header is almost in line with the second PCI Express x16 slot and longer cards like the GeForce 7800GTX will definitely interfere with that Serial ATA channel/plug.
The Albatron PX915SLI is equipped with three brands of capacitors: KZG, G-Luxon and a brand identified with a M as its logo. The motherboard user manual is detailed, but seems a bit rushed. Novice users will definitely need guidance from more experienced users should problems arise.