There seems to be a revolution occuring in the design of motherboards, and longevity is its hallmark. Traditionally, computer hardware has not been very flexible with components from different generations. Completely new generations of components (videocards aside) usually require completely new supporting hardware to go along. Advances in processors, memory standards, and even expansion devices have all subsequent changes to the underlying motherboards which support them. Replacing a motherboard every 8-12months may be good for business, but it's not necessarily great for consumers who want to stretch their investments in technology as far as possible.
There are just a handful of motherboards on the market that support future and multi-platform processors and memory. More surprisingly perhaps is that these solutions are readily available to the entry level market. ECS was arguably first with its Intel & AMD honeymooning PF88 Extreme Hybrid motherboard, and it looks like a few other manufacturers are following similar lines. The ASRock 939Dual-SATA 2 motherboard we're testing here is a socket 939 AMD Athlon64 solution which incorporates a special slot for a daughter card that will in the near future support the upcoming Socket M2 AMD Athlon64 processor and its allotment of DDR-2 memory. Both the Socket M2 AMD processor and the necessary ASRock daughter card are not currently available, but the CPU is expected in Q2 of 2006 so the ASRock 939Dual-SATA2 is certainly forward-looking. Prior to this board, ASRock had released the ASRock K8 Combo-Z/ASR motherboard which supported both socket 754 and 939 AMD Athlon64 processors.
The decision by AMD to integrate a memory controller directly onto its Athlon64 CPU core long ago has netted the company serious performance gains, not to mention a healthy increase in its marketshare. One of the tradeoffs is that the K8 processor is not as flexible as the K7 before it - which is part of the cause behind all these socket changes that keep occuring. The Athlon64 processor which shortly be changing from its current 939-pin socket to a 940-pin socket in support of this upcoming shift to DDR-2 memory. The new M2 socket 940 is not interchangeable with current AMD Opteron 940-pin sockets, so expect plenty of complaints from consumers in the new year.

ASRock 939Dual-SATA2 Motherboard



Includes:

Motherboard Manual, Driver CD, Jumper Pin Remover, Ultra/133 IDE Cable, Floppy Cable, Serial ATA Cable, Molex to Serial ATA Power Cable, I/O Shield
ASRock takes the worry out of things with its new 939Dual-SATA2 motherboard. The motherboard boasts the ULi M1695 Northbridge (1 GHz 16/16 HTT connection to the CPU) and ULi M1567 Southbridge which support any current Socket 939 AMD Athlon64/FX/X2 processor. Its four 184-pin DIMM slots can accommodate up to 4GB of PC3200 DDR RAM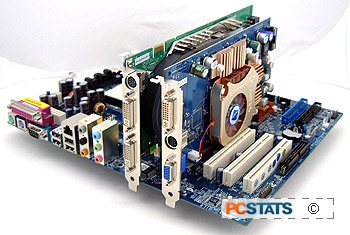 running in dual channel mode.
Onboard devices are a bit on the "thin" side however, with a Realtek 10/100 LAN and 7.1 channel audio being the most significant. There is also one open PCI Express x1 slot as well as three 32 bit PCI slots for future upgrading.
As you can see, the ASRock 939Dual-SATA2 motherboard has the added benefit of supporting both PCI Express x16 and AGP 4X/8X videocards. The two types of videocards can be used together for creating what ASRock term a "Surround Display Feature," though there is obviously no support for SLI between PCI Express and AGP graphics cards (in case you were wondering).
The board itself is pretty busy despite the conservative amount of integrated peripherals. It should also be noted that the ASRock 939Dual-SATA2 only accepts a 20 pin ATX power supply cable - so if you've upgraded to a 24-pin powersupply already be sure to hang onto that 24-to-20 pin adapter that shipped with the PSU.