Removable hard drive racks offer users an excellent option for moving large amounts of data around. With Serial ATA's ability to hot swap drives like SCSI; things really couldn't be better or easier for desktop users. Though, most removable hard drive racks on the market are quite an eye sore...
Finding a nice looking removable hard drive rack can be a little challenging, you'd figure with all the competition on the market manufacturers could visually differentiate themselves a bit better. Most of what's out there is beige, has a simple handle, perhaps a key lock and air grills for cooling. When one thinks about Vantec, they'd probably first think about cooling solutions. Lucky for the style obsessed, Vantec also make some cool-looking HDD accessories that don't scream geek circa 1982!
The Vantec EZ-Swap MRK200-ST-BK removable hard drive rack is actually based on a very old design, but damn this thing looks sweet. PCSTATS reviewed the IDE version back in 2002, it is a shame more manufacturers have not picked up on Vantec's lead by making these devices a little nicer to look at than this.
The Vantec EZ-Swap MRK200-ST-BK only comes in black, and it supports the Serial ATA I standard although Serial ATA II drives will function just fine in it at reduced maximum peak thoughput. The HDD caddy is made of aluminum which should help keep high speed drives a littler cooler than plastic would. There is also a small 40mm fan at the back of the unit which pulls a little air through the unit. On the front of the HDD caddy is blue-illuminated LCD that displays the ambient temperature and has a few simple temperature related alarm controls.

Vantec EZ-Swap MRK-200ST-BK

Includes:

Installation Guide, Screws, Keys, HDD LED indicator Cable



With a physical size of 14.8 x 42 x 23.5 cm, the Vantec EZ-Swap MRK200-ST-BK is longer than a standard CD-ROM, so make sure there is enough space inside the PC chassis before installing it. All mobile racks on the market have similar dimensions, and it is a good idea to plan out the install first if you're building an entirely new PC. You don't want to knock a capacitor off the motherboard because of the length of this device interferes with it!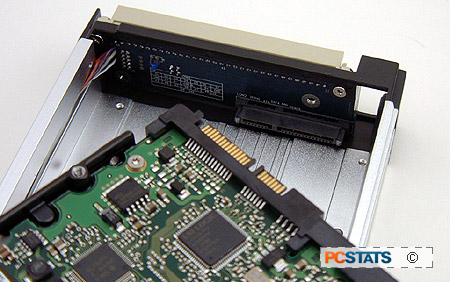 Vantec includes everything a user will need to set up the EZ-Swap MRK200-ST-BK, aside from a Serial ATA hard drive. The Installation Guide is thin, but detailed and to the point. It explains everything you'll need to get the removable rack functioning with an existing PC system and HDD.
The construction of the Vantec EZ-Swap MRK200-ST-BK is top notch, and the quality is definitely good. The aluminum has been acid dipped so it has a nice scratch-resistant anodized surface. There are no shap edges to cut fingers either.
There are not many features to adjust with the Vantec EZ-Swap MRK200-ST-BK, so it is dead easy to set up. The backplane PCB is labeled such that a user could potentially take apart the Vantec EZ Swap removable rack apart completely and use the parts for very cool case mod... ideas anyone?
One thing lacking with the Vantec EZ-swap is any sort of backwards compatibility with the companies' previous removable hard drive racks, or IDE units for that matter. We mention this just on the off chance that users may have this misinterpretation about the Vantec EZ-Swap MRK200-ST-BK's capabilities. It would be really great to have a caddy with an IDE to Serial ATA converter built in so one device could work with either standard, but that is not the case here. The SATA versions of the EZ-Swap cannot be used with the IDE bay, and vice versa.