If you are planning to build a HTPC, there are many motherboard with a dizzying array of options available to choose from. Most DIY'ers tend to want something small and inconspicuous, as the prospect of a full sized PC tower sitting next to a high definition television screen isn't very desirable. Yet, a microATX motherboard and case do fit in, generally with enough expansion space to handle just about any media task.
The Foxconn WinFast 761GXK8MC-S motherboard we're testing out in the course of this review is based upon a new chipset from SiS which has a couple media-friendly assets. The SiS 761GX chipset supports all current AMD Athlon64 or Sempron processors, in this case on the socket 754 formfactor. The SiS 761GX is an integrated chipset which features SiS' Mirage 1 graphics core, accessible through the analog video jack nestled into with all the other motherboard inputs/outputs. The SIS chipset is being positioned as a good alternative to the nVidia 6100 series IGPs which recently launched.
Elsewhere on the WinFast 761GXK8MC-S motherboard are two DDR memory sockets for up to a maximum of 2GB of PC3200 DDR memory. Onboard goodies are kind of thin outside of the integrated graphics, with just 10/100 LAN, SATA, and audio standing out. The microATX board includes one PCI Express x16 slot and three 32 bit PCI slots.

Foxconn WinFast 761GXK8MC-S Motherboard



Includes:

Quick Install Guide, Driver CD, Ultra/133 IDE Cable, Floppy Cable, Serial ATA Cable, I/O Shield
The Foxconn WinFast 761GXK8MC-S is laid out well, and the important jacks are all in user-friendly locations. The front panel I/O header is labeled, but most likely users will need to consult the quick installation guide when hooking it up.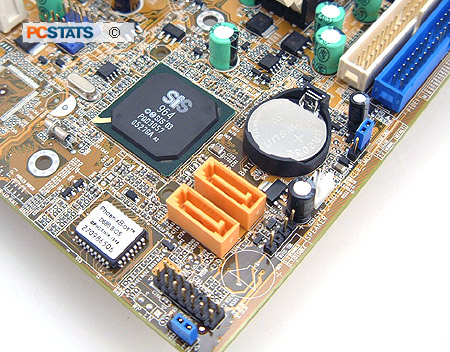 The board uses a 24-pin main ATX power connector, but is also fully able to function if a 20 pin PSU connector is used (it installs in the same place).
Surprisingly, the WinFast 761GXK8MC-S motherboard did not come with a user's manual...
The quick installation guide that was in the box was appropriately detailed to get a new user up and operating, but a motherboard without a manual is a little strange if this isn't just a one-off.
If you are building a computer for the first time, the quick installation guide covers all the steps from CPU and heatsink installation to BIOS options and header pin outs. It is written in 11 different languages too.
Bundled in accessories are limited to a set of IDE, SATA, FDD cables and I/O shield. Along with the CD full of motherboard drivers is a full copy of Norton Internet Security 2005. The subscription is good for 90 days...The capacitors found on the Foxconn WinFast 761GXK8MC-S are made by the brands: Leloa, RLX, G-Luxon, KZG and OST.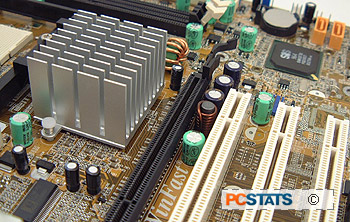 Passively cooled chipset, very quiet.
It's clear that the Foxconn WinFast 761GXK8MC-S is a budget-oriented motherboard, but it would have been nice if a couple of USB header brackets were included to take advantage of the headers on the board. The four rear USB ports are not enough alone for most users. Increasing the performance of the Foxconn WinFast 761GXK8MC motherboard is easy, and a little later on we have a tip on how to do just that. First though, let's run through the features of SiS' 761GX chipset.