The nVIDIA GeForce 7800GT core is constructed with the same 0.11 micron manufacturing process as the nVIDIA GeForce 7800GTX, and it includes the same 320 million transistor count. However, nVIDIA has slimmed it down a bit in terms of features. The 7800GT has seven vertex pipelines as opposed to the eight on the 7800GTX. Next and more importantly, pixel rendering pipelines have been cut down from 24 to 20 on the 7800GT. What this means is that clock for clock the GeForce 7800GT is at a disadvantage. These shortcomings would only really be noticeable at extremely high resolutions while running with a high level of anti aliasing and anisotropic filtering.
Aside from the hardware differences, the GeForce 7800GT GPU is also clocked slightly slower, 400 MHz compared to 430 MHz for the 7800GTX. The GDDR3 memory speeds GeForce 7800GT are also a bit tamer; 1 GHz compared to the 7800GTX's 1.2 GHz memory speed.
nVIDIA is hoping that the performance differences between both cards are large enough that the 7800GT does not cannibalize sales from the GeForce 7800GTX. If you recall this is what happened with the 6800GT/Ultra.
Realistically in the retail world, the GeForce 7800GTX costs about $449 while GeForce 7800GT cards can be had for closer to $359. When the GeForce 7800GTX first launched its price was $599 while the GeForce 7800GT's entry price was $449. Within a few months however, the prices have dropped quite considerably which shows nVIDIA is flexible with its prices.
experts tip: add a fan in sli to reduce temperatures
when running a sli setup, the top videocard will always run a little hotter than the card below. there are many cooling options a user can install to lower videocard temperatures, which is what we want to do here. one of the simplest options is to point a zalman fan mate arm and 80mm fan in the direction of the space between the videocards. a more 'ghetto' option would to connect an 80mm fan via zip ties or string to the higher Asus EN7800GT's support bar. The steady flow of air that fan will deliver should help to lower the overall temperature between the two SLI'd videocards. And that can reduce temperatures on that top videocard too.
Bundled software and video enhancements
Asus has a history of bundling loads of custom software with its videocards and the EN7800GT 2DHTV/256M/OSP/A videocard is no different. The package comes with a whole lot of custom software titles such as Asus's Splendid Video enhancing technology, GameLiveShow, GameReplay, GameFace Messenger and OnScreenDisplay.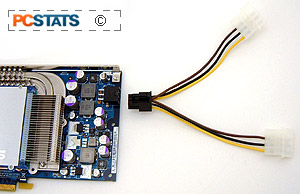 Splendid video enhancing technology automatically adjusts the image on the screen to be the most vibrant, be it looking at pictures or watching videos. Splendid has four settings: Enriched, Vivid Color, Theatre and Crystal Clear. The Enriched setting is for every day computing and it designed to make things easier on the eyes. Vivid Color enhances the hue and saturation of pictures which make them more lively. Theatre is designed to enhance a movie watching experience by softening up the contrast. Lastly, Crystal Clear is designed to enhance the contrast of darker pictures to show more details.
GameLiveShow allows users to stream live gaming online to others, this can be helpful for scouting clan matches of online games. Of course having a live video connection can eat up a lot of bandwidth so only those with very fast connections should really consider utilizing this feature. GameReplay saves games in MPG4 video files and allow users to review and watch movies of prerecorded games. This can be a very useful teaching or scouting tool for gamers or for posting your own "pwn video " for your friends to marvel over.
GameFace Messenger allows users to communicate to each other during games via voice and webcam. We tested this feature back when we reviewed the Asus V9999 Gamer Edition videocard and as you can see, it works quite well. Finally OnScreenDisplay, allows users to adjust screen settings without having to exit the game.