Did you ever notice that consumers seem to get a better deal when nVIDIA is leading the videocard market? When ATi is kicking Geforce's butt, its prices remain kind of stagnant. Looking back to the last time that occurred, there were good value videocards from both companies (such as the Radeon X800 XL and GeForce 6600GT), but prices didn't change much from when the Radeon X800XL first came out to six months after the fact. When the GeForce 7800GTX was introduced it carried a MSRP of $599 US. Now several months later it is now available for $100 US less than MSRP, as would be expected.
The nVIDIA GeForce 7800GT vs. ATi Radeon X1800 XL standoff looks like it is shaping up to be a pretty titanic battle, but which card will triumph is up to consumers.
One example of what the GeForce 7800GT is capable of is Asus' EN7800GT 2DHTV/256M/OSP/A PCI Express x16 videocard. Built with the massive 320 million transistor GeForce 7800GT 'G70' core, the Asus EN7800GT packs in 256MB of GDDR3 memory. The card supports nVidia's Scalable Link Interface (SLI) for dual videocard gaming like all current generation nVIDIA parts. The bright blue videocard incorporates twin DVI connectors so users can attach digital LCD displays. Component output (HDTV, Y, Pb, Pr) and S-Video output comes standard via a breakout-box. The software package includes a couple of games and some multimedia applications. There is a dual molex to six pin 12V power connector in the box too, just in case the power supply does not natively support it.
Remember to check out the Experts Tips for getting more out of a little extra airflow.

Asus EN7800GT 2DHTV/256M/OSP/A




Includes:

Speed Setup Guide, Drivers and utilities guide, Asus CD Case, Driver CD, Project SnowBlind CD, Xpand Rally CD, Joint Operations: Typhoon Rising CD, Manual CD, PowerDirector CD, Asus DVD CD, Medi@ Show SE CD, DVI to analog converter, Component/S-Video Break out box, Dual molex to 6 pin Power Connector.
The layout of the Asus EN7800GT 2DHTV/256M/OSP/A is similar to that of GeForce 7800GTX's, however there are a few glaring differences. First, the MOSFETs on the videocard do not come with a passive heatsink, and the layout of the capacitors is a bit different. Next and more obvious, all of the GDDR3 BGA memory modules are located on the front of the card. The Asus EN7800GT 2DHTV/256M/OSP/A measures 22 x 11.5 cm in size, so take care when installing the videocard into your PC.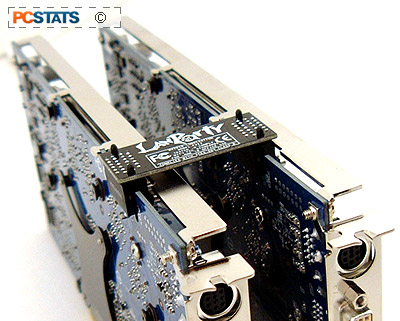 Asus use a custom quiet cooling solution here, it's the same heatsink that was employed on Asus' V9999 Gamer Edition GeForce 6800 in fact. The videocard heatsink consists of three parts; a 45mm fan and shroud, a stacked copper fin heatsink for the core, and a separate aluminum heatsink with heatpipe for the GDDR3 BGA memory.
If you think about it, it makes sense for the G70 core and GDDR3 memory to be cooled with separate heatsinks since each runs at totally different temperature ranges.
The fan does not support RPM monitoring but is temperature controlled. It will spin up when the sensors detect that the videocard is running too hot.
The Asus EN7800GT 2DHTV/256M/OSP/A shines quite brightly thanks to a series of blue LEDs mounted around the fan motor and at the end of the heatsink shroud; this will liven up any case!
The most unique aspect of the EN7800GT 2DHTV/256M/OSP/A is this metal support bar that runs the length of the top of the videocard. With heavy cooling solutions exerting more force on the PCB, the metal support bar helps to prevent it from flexing too much. Watercooling users can worry less about waterblock retention mechanisms bending the videocard I suppose.
| | |
| --- | --- |
| Heatpipe based thermal management. | SLI power-connectors and metal support rails. |
The Asus EN7800GT 2DHTV/256M/OSP/A draws a lot of power which is why there is the six pin 12V connector on the top right hand corner of the videocard. If your power supply does not support this connector size, Asus has bundled a dual molex to 6 pin 12V power adapter. GeForce videocards will function without the extra power, although it will run at a lower clock speed to compensate.

The Video In Video Out (VIVO) break out box is very handy, and well labeled. It connects to the S-video-like jack and adds several connections which would not otherwise be able to fit along the backplane. Multimedia PC users will love the ability to not just watch high definition content on their HDTVs, but also the ability to edit videos thanks to its video-in capacity. Modern videocards are certainly a lot more versatile than previous generations every were!