The Matrox DualHead2Go Analog Edition is a device that enables multi-display functionality from mainstream laptops or desktop PCs. It works with a computers' analog monitor output, and splits the display signal between two external monitors by pretending to be one extra-wide display. The host PCs graphics solution does all the processing, so the device (which looks like a little black box) is pretty compact, lightweight, and quick to set up.
The pocket book sized DualHead2Go is compatible with a collection of recent Intel, nVidia and ATI mobile graphics chipsets, at desktop spanning resolutions of exactly 2048x768 (60, 75, 85 Hz) or 2560x1024 (60Hz). This limits the usefulness of the DualHead2Go in some respects, as its two supported resolutions (equivalent to the native resolution of two 15", 17" or 19" LCD screens) are not universally supported by all notebooks, or driver versions. Intel mobile chipsets for example only support an output of 2048x768, while ATI and nVidia solutions include support for the higher resolution.
Once setup and installed, the included Matrox PowerDesk-SE software allows the user to span a Windows 2000/XP desktop at the aforementioned resolution over dual external monitors, or to clone what is displayed on the notebook screen to each of the two external screens. The screens don't necessarily have to be identical models, but must support identical resolutions and frequencies (ie. 60Hz). This can be useful for people delivering presentations during trade shows, or for individuals working with data intensive spreadsheets that simply require increased desktop space to work efficiently.

Matrox DualHead2Go Analog Edition

Includes:

AC/DC Power Supply, Driver CD, 24" long male-to-male analog video cable.
Matrox's DualHead2Go actually works by accepting an analog input signal from the computer which it then converts into digital form for processing (splitting). Two sets of digital-to-analog (DAC) converters reconstruct the analog video signal at each output, before passing it along to the individual monitors. Matrox claim that "no pixels are added, dropped, scaled, or otherwise changed" in the process. The novel aspect of all this is that the unit effectively takes a double-width display signal (ie. 1024 + 1024 x 768), and sends one-half to monitor A, and the second portion to monitor B. The end result being two external monitors working in tandem to display one large monitors' worth of data. Neat.
As far as notebook and desktop (Intel IGP only at this time) users are concerned, the Matrox DualHead2Go works independently of the host PCs integrated graphics chipset; there is no need to change any internal computer components or even open up the PC case. The device itself measures 86 x 91 x 24mm in size, requires a 5V DC power supply (included), and retails for about $169USD.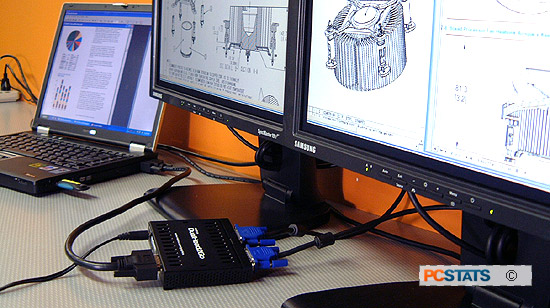 From what we can gather, the Matrox DualHead2Go Analog Edition is being positioned as a portable device for professionals who require multi-display functionality that is not otherwise possible from a notebook computer. Laptops only ever incorporate a single external monitor connection, and many of us who have long since abandoned our desktop PCs for a dedicated notebook, have had to do without dual screens as a result. Naturally, while it is possible to span (or clone) the Windows desktop between the notebook screen and a single external display, up until now there has not been a way to span over three screens, or dual external monitors.
Compatibility Restrictions
The Matrox DualHead2Go is primarily intended to be used with notebooks, and in that respect Matrox has assembled a concise list of compatible laptop models spanning brands like IBM, Fujitsu, Toshiba, Dell, Acer, HP, and Sony.
To determine if the device will function properly with your specific notebook (or desktop PC), Matrox have released a small piece of validation software that examines the host computers underlying graphics hardware and associated drivers. That application is available here.

Once run, the program will either recommend that users do not purchase the product because it is not compatible, confirm that it is compatible with both the graphics hardware and driver, or confirm that it will work with the graphics hardware correctly once the driver is updated to the version number quoted.

Desktop PC compatibility is currently restricted to systems based on Intel integrated graphics solutions. It's not so much a limit of the technology, but as Matrox representatives explain it, a way to ensure compatibility for its end users. Only one DualHead2Go device can be used per-computer, so unfortunately this hardware won't be any good for one of those super-multi-display flight simulator projects on the drawing board... just in case you wondered!

With respect to notebooks, the external display resolution is a function of the particular graphics chipset. Intel GM/GME, 910GML, 915GM chipsets are capped off at a resolution of 2048x768 - good for dual 1024x768 native resolution displays. Notebooks based on the more mainstream and performance oriented nVidia Geforce 6800, FX Go5200, and Go 6200/6600 chipsets will handle outputs of up to 2560x1024, so they are compatible with dual 1280x768 displays in most cases.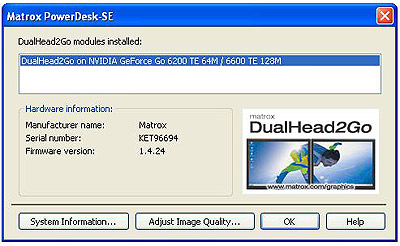 ATI fairs the best of the bunch with its mainstream and performance oriented Mobility Radeon M350/X200/X300/X600/X700, Mobility Radeon 7500/9000/9200/9600, and FireGL V3100/V5000/T2 chipsets that are compatible up to the 2560x1024 resolution. For the purposes of this review, we'll be testing the Matrox DualHead2Go out on a Toshiba Tecra M3 notebook with 1.86GHz Intel Pentium M processor. The Tecra M3 utilizes an integrated nVidia Geforce Go 6200 TE 64M videocard.