FEAR is Sierra's latest first person shooter which relies heavily on DirectX 9 features. With its "Soft Shadows" feature enabled, even the fastest videocards run at a crawl, FEAR is definitely the new benchmark for future FPS games to follow.
FEAR SS Disabled 1024x768
Anti-Aliasing
FPS
Ranking

Gigabyte GV-NX66T256DE 2x AA

26

Gigabyte GV-NX66T256DE QC AA

26

Gigabyte GV-NX66T256DE 4x AA

17

Gigabyte GV-NX66T256DE 8x AA

9
Anisotropic Filtering
FPS
Ranking

Gigabyte GV-NX66T256DE 2x AF

37

Gigabyte GV-NX66T256DE 4x AF

36

Gigabyte GV-NX66T256DE 8x AF

36

Gigabyte GV-NX66T256DE 16x AF

36

Anti-Aliasing and Anisotropic Filtering
FPS
Ranking

Gigabyte GV-NX66T256DE 2x AA, 8x AF

25

Gigabyte GV-NX66T256DE 4x AA, 16x AF

17

Gigabyte GV-NX66T256DE 8x AA, 16x AF

9
FEAR is a pretty videocard intensive game and is too much for the Gigabyte GV-NX66T256DE when AA/AF is enabled.
Silent Graphics Card
Putting up with computer noise has become a fact of life, or has it? If you are resourceful enough, building a silent PC is not a difficult task, you just have to pick the parts well. Gigabyte has equipped its GV-NX66T256DE videocard with a passive heatpipe heatsink right from the start, making it an easy option for consumers to take. There are third party solutions from companies like Zalman which can be retrofitted onto existing videocards, but here we have a solution which has been designed from the ground up for silent operation.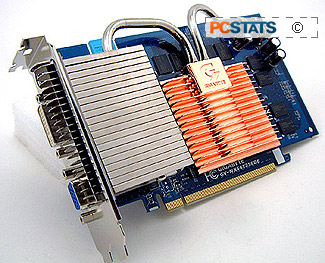 The GV-NX66T256DE uses a custom PCB layout and a dual slot cooling solution (dubbed Silent-Pipe II) that requires at least two PCI slots. The Silent-Pipe II splits the 6600GT heat load between two aluminum finned radiators and is designed to work with the system airflow to keep the videocard running within operating temperatures.
The Gigabyte GV-NX66T256DE is also the perfect videocard for HTPC's since it is completely silent and supports all forms of video output (component and S-Video). The software package is a bit on the thin side with only PowerDVD 6... a little disappointing.
With a lower memory clock speed the Gigabyte GV-NX66T256DE performs slightly slower than a regular GeForce 6600GT in most instances. Games or applications that require a large amount of video memory might get a benefit from the GV-NX66T256DE since its equipped with 256MB of DDR2 memory. In terms of overclocking, the Silent-Pipe II cooler did an excellent job at keeping things cool and the test sample hit a satisfactory 617 MHz. The memory did not do quite as well, but 875 MHz is still pretty decent for 2.5ns Infineon BGA DDR2 DRAM.
If you are looking for a silent videocard to go with your quiet PC, the Gigabyte GV-NX66T256DE might the card for you. The GeForce 6600GT core only produces a moderate amount of heat so it can be passively cooled without any problems and it also guarantees decent 3D performance. Team that up with TV output capabilities and you've got a videocard with a lot to offer.
Find out about this and many other reviews by joining the Weekly PCstats.com Newsletter today! Catch all of PCstats latest hardware reviews right here.
Related Articles
Here are a few other articles that you might enjoy as well...
1. Albatron PC6600LEQ Videocard Review
2. Asus EN6600GT Silencer Videocard Review
3. MSI NX7800GTX-VT2D256E SLI Videocards Review
4. Gigabyte GV-NX78X256V-B Geforce 7800GTX Videocard Review
5. Albatron GeForce 7800GTX Videocard Review