The large passive heatpipe cooler on the Gigabyte GV-NX66T256DE videocard is dubbed the Silent-Pipe II. It is a dual slot solution, and will definitely take up the expansion slot directly beneath the videocard. Depending on the motherboard layout (and the size of expansion cards), the radiator on top of the videocard could also take up an additional expansion slot.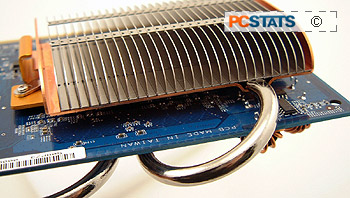 A single GeForce 6600GT GPU generates a moderate amount of heat, and that's why manufacturers can get away with passively cooled GPUs. The core first comes in contact with Silent-Pipe II's copper heatspreader which helps draw the heat away quickly.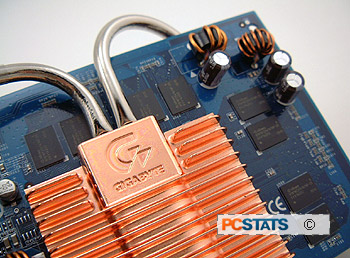 The heatpipes are sandwiched between the copper heatspreader and the large die cast copper heatsink directly above the GeForce 6600GT GPU. The two heatpipes move the heat to different places, the one on the left moves the heat to a 20 aluminum finned radiator that will take up the expansion slot just below the videocard. The heatpipe on the right moves heat to the back of the videocard where there is a 28 finned aluminum radiator.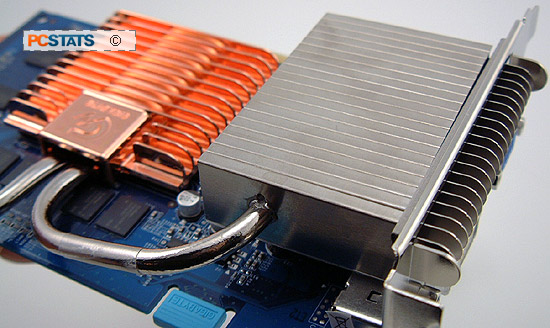 The Silent-Pipe II cooler is obviously designed to work with system airflow, but looking at Gigabyte's diagrams, it appears that Silent-Pipe II is designed specifically for cases with negative pressure (more exhaust airflow than intake). Cold air is supposed to be drawn into the case through the radiator along the PCI slot bracket, and expelled out by the power supply.
experts tip: cleaning out the dust bunnies
one of a computer's arch nemesis is dust. No matter where you store a PC, components will get dusty. With one of the Gigabyte GV-NX66T256DE's radiators exposed to the outside air, it will be a dust magnet so keeping the videocard clean is vital for good cooling. PCSTATS recommends that once a month users use a clean paint brush or can of compressed air and blow out all the dust bunnies off of the Silent-Pipe II radiators. While you're cleaning off the videocard, you might want to clean out the rest of your system as well, please note that your computer should be turned off before dust-bunny hunting.
Comments and Feedback? Suggest a Tweak.

These two thermal images were provided by Gigabyte, but you can clearly see that the Silent-Pipe II cooler keeps the GeForce 6600GT core nice and cool.