A total of 1GB of system memory is no longer enough for enthusiastic gamers if we are to believe some recent articles on the web which look specifically at how the game Battlefield 2 handles. Nope, 2GB is the new "1GB," and memory manufacturers are scrambling to make sure their customers know this.
Corsair Memory recently published a technical article entitled; "AN506: Performance Impact on Changing Memory Size from 1GByte to 2 GByte" which explored the impact of memory capacity on several applications including Doom3 and Battlefield 2. The results of that white paper show that higher memory capacity is close to reaching the tipping point of where it transitions from a luxury to necessity. Of the six applications used in Corsairs' AN506 white paper, only two saw significant improvements with 2GB of RAM installed. The remainder saw insignificant changes, and the tests included both AMD and Intel platforms. In PCSTATS own tests, we have basically seen that higher memory capacities affect a select few applications, generally very recent programs or games. Battlefield 2 is the best current example in our benchmark set.
However, faced with building a PC with 1GB or 2GB of installed DDR to start with, the consumer has a couple decisions to make. Though before making that decision, perhaps it is best to first consider the effects of Corsair's new 2GB (2x 1024MB modules) TwinX2048-4000PT DDR500 RAM kit. Rated to run at speeds of up to 250 MHz, who says you had to sacrifice speed for higher capacity?

Corsair TwinX2048-4000PT Memory
As you can see Corsair use standard aluminum heatspreaders to help keep the memory cool. The heatspreaders do lower the overall operating temperatures of memory modules a wee bit, but they do next to nothing to enhance overclockability.
Each double sided module of DDR has sixteen DRAMs which give you a total of 1024MB of RAM on each stick. Upon removing the heatspreaders we found that the individual TwinX1024-4000PT modules are equipped with Samsung K4H510838C-UCCC DRAMs.
Officially, the TwinX1024-4000PT is designed to run mainly on highly overclocked systems and is rated for up to 250 MHz with 3-4-4-8 timings (at a voltage of 2.8V). If you are running with lower latencies, we can tell you that the TwinX2048-4000PT will only run as tight as 2.5-3-3-6; any value lower and the system would not POST.
Memory Overclocking Tests

Overclocking Results: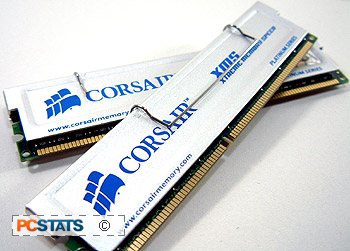 Before the overclocking started the CPU multiplier was first lowered to 6x, this way the processor will not hold the memory back. Starting at 200 MHz and with 2.5-3-3-6 memory timings, the motherboard clock speed was raised in 5 MHz intervals.
At 227 MHz the system had difficulty booting into Windows, it would BSOD every time. Increasing the memory voltage from 2.6V to 2.7V solved that issue and benchmarks ran just fine thereafter. The speeds were pushed higher, but at 246 MHz the TwinX2048-4000PT memory again flaked out. With 2.5-3-3-6 memory timings, the highest the Corsair memory would run was 255 MHz with 2.8V. Pretty decent.
Lowering the memory timings to 3-4-4-8 allowed the memory to clock much higher, and with 2.8V the TwinX2048-4000PT memory modules hit 290 MHz before any issues cropped up. Not bad for memory that is rated to run 250 MHz! It is rather surprising to see that loosening the timings from 2.5-3-3-6 to 3-4-4-8 allowed the memory to clock up so much higher!
Next up, the benchmarks!