It's amazing how complex each successive generation of videocard GPUs turn out to be, release after release. A modern graphics processing unit (GPU) like the nVidia G70 or ATI R520 has a transistor count of around 320 million... that surpasses most desktop microprocessors. In fact, only Intel's brand new "Presler" Pentium D 955XE has more transistors (376 million) and the majority of those are due to its 4 MB (2MB per core) of L2 cache, not chip complexity.
Looking at memory bandwidth requirements, videocard's also surpass CPU's here as well. A single Pentium 4 operating on an 800 MHz front side bus (FSB) has access to up to 6.4GB/s worth of bandwidth. A dual core Pentium D will realistically can use up to 12.8GB/s, but only half is available. By way of comparison, ATi's smoking hot Radeon X1800 XT has access to up to 48GB/s bandwidth. That's eight times what a Pentium 4 will use!
With the performance of videocards growing by leaps and bounds each year, just imagine if processor power doubled every six months like videocards do...
For hardcore gamers, there is no other component in a computer more important than the videocard. Equip a state of the art AMD Athlon64 FX-60 or Intel Pentium Extreme Edition based system with a low end videocard and framerates will still crawl along... On the flip side, a high end videocard can breathe new life into an aging system even, and at the moment one of ATi's best video processing units (VPU) is the Radeon X1800 XT.
The MSI Radeon RX1800XT-VT2D512E videocard that is the focus of this review incorporates Radeon X1800 XT GPU and includes and extra 256MB memory above the standard amount, for a whopping 512MB GDDR3. The X1800 XT core hums along at 625 MHz, and the GDDR3 at a remarkable 1500MHz.

MSI RX1800XT-VT2D512E Videocard




Includes:

Quick User's Guide, Quick Installation Guide, Driver CD, DVD Software CD, Colin McRae Rally 2005, S-Video to S-Video Cable, Composite to Composite Cable, VIVO Cable, Component Output Cable, Molex to six pin 12V Power Cable. 2x DVI to analog converters
Video connections are made via either of two DVI video connectors at rear (two DVI-to-Analog adaptors are included), and a video in/out port which accomodates two sets of cables; one for s-video and composite (RCA) video in/out and the other for a set of Y, Pb, Pr component outputs. Also included in the videocard package is a 6-foot long S-video and composite cable, the 6-pin auxiliary power cable (min. 350W PSU recommended) and a copy of the game Colin Macrae Rally 2005.
It's just as easy to stack a set of 19" monitors together and use the MSI RX1800XT-VT2D512E for dual screen gaming as it is for a single monitor, and resolutions of up to 2560x1600 per display are supported. There is a lot more to get into, so we'll cover more of the X1800XT's technical capabilities in a moment.
MSI follows the reference design Radeon X1800 XT down to a tee with the RX1800XT-VT2D512E videocard. Aside from the sticker on the heatsink shroud and fan motor, it is impossible to tell the difference between the MSI videocard and another reference ATI Radeon X1800 XT based card.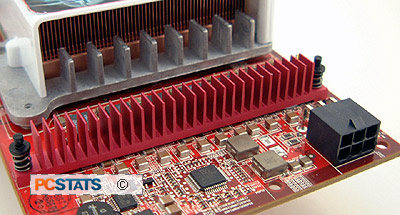 The MSI RX1800XT-VT2D512E itself quite long, measuring 23 x 11 cm. As a point of reference, it's just slightly longer than a GeForce 7800GTX-class videocard, although it also occupies two full PCI slots.
The MSI RX1800XT-VT2D512E is equipped with a large dual slot heatsink which is broken up into many separate pieces. The Radeon X1800 XT core comes in direct contact with a copper heatsink while the memory is cooled by a larger cast-aluminum heatsink.
The 60mm squirrel cage fan is temperature controlled and draws air over the VPU heatsink before expelling it out of the case through the second PCI slot bracket which is vented.
At startup, the 60mm fan spins up to full speed (which generates quite a racket) however after about three seconds, drops back to normal operating speeds. With the computer performing 2D applications, the MSI RX1800XT-VT2D512E is not audible. However, when it's tasked with running intensive 3D benchmarks or action-packed games the volume of noise from the cooling system certainly increases along with the fan's RPM.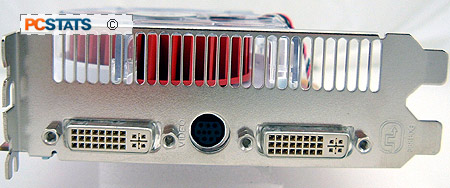 During our tests of the RX1800XT, the fan speed never quite reached 100%... however it was still loud enough to be audible from within an enclosed computer chassis.