It's great to see how individual memory stacks up against the competition under stock configurations, but we're also going to show how it compares when overclocked. With performance in mind, we're going to compare the maximum overclocked results of the various DDR2 DIMMs we've tested in the past which are listed below. Remember, just because memory is clocked fast doesn't mean it's the best thing for a computer. Timings are also important, and getting the right ratio of both is the real key to performance-based overclocking!
Maximum Overclocked Speeds and Timings - PCstats Results

Intel System Results

Module Memory Size

Timings

Max Speed

Ranking

Super Talent T800UX2GC4
1024MB
4-3-4-8
964 MHz
Corsair Twin2X1024-8000UL
512MB
5-4-4-9
957 MHz
Corsair Twin2X2048-6400 PRO
1024MB
5-5-5-12
935 MHz
Crucial Ballistix PC2-5400
512MB
5-5-5-10
860 MHz
PDP Systems Patriot PC-4200 DDR2 XBL
1024MB
5-4-4-9
765 MHz
PQI Turbo PQI25400-1GDB
512MB
4-4-4-12
730 MHz
Corsair Twin2X1024-4300C3
512MB
4-4-4-12
700 MHz
Crucial Ballistix PC2-4200
512MB
4-4-4-10
660 MHz
Mushkin PC2-4200
512MB
4-4-4-12
625 MHz
Well this is certainly a surprise, the Super Talent T800UX2GC4 DIMMs are the best overclocking set of DDR-2 memory to pass through the PCSTATS test labs thus far!
Considering that this was done with tight DDR2 memory timings of 4-3-4-8, the achievement is even sweeter. One thing is for sure, Corsair, OCZ, Mushkin and the other major memory manufacturers better watch out for Super Talent - the enthusiast memory market just welcomed one more into the crowd!
Super Sweet Super Talent Low Latency DDR2-800
Intel is already on the DDR2 gravy train and AMD will be joining up very soon when it releases its Socket AM2 Athlon64 lineup in June 2006. Speed is a better marketing tool than latency, and up until now memory manufacturers have been focusing on providing the fastest DDR2 memory modules possible with little thought towards lowering latencies.
The higher latency hit is not as apparent with Intel Pentium 4/D processors, however with AMD Athlon64 chips it can be a deadly speed trap. This is partially the reasoning behind the sudden shift towards production of lower latency DDR2 memory this year, in preparation for socket AM2. The new 2GB (1GB per DIMM) Super Talent T800UX2GC4 memory PCSTATS has just put through the benchmarks is damn fast. There's little doubt that with a default clock speed of DDR2-800 (or PC2-6400) and 4-3-4-8 memory timings Super Talent have a good thing on their hands.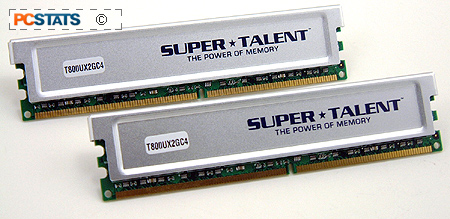 As the benchmarks indicate the lower latencies do improve performance overall, most noticeably in 3D benchmarks. In every test we ran the Super Talent T800UX2GC4 came in first from Business Winstone 2004, 3DMark05, Battlefield 2 or UT2004. That's pretty impressive when you consider that the memory is competing with Corsair, Mushkin and Crucial's best DDR2.
The sweetness didn't stop there, the 2GB Super Talent T800UX2GC4 memory also excelled at overclocking. With tight 4-3-4-8 memory timings, the memory hit an amazing 964 MHz! This is the fastest DDR2 memory that PCSTATS has tested to date! Loosening up the timings allowed the Super Talent DIMMs to crack the 1 GHz mark, but performance was not up to par because of the slacker timings.
The only potential problem with Super Talent T800UX2GC4 dual channel 2GB DDR2-800 memory kit is that it's currently difficult to find. Built with Micron's 2.5ns RevE DRAM, the retail price for this 2GB DDR2-800 kit should be in the neighborhood of $360USD ($410CDN). If you're able to track this memory down, be sure to remember that this is the good stuff!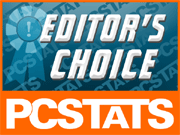 Find out about this and many other reviews by joining the Weekly PCstats.com Newsletter today! Catch all of PCstats latest hardware reviews right here.
Related Articles
Here are a few other articles that you might enjoy as well...
1. Crucial Ballistix PC2-4200 DDR2 Memory Review
2. Mushkin HP3200 Redline PC3200 DDR Memory Review
3. Corsair TwinX2048-4000PT PC4000 DDR500 Memory Review
4. Corsair TwinX2048-6400 PRO PC2-6400 DDR-2 Memory Review
5. Corsair TwinX2048-4400 PRO PC4400 DDR Memory Review
6. Corsair Twin2X1024-8000UL Memory Review