Double Data Rate-2-Synchronous DRAM, commonly known as DDR-2 memory, is set to take over the computer world as of.... Now! The reasons for this are pretty simple, with AMD's upcoming Socket AM2 Athlon64 processors transitioning to DDR2 RAM, and Intel's current Pentium 4 processor platforms long since wed to it, the demand for DDR2 is set to explode.
There is little doubt that Intel and AMD processor architectures are different and that most of the DDR2 memory currently on the market is designed for Intel processors, specifically dual core Pentium D's, but AMDs entry onto the field is quickly changing things. By that I mean most current DDR2 modules are designed for high speed/hight bandwidth capabilities, where as AMD Athlon64 processors tend to prefer lower latency RAM.
That trend is obviously changing along with socket AM2, and Super Talent has just released a set of high speed low latency DDR2 memory that we're pretty excited about. Timings of 4-3-4-8 are low latency by DDR2 standards, though we can expect the variety of DDR2 memory to flourish after Socket AM2 is introduced. Of course low latency memory is not only beneficial for AMD systems, Intel Pentium 4/D systems also react well to low latency memory.
The 2GB kit (1GB per stick) of Super Talent T800UX2GC4 Memory has a speed rating of DDR2-800 or PC2-6400, and 4-3-4-8 CAS latency timings. That might a little off compared to the golden standard for DDR of 2-2-2-5, but you'd be well advised to keep in mind that most other DDR2-800 DIMM's have latency timings in the 5-5-5-12 range. Super Talent's memory is directed at the desktop market which means it is non-ECC and unbuffered. According the manufacturer, these modules are built with Micron's impressive 2.5ns RevE DRAM. Retail price is about $360USD ($410CDN).

Super Talent T800UX2GC4 PC2-6400 DDR2 (1GBx2)
RAM Memory Type: DDR2-800 / PC2-6400
Individual Module Capacity: 1GB
Native Speed & Latency: 800MHz @ CAS 4-3-4-8
Each Super Talent T800UX2GC4 1GB DIMM has sixteen BGA DDR2 DRAM modules which means the kit uses four banks of memory. The bank information might be important depending on the memory controller being used. Super Talent equips the T800UX2GC4 with aluminum heatspreaders which to be frank do little to cool memory, but help protect the DIMM from physical damage. Note, BGA DRAM modules are notoriously fragile and removing the heat spreader is not advisable.
The Super Talent T800UX2GC4 DIMMs are designed to run in a dual channel configuration at up to DDR2-800/PC2-6400 speeds and with native timings of 4-3-4-8. Super Talent does not state what the default voltage of the memory is, so we kept things running with 1.8V at DDR2-800 speeds.
Company Backgrounder
Super Talent Technology is a memory manufacturer which designs and produces its own DDR and DDR2 memory modules out of San Jose California. Like most memory producers, the company purchases DRAM from vendors like Micron or Samsung and produces its own PCBs for in-house assembly.
The company is particularly proud of this 2GB T800UX2GC4 DDR2-800 memory kit, which is currently is the fastest DDR2-800 on the market with these latencies. The memory kit comes with a lifetime warranty.
Differences when Testing DDR-2
With dual core processors thrown into the mix, testing DDR-2 RAM is a lot more difficult than before. Socket 775 Pentium D processors do react positively to lower latency timings, but bandwidth is the bigger issue. This makes a lot of sense if we consider that an Intel Pentium D processor is essentially being dropped into Pentium 4 subsystems that was only really intended to support one processors' worth of memory bandwidth requirements.
From PCSTATS Lab tests, even though the second core sits idle for many benchmarks, bandwidth is still the primary issue with Intel Pentium D processors since the OS does communicate to the second core while the benchmarks are running. With that in mind, when it comes to testing out DDR-2 memory modules, we are really only interested in seeing how high the memory can clock with latency timings coming in as a far second concern.
Super Talent = Super Overclocking?

Overclocking Results:
There is a stigma that higher density DRAM modules do not overclock well because the increased memory capacity is hamstrung by the slowest individual DRAM of the bunch. That rule of thumb doesn't hold much water in this case, and you'll soon see why...
Overclocking the Super Talent T800UX2GC4 memory on an nForce4 SLI Intel Edition motherboard is a bit different than what we're used to, but the differences are purely academic. With motherboards based on this popular nVidia chipset, users must raise the bus speed instead of the FSB. The value of that figure sounds more impressive, but don't let that fool you, the methods are essentially the same.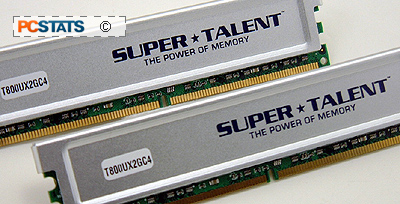 With the Super Talent T800UX2GC4 memory running in sync with the FSB, it was raised in 10 MHz intervals. At 880 MHz, the system started to show signs of instability... however increasing the memory voltage to 2.0V resolved this. Continuing onward, the Super Talent modules easily broke past the 900 MHz barrier, and without much difficulty either.
At 930 MHz the memory again started to BSOD while loading WindowsXP so the voltages were stepped up to 2.1V.
That finally enabled the memory to hit a high of 964 MHz!
Please keep in mind that the aggressive 4-3-4-8 timings were used to achieve that speed, and this makes the feat even sweeter. :-)
Out of curiosity, the memory timings were loosened to 5-5-5-12 to see what impact that would have on Super Talent's memory when overclocked.... and as you might have guessed it breached the 1000 MHz mark and finally sputtered out around 1020 MHz. Looser CAS timings may allow for larger clock speeds, but performance takes a hit so all benchmarks were conducted at the 4-3-4-8 timings. For example in Battlefield 2, framerate results at 1020 MHz with 5-5-5-12 timings were 207.453FPS; that is slightly lower than what the T800UX2GC4 memory could do at 964 MHz with aggressive timings.