As MP3 players go, there are literally hundreds of makes and models to wade through, or you can just allow yourself to be influenced by a multi-million dollar ad campaign put out by Apple. Either way, whatever you get is going to play MP3's and similar file formats (possibly Ogg Vorbis, but not always), it will probably fit in a shirt pocket and it will most definitely use batteries of some shape. For these wonderfully convenient hallmarks of an MP3 player, the price tags range just about as much as internal memory capacities and battery lifespan.

Consumer electronics devices that fall under the portable digital music player umbrella all tend to be pretty uniform in features, but once you start fiddling around with the buttons and toss out the manual it's the well made products that quickly prove their mettle. Lesser players suffer horrendous battery longevity, frustrating control and navigation menu's, and thrust users into a world of basic features that are akin to peddling down the highway like the Flintstones do.

Apple has quite successfully fractured the music player market into a half dozen evolutionary branches, so let's focus on the sub-4GB flash memory based MP3 player segment for the sake of this review. This class is an audio-only, pack a ton of songs in there, navigate with a simple LCD display, not-going-to-bust-a-hole-in-my-wallet segment. Utilitarian by some measures, but just what the doctor ordered for listening to tunes in a way that doesn't scream; "hey you, rob me!"

The aptly named Samsung YP-U1ZB MP3 player is no larger than an iPod Shuffle, has 1GB of memory (good for about 330 songs at 3MB apiece), and unlike the screenless iPod Shuffle utilizes a nice black and white back-lit LCD display that's actually legible in direct sunlight. Try that with a color LCD display.

Samsung YP-U1ZB MP3 Player

Includes:

Quick guide, driver CD, headphones, neck strap, warranty card.


SPECIFICATIONS


Memory Capacity: 1GB
Playback Time: 13hrs
Battery: 3.7V Li-polymer
LCD Screen: 4-line, backlit white
Supported Bit-Rate: 8-320kbps
Supported Files: MP3, WMA, OGG Vorbis
Radio Tuner: No
Microphone: Yes
Connection: USB2.0
Dimensions: 24x87x12mm
Leave your AAA batteries at home folks, the Samsung YP-U1ZB draws power from an internal rechargeable Li-polymer battery (non-removeable) that puts out roughly 13-hours of music. Best of all, the whole contraption recharges right in the USB slot with the same USB2.0 jack it uses for moving data. If you're without daily access to a computer, this is not right MP3 player for you.
There is no FM tuner on the YP-U1ZB, which is unfortunate, but the player does offer voice recording at the touch of a button. Recordings will quickly dig into music storage capacity as the WAV tracks are layed down, so keep that in mind before reciting pages of notes for that J.M. Coetzee English-lit report...
The black Samsung YP-U1ZB player retails for around $129CDN ($110USD / £63GBP), pretty affordable compared to just a year ago for a 1GB capacity device. It plays MP3, WMA (and secure WMA), WAV and Ogg Vorbis (Q0-Q9) music formats. Supported MP3 bit rates are 8Kbps - 320Kbps, and 48Kbps - 192Kbps for WMA files.
Fresh From the Box
Being that the Samsung YP-U1ZB is about the size of a Bic lighter, the shape and layout of the control buttons is pretty good. The record and play/pause keys (along the side of the YP-U1ZB) are textured differently so users can pick out the right key without glancing at the unit.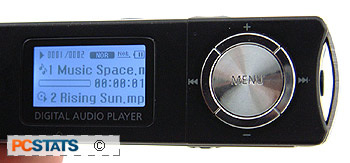 Volume control and track navigation are rolled into one circular paddle on the face of the player, with the menu key at center. The all-important hold key sits by itself on the opposite side of the player; it comes in handy if button pressing gremlins infest your pockets or purse.
The LCD screen back light illuminates each time a button is pressed, so if you're constantly in a well lit area we'd suggest turning it off (menu > settings > display > blacklight > value: off) and enjoying a little longer battery life. You can also set the back light to remain on for a few seconds, or constantly if you wish.
The YP-U1ZB activates with tap of the play/pause key, and shuts off after a few seconds if it's not doing anything or if the play/pause key is held steadily for ~3 seconds.
The device slips easily into any pocket or it can be looped around the neck for a quick run round the block by way of a shiny silver lanyard which comes with it. The LCD screen displays four lines of information for those times when you can't remember what song you're listening to, and the song title even scrolls along to reveal the full track file name. The stereo headphone jack, metal lanyard loop, and microphone port are all positioned at the top of the player.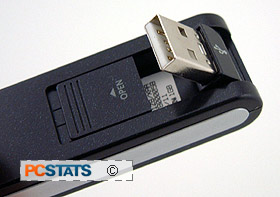 Flipping the player around reveals a full sized USB2.0 jack tucked away into the back. Slide a little plastic bit back, and then use a fingernail to flip out the USB jack and presto - the YP-U1ZB is good to go as far as data transfers are concerned.
The convenience factor of not having to carry around a bag of mini-USB adaptor dongles, power bricks and chargers cannot be overstated. If you've had an MP3 player like that in the past, you'll know what I mean.
By integrating a full-size USB jack right into the unit, there are no caps to loose (since it swings in and out, no cap necessary) and nothing to hold back the Samsung YP-U1ZB from pulling double duty as a 1GB USB memory key too. Albeit, it's more than likely going to be full of music so the practicality of using this MP3 player wholly for mundane data storage is rather unlikely. A dedicated device like the DataTraveler Elite is much better route to go. Still, in a pinch the option's there with the YP-U1ZB.
Now, how about those headphones?