When nVIDIA released the GeForce 6200TC videocard it marked a shift in the graphics industry. For around $100 bucks, the GeForce 6200TC gave casual gamers a real 3D engine, and a taste of what DirectX 9.0C games are like.
What made the GeForce 6200TC unique was its ability to snatch a bit of system memory from the computer, to use for itself. This allowed manufacturers to dramatically cut prices since half the amount of graphics memory was used. Whether you are a fan of this method or not, the results were compelling, and the Geforce 6200TC was a pretty good hit among budget-minded users.
With nVIDIA needing a candidate to break in TSMC's 90 nm manufacturing process, it decided to experiment with the entry level GPU's first and that gave birth to the GeForce 7300GS. Similar to the GeForce 6200TC before it, the GeForce 7300GS includes all the GeForce-7 series goodness in a much smaller package. In techno-terms, its basically just a die shrink.
Consumers interested in occasional gaming, but not willing to fork out loads of cash should really applaud what MSI has to offer. Its NX7300GS-TD256E videocard is a great starter videocard, and at $90 CDN ($78 USD/$45 GBP) does not require a huge investment. The PCI Express x16 MSI NX7300GS-TD256E videocard supports dual monitors (DVI / analog) and includes a TV-Output option for S-Video and Component output cables.

MSI NX7300GS-TD256E



Includes:

Quick User's Guide, Quick Installation Guide, Driver CD, Juiced CD, S-Video Cable, DVI to Analog Converter, MSI Sticker.
The MSI NX7300GS-TD256E videocard is pretty compact as PCI Express graphics cards go, measuring 18 x 5.5 cm in size. The low height could make it handy in mini cases, too bad MSI did not include a half-height PCI bracket in the package as well.
The GeForce 7300GS GPU will snatch a bit of system memory for its own use by design, but the MSI NX7300GS still comes with 256MB of onboard DDR-2 memory for its own use.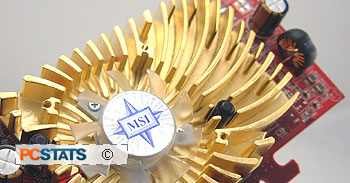 The nVidia GeForce 7300GS GPU does not generate significant quantities of heat, so the manufacturer gets by a with a small, quiet, aluminum heatsink and fan. The 40mm fan isn't speed controlled. In our tests the heatsink wasn't even warm, so it begs the question of whether a passive heatsink might have been a more appropriate choice.
The software package that comes with the MSI NX7300GS-TD256E videocard is surprisingly unique. Included ks a full version of the game Juiced (DVD edition), it's a fairly popular racing title. There is a full copy of Norton Internet Security 2005. Not bad for a videocard that costs less than $100!
The quick user's and installation guides are detailed and clear. Either document will guide novice users though the installation process painlessly. The DVI to analog converter is a nice added bonus, most entry level videocards omit this part. With one DVI and Analog VGA connection, it makes utilizing twin CRT monitors a little difficult.

The Geforce 7300GS is technically capable of supporting component output, but no cables are included to utilize that feature.