One of the most important aspects to watch out for when weighing the pros and cons of different motherboards is the future compatibility of each candidates' chipset. For example, if you opt for "Board A" with "Chipset Y" right now, will it be any good a few months down the road? AMD & Intel are always set to unveil a fabulous new processor technology just around the corner, after all. Since computers are always changing, there is never a "best time" to buy into the technology. Yet, if you keep informed you'll at least jump onboard a ship that's going in the right direction.
The last few nVIDIA nForce chipsets have been pretty good in this forward-looking respect; the nForce4 SLI Intel Edition supported both dual core Intel CPUs and Extreme Edition processors at 1066 MHz Front Side Bus (FSB), well before either was officially announced. nVIDIA is at it again with recently introduced budget-minded chipset called the nForce4 SLI XE.
The nForce4 SLI XE chipset is destined for the Intel Pentium 4 platform (socket 775), but it has the potential to dish out full nForce4 SLI Intel Edition type performance! Nice. Motherboards based on the nForce4 SLI XE are going for a little over $100 CDN, and at these prices it's looking like a pretty good bargain for basic computer needs.

ECS C19-A SLI Motherboard



Includes:

Driver CD, User's Manual, Ultra.133 IDE Cable, Floppy Cable, Serial ATA Cable, Molex to Serial ATA Cable, SLI Bridge, I/O Shield
The ECS C19-A SLI motherboard is one of these affordable nForce4 SLI XE-packing motherboards, and it's paired with the nVidia MCP51 Southbridge. With a retail price of about $105 CDN ($90 USD/£52 GBP), the ECS C19-A SLI incorporates a pretty concise set of features: 7.1 channel audio, Gigabit LAN, a bunch of USB and SATAII ports, and 20 lanes of PCI Express. In terms of expansion, the motherboard boasts two PCI Express x16 slots for single or dual videocard configurations, two PCI Express x1 slots for higher bandwidth devices, and three 32 bit PCI slots for legacy peripherals. There are only two IDE channels on this board, so if you have high storage requirements it's best to make use of the four SATAII channels.
The ECS C19-A is full size ATX motherboard (30.5 x 24.4 cm) that mounts to the case via nine screws. The layout of components on the board is pretty good, although the four DDR-2 RAM slots may not be entirely accessible with the primary PCI Express x16 videocard installed. While the ECS C19-A SLI motherboard comes with a 24-pin power connector, there's no reason to toss out that old 20 pin ATX power supply just yet - well, unless it doesn't have enough power to support your PCI Express videocards of course.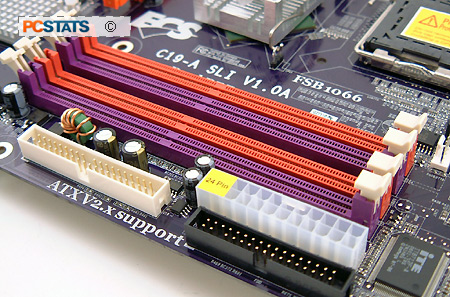 The 24-pin power connector is compatible with older style 20-pin PSU's as long as they're up to snuff. The documentation recommends that power supplies be capable of delivering at least 26-30 Amps on the 12V line. You can find this out by looking at the side of the PSU, there will be a break down of all the different amperages per power line (3.3, 5.0, 12V, etc.). Of course the motherboard is also compatible with current 24 pin power supplies.