Intel might be touting VIIV as the next great thing for home entertainment computers, but the secret behind it is not Earth shattering. What Intel has done is take a smaller Micro ATX based PC, install WindowsXP Media Center on it and put a shiny sticker on the front. It's nothing more than what enthusiast computer users have been quietly doing for quite some time now, aside from the nice sticker of course.
For enthusiasts who want all this Intel-branded multimedia goodness, buying a pre-built VIIV system is like buying a Dell to replace the ol' main rig, it's just not going to happen. Sorry Dell, we build our own PC's here at PCSTATS. Seeing as Intel VIIV components are pretty much "off the shelf", it's dead simple to put together a VIIV system of your own and bust out a custom Home Theatre PC (HTPC).
Hardware manufacturers have started putting the Intel VIIV logo on components which can be used for home theatre purposes, so this makes sorting through stores shelves a little simpler. Marketing people love logos and the Intel VIIV one is certainly swanky.
The brand spanking new ECS 945G-M3 motherboard is one of the first generation Intel VIIV compatible boards to be touted as such. However if you just want a low cost workstation PC with an onboard Intel graphics card, the ECS 945G-M3 can fit that purpose quite well. The motherboard supports Intel Socket 775 processors, including the Celeron and Pentium 4/D/XE CPUs which operate on the 533/800 and 1066 MHz Front Side Bus.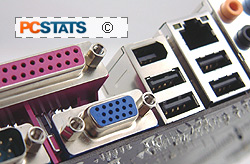 The ECS 945G-M3 is built around the reliable Intel 945G and ICH7 chipsets, and the microATX board will accommodate a maximum of 2GB of DDR2 400/533/667 memory. The RAM runs in a dual channel configuration.
Other hardware goodies include IEEE 1394a Firewire, an Intel Gigabit NIC, Intel's Azalia high definition 7.1 audio codec and of course Intel's Graphics Media Accelerator 950 (GMA950) onboard videocard right at the I/O plate. There are some expansion options, including one PCI Express x16 slot for a videocard, one PCI Express x1 slot for higher bandwidth devices and two 32-bit PCI slots for legacy hardware.
Four SATA-2 headers, a single IDE channel (up to two Ultra DMA100/66 devices), and a floppy connector provide for storage devices. An extra set of internal headers for (1) IEEE 1394 Firewire and (4) more USB 2.0 ports also populate this ECS motherboard.

ECS 945G-M3 Motherboard



Includes:

Driver CD, User's Manual, Ultra/133 IDE Cable, Floppy Cable, Serial ATA Cable, Molex to Serial ATA Power Cable, I/O Shield
With a retail price of $108 CDN ($95 US/£53 GBP), this ECS 945G-M3 motherboard offers users a low cost multi-purpose platform with which to build an Intel-based computer. With passive cooling heatsinks on both the Intel 945G and Intel ICH7-DH chipsets, there are no fans to add noise or fail in the long term either.
Overall the layout of the ECS 945G-M3 motherboard is pretty good and users should not have much difficulty installing or navigating over the PCB during set up.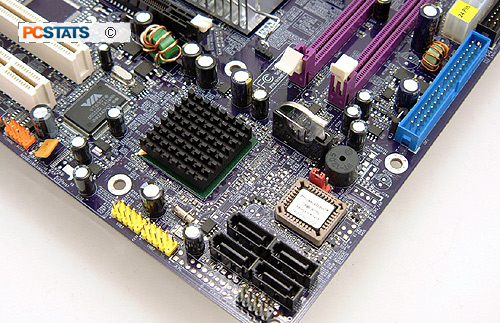 The motherboard is compatible with older 20 pin power supplies (it is equipped with a 24-pin connector), and if you choose to use one, make sure there is enough juice on the 12V line.
Users contemplating the ECS 945G-M3 motherboard should note that there is only one IDE channel. That should not be an issue for one buying a completely new system, but could cause problems for anyone upgrading a older computer that has more than two IDE devices. What the rush is to move away from the IDE standard is, only Intel can tell you that.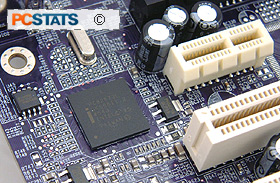 Rather surprisingly, the Intel 82573L Gigabit NIC integrated onto the ECS 945G-M3 motherboard is a PCI Express x1 component. ECS is known to be a low cost manufacturer and a PCI based Gigabit network card probably would have been cheaper to use but it could potentially bottleneck the PCI bus as well.
The printed user's manual that accompanies with the ECS 945G-M3 motherboard is pretty well written, and will be able to guide users through the steps of assembling the hardware into a working PC. The motherboard PCB is also pretty well labeled; most headers and ports have a label close by. There isn't much to complain with the ECS 945G-M3 motherboard. The PCI Express x16 lock is very difficult to use, ECS really should equip its motherboards with something better. I'd also like to see some colour markings on the front panel I/O connectors, it's a little thing but it greatly simplifies the installation process.