The Radeon X1600 XT core contains 157 million transistors, and a good portion of those circuits are dedicated to the task of rendering 12 pixel and 5 vertex pipelines. The memory controller is 256 bits in width. To save on power, the X1600 XT Bravo core supports dynamic voltage control as well.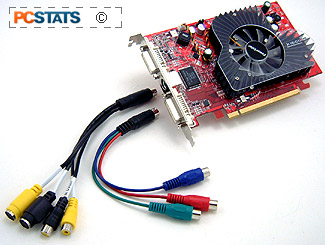 While the Powercolor X1600XT Bravo is technically ATI CrossFire compatible, to take advantage of this you'll need CrossFire friendly motherboard and a master Radeon X1600 videocard to pair it with. Given that neither of these criteria are especially abundant, it's almost a moot feature.
Assuming you are able to go the CrossFire route, Super AA modes 8x, 10x, 12x and 14x AA options will be available. Additionally, three rendering modes - Alternate Frame Rendering, Supertiling and Scissor - are ripe for the selecting also.
The Radeon X1600 XT VPU supports HDMI and HDCP to some extent, but from what we can gather this doesn't necessarily add up to a high definition videocard.
While the X1600 XT core is capable of processing HDCP signals, ATi leaves it up to third party manufacturers to actually include the external encryption chip. If you want high definition output for next generation video displays, better make sure the videocard you're buying is HDCP compliant and not just HDCP ready. ATi validates this 'choice' by simply stating that there is no commercially available HDCP content (as of this writing). It seems like a cop out to me.

Makes you wonder how the overclocking will go on this Powercolor X1600XT Bravo doesn't it? Overclocking is up next, so let's dispense with the spec-no-lingo and sort that out.
experts tip: powerstrip to the overclocking rescue

finding the maximum overclocking speed for videocards can be difficult for novice users as both the core and memory display similar irregularities when pushed too far. in general when overclocking, if the videocard does a hard lock while running 3d applications, it usually indicates that the core has been pushed too far. another way to spot when the core has been overclocked too high is when you see tears in the graphics. large long triangles or lines that are out of place. memory tends to artifact when it's overclocked too high, you can identify those as spots or dots on the screen that's sometimes referred as snow. Memory will lock up as well but it usually requires the RAM pushed very high and artifacts would have been long noticeable before hand. Now you know how to identify when a videocard is overclocked too high, so start pushing your card.

Comments and Feedback? Suggest a Tweak.
Radeon X1600XT Overclocking Tests

Overclocking Results:
If you've got an ounce of geek in you, you'll know that ATi Radeon graphics cards are generally pretty fun to overclock. The Powercolor X1600XT Bravo on the other hand was a really stubborn videocard to overclock...
Starting with the Radeon X1600XT core, which is clocked at 587 MHz by default, we began to overclock things in little 5 MHz intervals.
Let me just say that the 90nm manufacturing process didn't help the overclocking situation one bit. Even with its moderate 587MHz core speed, the Radeon X1600 XT core didn't get far. The highest speed we were able coax out of it was 631 MHz... that is a slim increase on stock. Anything higher and the Powercolor X1600XT Bravo core would reboot the system or hang while running 3D benchmarks.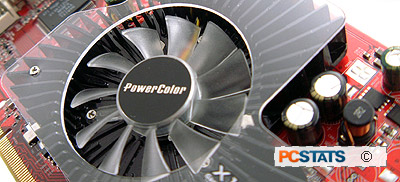 The situation was even stranger when we tried to overclock the 256MB of GDDR3 memory from its effective speed of 693MHz (actual 1.3GHz). While the memory would overclock to about 730 MHz, if it ran above stock speeds the core overclock had to be dramatically lowered which then negatively impacted performance.
After some frustrating moments trying to find the best setting, we opted to just leave memory speed left at stock speeds and only overclock the GPU core... err VPU Core.
Up next... benchmarks, benchmarks, benchmarks! Yee-haw!