Including features such as Shader Model 3.0 and the capability of running two videocards at the same time has certainly bumped ATi's latest mainstream videocards into the same league as nVIDIA's GeForce 7600/6600GT. The ATi Radeon X1600 series still has a bit of an uphill battle to unseat the Geforce 7600GT, but judging from what we've witnessed of the Powercolor X1600XT Bravo we're just about to dive into, the company is well on its way in the right direction.
The PowerColor Radeon X1600 XT Bravo comes in the PCI Express x16 flavor, but ATi has stated that the X1600 XT VPU can be ported over to AGP with the help of a PCI Express to AGP bridge chip; so who knows you might see a few of those variants in the near future. The future is PCI Express though, so keep that in mind.
The powerfull little Radeon X1600 XT VPU is built on TSMC's 90 nm manufacturing process, and contains 157 million transistors, slim by today's standards. The Radeon X1600 XT core has a total of 12 pixel pipelines and 5 vertex pipelines to keep the triangles flowing along smoothly. At stock settings, we're looking at a videocard core which runs along at about 587 MHz, with 256MB of GDDR3 memory clocked at 1.3GHz (effective: 693 MHz).
The Powercolor X1600XT Bravo should retail for in the region of $170 CDN ($150 USD, £84 GBP), so it looks like it will be a pretty good deal given that it even dishes out component output video!

Powercolor X1600XT Bravo Videocard





Includes:

Quick Installation Guide, CyberLink DVD Solution CD, Driver CD, DVI to Analog converter, S-Video to Composite Converter, Composite to Composite Cable, S-Video to S-Video Cable, Component Cable.
For the price, the Powercolor X1600XT Bravo is a pretty substantial multimedia videocard. The X1600 XT Bravo has dual DVI outputs which is good for digital LCD displays, and dual link ports at that for ultra high resolution monitors. PowerColor also include a DVI to analog converter for those with analog CRT monitors.
The Powercolor X1600XT Bravo has video in / video out capabilities care of an ATI Rage Theatre chipset, so you can hook up the component output (Y, Pb, Pr) cables from your high definition television right into your computer. The videocard ships with two little cable pig tales; one for component output and the other for composite/s-video in an out hook ups. Only the composite and s-video cables are bundled in the package, so you'll need to provide your own set of component output cables to take advantage of that signal option.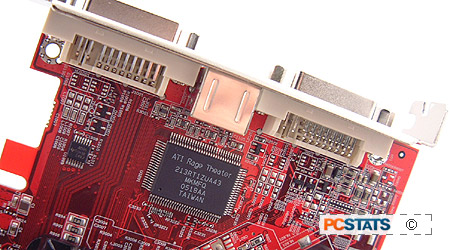 The Powercolor X1600XT Bravo videocard is compact in length, so there won't be any problems squeezing it into a small form factor PC chassis. The Radeon X1600 XT core doesn't generate a significant amount of heat, so a simple aluminum heatsink that extends over the memory modules is all the card really needs.
The heatsink is held in place with four screws, so replacing it with a passive Zalman VGA heatsink is always an option to consider as well.
The GDDR3 DRAM does not require any extra cooling and does not actually make contact with the VPU heatsink. The 256MB's worth of memory is only mildly warm to the touch when running 3D games.
The 50mm fan is a bit on the noisy side for my liking, but gets the job done. It's evident that the Powercolor X1600XT Bravo videocard is collecting RPM signals from the fan, so it should have the capacity to throttle the fan speed to meet demand.... In our tests, the fan appeared to be running at 100% speed throughout however.
Now, what's all this about Crossfire and High Definition Content psudo-support?