The original nVIDIA nForce4 SLI was known around the web for being a bit of a furnace, cooling it could be quite a challenge. It's not so far fetched to say the nForce4 SLI chipset would often run at 60+ degrees Celsius! The new nForce 4 SLI x16 chipset appears to be a bit more tame in this regard, and many manufacturers have turned to heatpipes to spread the heat over a larger surface area.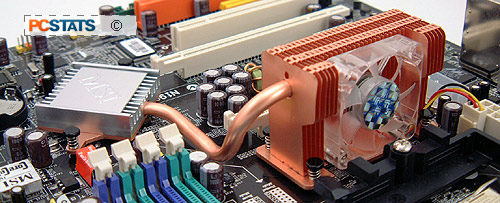 The nForce4 SLI chipset on the MSI K8N Diamond Plus motherboard comes in contact with a copper heatspreader which sandwiches a heatpipe between the heatspreader and an aluminum top. The heat is then moved to a large copper radiator which also directly cools the C51D Northbridge. The copper fins are cooled with a quiet 40mm fan that blows towards the rear of the videocard. During testing, even under 100% load, the nForce4 SLI x16 cooling solution was nearly silent.
Experts Tip: Quick CMOS Resetting For Overclockers

MSI has quietly started to equip some of its enthusiast-grade motherboards with a clear CMOS button, rather than a simple jumper. With all the BIOS options the K8N Diamond Plus has, I'm sure enthusiasts will get very familiar with the new button.

It's located just under the nForce4 SLI Southbridge, so if you find yourself in the no-POST world during intensive overclocking turn the system off, and press and hold it for five seconds. That will reset the BIOS back to default settings.

Comments and Feedback? Suggest a Tweak.
Overclocking the Diamond

Overclocking Results:
MSI has really started to get serious about overclocking options.... How serious you ask? Well, how does DFI-LANParty-like-BIOS-options sound?
MSI's K8N Diamond Plus is no slouch when it comes to overclocking, and for most in its armory are some pretty serious voltage options. If you've got the experience, you can select up to 4.1V DIMM voltage and tweak CPU voltages to 2.3V. Be careful with these options, inexperienced overclockers may just as quickly damage hardware if not careful. For the hardcore computer enthusiast, start of with conservative values, and slowly work your way up!
Before PCSTATS started to overclock the MSI K8N Diamond Plus motherboard, the CPU clock multiplier was first set to 5x and memory divider to 2/3. This way neither the processor or memory would hold the motherboard back from reaching its top potential speed. Starting at 200 MHz, the clock speed of the K8N Diamond Plus motherboard was increased in 5 MHz intervals.
From the start, the K8N Diamond Plus was a pure pleasure to overclock. The board easily passed the 250, 275 and 300 MHz marks before finally coming to rest at 310 MHz. At this point the board was showing some signs of instability, and the only fix we found was increasing the C51D Northbridge voltage form 1.2V to 1.4V.
Experts Tip: Warranty Voided

MSI is still pretty new to the extreme overclocking game and users who want to access the seriously high voltages need to first move jumpers JV1. Unfortunately doing so voids the warranty of the motherboard. Without moving the JV1 jumper, users will be limited to a maximum memory voltage is 3.2V.

Comments and Feedback? Suggest a Tweak.
A few more speed bumps later and the MSI K8N Diamond Plus motherboard came to rest at an impressive 327 MHz. Any speeds higher and it would have a difficult time POSTing or booting into Windows. Overclockers should be very pleased at what MSI has done here, with the K8N Diamond Plus there is at long last a real alternative to DFI's LANParty NF4-series!
Now, let's take a look around that BIOS...