Gamers who want the absolute fastest systems to battle alien monsters, fly through the sky at mach 20, and save the universe need to walk right up to the isle of dual videocard motherboards. One PCI Express graphics card is just so 2005... now a days the only game in town is either nVIDIA SLI or ATI Crossfire. The option of running two videocards is almost enough to make one's trigger finger start clicking wildly!
ATi CrossFire is the other game in town that enables twin PCI Express videocards, and it doesn't get the same amount of attention as nVidia's solution does. I guess if you're the first to the party that affords you some priority, but anyhow ATI has been doing its best to remind us all that fast paced gaming and twin Radeon videocards is actually an option... you know... that's probably like worth your consideration.
Gaming knows no loyalties, and on paper ATI CrossFire looks quite solid. The technology ATi has developed is apparently pretty good if you can actually track down a Crossfire compatible motherboard and the elusive Crossfire master videocard. What really makes ATi's CrossFire Xpress 1600 particularly attractive is its price.
On average, The Xpress 1600 platform translates into a much more affordable motherboard than equivalent nVIDIA nForce4 SLI boards. With the money saved there, hey why not re-spend it on a quicker videocard?

ECS KA1-MVP Extreme Motherboard



Includes:

User's Manual, Driver CD, Application Utility CD, Ultra/33 IDE Cable, Ultra/133 IDE Cable, Floppy Cable, Four Serial ATA Cables, One Molex Y Serial ATA Splitter Power Cable, Front Port USB Bracket, External Serial ATA Cable Bracket, USB/IEEE 1394 bracket, Parallel Port Bracket, Top Hat BIOS Module, Network Cable, Shunt Card
The ECS KA1-MVP Extreme is one of the new breeds of ATi CrossFire Xpress 1600 motherboards. The board supports Socket 939 Athlon64/X2/FX processors as well as up to 4GB of PC3200 system memory thanks to the four dual channel DDR-RAM slots. Other standard features include two network cards (one Gigabit, one 10/100), an additional Silicon Image SiI3132 Serial ATA II/RAID controller, IEEE 1394a and 7.1 channel audio. All this for a sticker price that certainly makes you look twice: $131 CDN ($115 USD/£65 GBP).
As you can see the ECS KA1-MVP Extreme motherboard is packed to the gills with ports and headers, and pretty much everything you'll need. With all the onboard peripherals, there's still room on the ECS KA1-MVP Extreme for two PCI Express x1 slots (for high bandwidth devices) and two 32-bit PCI slots for your legacy hardware.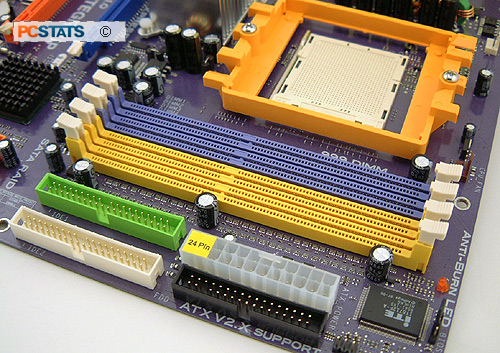 There are two IDE channels, and six SATA II headers for storage devices which is pretty reasonable. Two internal firewire and USB headers expand options with a set of PCI brackets to eight possible USB slots. Good so far.
The motherboard doesn't have a parallel port at the rear IO, because of the cooling fan this rather crucial but aged port is handled by one of the included PCI brackets. Speaking of which there is also a PCI bracket for an external SATA connection as well.
The KA1-MVP CrossFire comes with its own Ethernet cable, a rarity not generally seen bundled in with motherboards. A 3.5" bracket is also in the package should you wish to have two of the USB ports in place of a 1.44MB floppy drive.