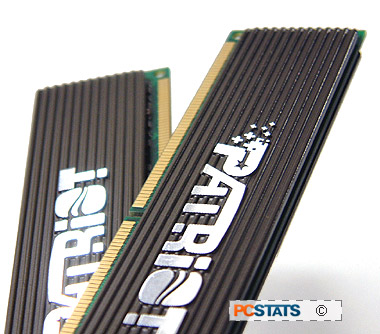 Memory manufacturers are using overclocker tricks to get memory to run faster than JEDEC provides.... but the secret as any enthusiast will tell you is to loosen up the memory timings and increase the voltage carefully.
The SPD module on the Patriot Patriot PDC22G8000+XBLK Rev.2 DIMMs automatically loosens the memory timings (when the settings are set to SPD) as the memory clock speed increases. There is no memory on the market which can reach DDR2-1000 speeds without a voltage increase. For the Patriot PDC22G8000+XBLK Rev.2 to hit that, memory voltages need to be around 2.1V.
Differences When Testing DDR-2
With dual core processors thrown into the mix, testing DDR-2 RAM is a lot more difficult than before. Socket 775 Pentium D processors do react positively to lower latency timings, but bandwidth is the bigger issue. This makes a lot of sense if we consider that an Intel Pentium D processor is essentially being dropped into Pentium 4 subsystems that was only really intended to support one processors' worth of memory bandwidth requirements.
From PCSTATS Lab tests, even though the second core sits idle for many benchmarks, bandwidth is still the primary issue with Intel Pentium D processors since the OS does communicate to the second core while the benchmarks are running. With that in mind, when it comes to testing out DDR-2 memory modules, we are really only interested in seeing how high the memory can clock with latency timings coming in as a far second concern.
experts tip: buy the memory that's right for your system

Depending on what you do with your computer, buying the appropriate memory can have a drastic effect on performance. If your system is used mainly for office style 2D type work and you game very little, standard memory with tight timings is perfect. Gamers on the other hand would be advised to spend a bit more for "performance" memory. This is memory that will run with tight timings and high bandwidth; adding perhaps 10% to the PCs capability at dishing out frames per second quickly. Games like Battlefield 2 require a large amount of memory, so don't settle for anything less than 2GB. Other titles will make due with anywhere between 512MB to 1024MB installed, it all depends, so do your homework.

Comments and Feedback? Suggest a Tweak.
Overclocking the Patriot Memory

Overclocking Results:
When it comes to overclocking, we've already developed a pretty positive opinion of Patriot Memory's products. Whether or not that impression changes today will be decided in the next couple minutes.
Overclocking the Patriot PDC22G8000+XBLK Rev.2 started off with 3-3-3 memory timings and a speed of 667 MHz; the RAM speed was increased in 10 MHz intervals thereafter. Novice enthusiasts might want to overclock a bit more conservatively.
With 3-3-3 CAS latency timings, the Patriot PDC22G8000+XBLK Rev.2 performed well and it reached 820 MHz before the system started to show signs of instability. Increasing the voltage from 1.8V to 2.0V solved this, and we continued to overclock the memory higher. At 880 MHz, the memory again started to flake out, the system had difficult POSTing and the voltage had to be increased again 2.1V. With that much voltage, the memory topped out at a maximum speed of 925 MHz.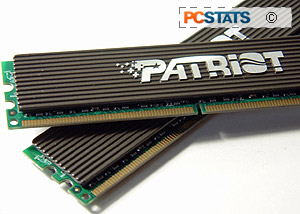 From 925 MHz the timings were dropped to 4-4-4, and voltage held constant at 2.1V. Without much difficulty, the module hit 1020 MHz. This is on par with the last set from this company that PCSTATS tested, but the PDC22G8000+XBLK Rev.2 was able to accomplish this feat with tighter timings!
Prelude to Benchmarks
The details of how the Patriot PDC22G8000+XBLK Rev.2 memory test system was configured for benchmarking, including the specific hardware, software drivers, operating system and benchmark versions are indicated below. In the second column are the general specs for the reference platforms this pair of DDR-2 memory is to be compared against. Please take a moment to look over PCSTATS test system configurations before moving on to the individual benchmark results.
The memory will be tested at three different settings: DDR2-667 speeds with CL3 settings, DDR2-800 with CL3 settings and DDR2-1000 at CL4. Please keep in mind that in order for the MSI P4N Diamond motherboard to reach DDR2-1000 speeds the motherboard has to be overclocked 251 MHz. The motherboard does support the ability to run the memory slightly faster than the FSB, however it does not seem to function properly in so doing, which is why the processor is overclocked so high.

PCSTATS Test System Configurations