It's great to see how individual memory stacks up against the competition under stock configurations, but we're also going to show how it compares when overclocked. With performance in mind, we're going to compare the maximum overclocked results of the various DDR2 DIMMs we've tested in the past which are listed below. Remember, just because memory is clocked fast doesn't mean it's the best thing for a computer. Timings are also important, and getting the right ratio of both is the real key to performance based overclocking!
Maximum Overclocked Speeds and Timings - PCstats Results

Intel System Results

Module Memory Size

Timings

Max Speed

Ranking

Patriot PDC22G8000+XBLK Rev.2
1024MB
4-4-4-10
1020 MHz
Patriot PDC22G8000ELK
1024MB
5-5-5-12
1020 MHz
Super Talent T800UX2GC4
1024MB
4-3-4-8
964 MHz
Corsair Twin2X1024-8000UL
512MB
5-4-4-9
957 MHz
Patriot PDC22G8000+XBLK Rev.2
1024MB
3-3-3-9
940 MHz
Patriot PDC22G8000ELK
1024MB
3-4-3-10
940 MHz
Corsair Twin2X2048-6400 PRO
1024MB
5-5-5-12
935 MHz
Crucial Ballistix PC2-5400
512MB
5-5-5-10
860 MHz
PDP Systems Patriot PC-4200 DDR2 XBL
1024MB
5-4-4-9
765 MHz
PQI Turbo PQI25400-1GDB
512MB
4-4-4-12
730 MHz
Corsair Twin2X1024-4300C3
512MB
4-4-4-12
700 MHz
Crucial Ballistix PC2-4200
512MB
4-4-4-10
660 MHz
Mushkin PC2-4200
512MB
4-4-4-12
625 MHz
The Patriot PDC22G8000+XBLK Rev.2 performs very well wouldn't you say? ;-) With tight 4-4-4-10 timings, it is able to hit 1020 MHz barrier, for other DIMMs to reach the same speed timings had to be relaxed to 5-5-5-12.
RAM and DDR-2 Are Becoming Increasingly Complex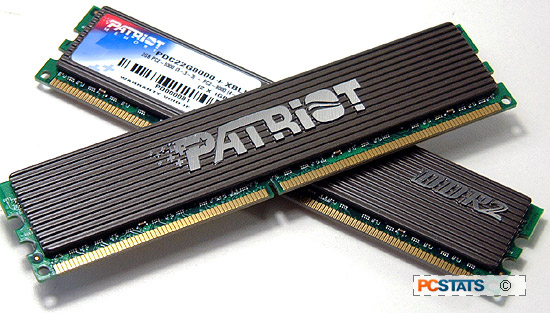 A key ingredient to how the AMD Socket AM2 Athlon64 will handle itself is lower latency DDR-2 RAM, and this is only just now becoming available. After all, the Athlon64 architecture performs better with memory that runs tighter timings, rather than just high bandwidth.
The Patriot Memory PDC22G8000+XBLK Rev.2 modules are exactly what AMD will require in a few months' time. This is not to discount Intel, Pentium 4/D/XE systems also react well to tight timings but it's not as vital for the Netburst architecture
The Patriot PDC22G8000+XBLK Rev.2 is truly remarkable DDR2 memory, and we can only hope that more vendors in the memory industry follow this route and release truly awesome lower-latency memory like this. Not only are the PDC22G8000+XBLK Rev.2 modules able to scale to high speeds, they do so while running fairly tight timings as far as DDR2 is concerned. We've tested quite a few DIMMs which can reach 1020 MHz, but the Patriot PDC22G8000+XBLK Rev.2 was the only set thus far that has breached that speed with CL 4-4-4 timings.
In the benchmarks the Patriot PDC22G8000+XBLK Rev.2 at worst performed on par with the rest of the memory and at best outperformed the entire field. Benchmarks like 3DMark05, Doom 3 and Quake 4 say that the Patriot PDC22G8000+XBLK Rev.2 is some pretty fast DDR2 memory!
The Patriot PDC22G8000+XBLK Rev.2 memory but it will be released at the end of April, and we'll have wait till then to see what kind of price premium these modules will command. If you plan to pick up some high performance DDR2 in the near future, the Patriot PDC22G8000+XBLK Rev.2 is definitely going to be worth the wait!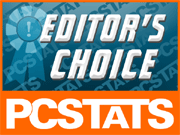 Find out about this and many other reviews by joining the Weekly PCstats.com Newsletter today! Catch all of PCSTATS latest reviews right here.
Related Articles
Here are a few other articles that you might enjoy as well...
- Patriot Memory PDC22G8000ELK PC2-8000 DDR2 Memory Review
- Super Talent PC2-6400 T800UX2GC4 DDR-2 Memory Review
- Crucial Ballistix PC2-4200 DDR2 Memory Review
- Mushkin HP3200 Redline PC3200 DDR Memory Review
- Introducing FB-DIMM Memory: Birth of Serial RAM?