The name S3 should be pretty familiar with old school computer enthusiasts, but it's not the same company as in the past. The new S3 is the result of the old S3 (which subsequently went belly up) selling its graphics division to VIA in 2001. At the time S3 was struggling to compete against ATi and nVIDIA in the standalone graphics market. VIA purchased the graphics division so it could use S3's low cost video technology in its own integrated motherboard chipsets. This greatly improved the quality of VIA's integrated videocards and put it on par with Intel in the highly lucrative entry level market.
Fast forward a couple of years and we now find S3 is once again branching out from integrated graphics chipsets to full fledged videocards. This time around S3 is only presenting itself as an entry level supplier, and that by all accounts is a much safer bet.
With Microsoft's Windows Vista due out at the end of this year, or perhaps early 2007, there is a feature called Aero Glass that is set to break plenty of legacy videocards. If you want to take advantage of Microsoft Vista's fancy Aero Glass visual interface (and by all accounts you really do) the computer must have videocard hardware capable of at least DirectX 9 with a minimum of 64MB on board memory. And wouldn't you know it, the new S3 Chrome S27 videocard fits the bill perfectly with a very affordable price too. Funny that.

S3 Chrome S27 Videocard




Includes:

Driver CD, Quick Installation Guide, DVI to Analog Converter, Component Output Cable
The S3 Chrome S27 PCI Express videocard specs look quite appealing on paper, it has everything a decent graphics accelerator boasts these days; a 90nm manufactured silicon core, eight pixel rendering pipeline, 128MB GDDR3 memory and dual monitor outputs. The unit PCSTATS received for review also included a component output splitter cable, so this compact little PCI Express x16 S3 Chrome S27 videocard can be used in Home Theatre PC's (HTPC) too.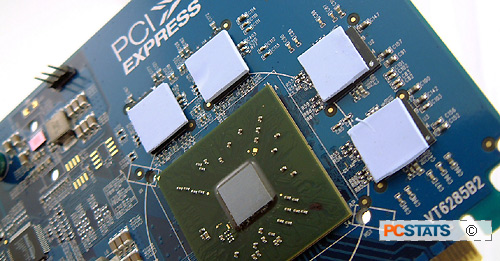 Not bad considering its sticker price is a mere $91 CDN ($80 USD, £44 GBP) .
The S3 Chrome S27 is compact both in size and cooling solution. On the front of the PCI Express x16 videocard we see a large aluminum heatsink with a 40mm fan sitting just above where the graphics core is.
The large aluminum heatsink also comes in contact with the four BGA GDDR3 DRAM modules and uses thermal gap filler between the memory and heatsink to help cool them. The whole setup mounts onto the videocard via two holes around the videocard core.
A single heatpipe connects the heatsink on the front with another heatsink on the rear of the videocard.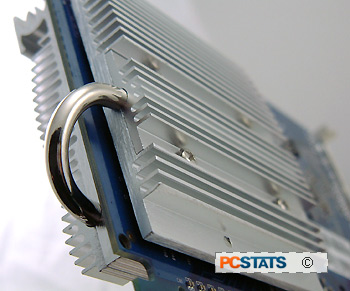 There are a couple more squares of thermal gap filler between the rear heatsink and PCB, right behind where the BGA DRAM modules are soldered to further help transfer heat away from the memory.
This is probably S3's first heatpipe heatsink and noticeably missing was thermal compound between the heatsink and heatpipe... We'd advise you to add a little between the heatsink and heatpipe to ensure an optimal thermal environment.
Computer noise is unfortunately one of those things that modern videocards are contributing far to much to. We're pleased to report however that during the course of benchmarking the S3 Chrome S27 videocard, it was barely audible.
Quiet videocards always make the best options for a HTPC, and the S3 Chrome S27 certainly gets a few marks on this front. The VGA heatsinks remained rather cool to the touch, so I suspect you could get away with a passive VGA heatsink if you wanted, but PCSTATS did not specifically test this out.