Power Jitter Observations - Motherboard
Voltage jitter is read by accessing the power options displayed in the motherboard BIOS, with the system obviously in an unloaded state. *All voltages were read from the BIOS of an MSI K8N Neo4 Platinum SLI motherboard.
| Listed Voltages | Lower Voltage | Upper Voltage | Jitter |
| --- | --- | --- | --- |
| +3.3V | 3.3V | 3.33V | 0.03V |
| +5.0V | 4.99V | 5.00V | 0.01V |
| +12V | 11.9V | 11.9V | 0.00V |
| -12V | -11.99V | -12.00V | 0.01V |
| -5.0V | -4.99V | -4.99V | 0.00V |
| +5.0Vsb | 5.0V | 5.0V | 0.01V |
The voltage readings from the motherboard are very solid indeed and the Seasonic S12 600 does very well here.

Power Jitter Observations - Multi-meter
Voltage jitter was read by a Mastech MS8230B Multimeter with the system in an unloaded state. During testing the power supply is was still connected to a full computer and voltage values.
| Listed Voltages | Lower Voltage | Upper Voltage | Jitter |
| --- | --- | --- | --- |
| +3.3V | 3.35V | 3.35V | 0.00V |
| +5.0V | 5.0V | 5.0V | 0.00V |
| +12V | 11.8V | 11.8V | 0.00V |
It's funny to see the voltage differences between a multimeter and BIOS readings. The voltages as read through the multimeter were solid and did not move one bit during testing.
When looking at the Seasonic Power Supply test results we see two values, wattage and volt-amps. Since it might not be clear what they measure, here's a brief overview.
The volt-amp (VA) value is how much real power is being consumed by the power supply being tested to provide the wattage (W) value. The higher the VA value is, the more electricity is being used by the power supply. Because no electrical device is 100% efficient, there will always be some loss when converting AC to DC. The closer the volt-amps and wattage figures are to each other, the more efficient a power supply is. This is called the Power Factor: wattage / volt-amps = PF.
Since we're testing with a 120W dummy load, the load on the power supply (wattage) should be as close to this figure as possible. Anything above this load in apparent power describes the overhead and wasted energy (given off as heat) for the particular power supply being tested. For the unloaded tests, the wattage and volt-amp figures should be as close as possible to one another. The lower the figures are, the less power is being used.
Measurements were taken with the Extech 380803 Power Analyzer.
Seasonic Power Load Tests

Power Supply
Wattage
Test Type
Loaded
Unloaded
Seasonic SuperTornado
400 W
(A-PFC)
Active Power
177 W
6 W
Apparent Power
182 VA
7 VA
Vantec iON2
350 W
Active Power
192 W
10 W
Apparent Power
277 VA
21 VA
Antec TruePower 330
330 W
Active Power
195 W
22 W
Apparent Power
289 VA
38 VA
Ultra X-Connect Green UV 500W
500 W
Active Power
193W
22 W
Apparent Power
307 VA
40 VA
AOpen Silent Power AO400-12AHN
400 W
Active Power
179W
9 W
Apparent Power
275 VA
18 VA
Seasonic S12-430
430 W
(A-PFC)
Active Power
179W
6W
Apparent Power
180VA
9VA
PC Power and Cooling Turbo-Cool 510 Express/SLI

510 W
(A-PFC)

Active Power

200 W

29 W
Apparent Power
202 VA
32 VA
HEC Ace Power 580UB

580 W

Active Power

183 W

12 W
Apparent Power
272 VA
26 VA
HEC Win 550UB
550 W
Active Power
184W
10W
Apparent Power
263VA
22VA
Akasa PowerPlus AK-P550FF
550 W
(A-PFC)
Active Power
194W
38W
Apparent Power
197VA
40VA
AOpen Prima Power AO700-12ALN
700 W
(A-PFC)
Active Power
172W
3W
Apparent Power
181VA
9VA
PC Power & Cooling Turbo-Cool 1KW
1000 W
(A-PFC)
Active Power
205W
25W
Apparent Power
207VA
32VA
Seasonic S12 600
600 W
(A-PFC)
Active Power
164W
7W
Apparent Power
173VA
9VA
The Seasonic S12 600 is definitely very efficient in converting AC to DC and does not waste much power as heat requiring only 164W of energy to power the 120W dummy power load.
Hello Mr. Efficient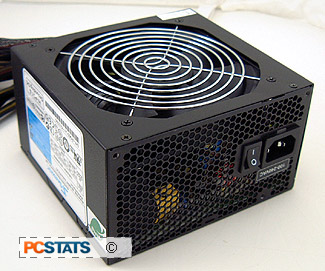 With power requirements of high end systems climbing ever higher, enthusiasts and manufacturers have been putting more emphasis on higher quality power supplies. While this has increased prices slightly, consumers are equipping PCs with better power supplies now and that is a good thing.

There are a lot of expensive power supplies on the market but unfortunately most are expensive due to gimmicks like flashy LED fans, see through PSU containers and detachable cables. What you should look for instead is for a power supply that has passed industry certification (like nVIDIA's SLI certified PSUs) and do your homework by posting in computer forums asking the more experienced users what they think of certain models. This way you can get yourself a truly reliable power supply, not some pretty piece of junk.

Seasonic has swept through the enthusiast community pretty quickly and for good reasons too. Its 30 years of experience manufacturing power supplies means Seasonic knows how to deliver the goods and that's exactly what has made the brand so popular. Simply put, Seasonic power supplies are rock solid and give even the most hardcore users great peace of mind.

The new flagship Seasonic S12 600 has a high standard to live up to but as you saw it had no problems. While reading the specs listed on the Seasonic power supply might not seem as impressive as other models available, please keep in mind that they are sustained which means the Seasonic S12 600 can deliver a true 600W of power while under load and not just during peak times.

The performance of the Seasonic S12 600 was excellent as expected from a Seasonic power supply. With a retail price of $171 CDN ($155 US, £83 GBP) , the Seasonic S12 600 is expensive but compared to other power supply's in that price range offers you better value.

If you're looking for a new power supply for that hot rod system of yours, make sure you check out what Seasonic and the S12 600 has to offer. You'll definitely be impressed as has everyone who has used a Seasonic power supply.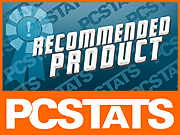 Find out about this and many other reviews by joining the Weekly PCstats.com Newsletter today! Catch all of PCSTATS latest reviews right here.
Related Articles
Here are a few other articles that you might enjoy as well...
- Powerware 5125 1000VA UPS Review
- PC Power & Cooling Turbo-Cool 510 Express/SLI Power Supply Review
- AOpen Prima Power AO700-12ALN 700W Power Supply Review
- Akasa PowerPlus AK-P550FF 550 Watt Power Supply Review
- HEC WinPower Win 550UB PSU Review