It's great to see how individual memory stacks up against the competition under stock configurations, but we're also going to show how it compares when overclocked. With performance in mind, we're going to compare the maximum overclocked results of the various DDR2 DIMMs we've tested in the past which are listed below. Remember, just because memory is clocked fast doesn't mean it's the best thing for a computer. Timings are also important, and getting the right ratio of both is the real key to performance based overclocking!
Maximum Overclocked Speeds - PCstats Results

Maximum Speed w/ Low Latency

Timings

Capacity
Max Speed

Ranking

Corsair Twin2X2048-6400C4
4-4-4-12
1024MB
1016 MHz
Corsair Twin2X2048-8500C5
4-4-4-12
1024MB
952 MHz
Corsair Twin2X2048-6400C3
3-4-3-9
1024MB
872 MHz
SyncMAX PC2-5300 Express
4-4-4-10
512MB
840 MHz
Crucial Ballistix PC2-5300
3-3-3-12
1024MB
790 MHz

Maximum Speed

Timings

Capacity
Max Speed

Ranking

Corsair Twin2X2048-6400C4
5-5-5-15
1024MB
1104 MHz
Corsair Twin2X2048-8500C5
5-5-5-15
1024MB
1104 MHz
Corsair Twin2X2048-6400C3
5-5-5-15
1024MB
1056 MHz
Crucial Ballistix PC2-5300
5-5-5-15
512MB
1056 MHz
SyncMAX PC2-5300 Express
5-5-5-15
1024MB
904 MHz
The Corsair Twin2X2048-6400C4 offers a good mix of tight timings and excellent performance. 4-4-4-12 timings are fairly tight and it clocks up nice and high which means you won't have to suffer from a timings penalty to push your system to its max. The Foxconn C51XEM2AA maxes out at 276 MHz (1104 MHz memory speed) so who knows how far this memory will go. ;-)
Some wicked memory!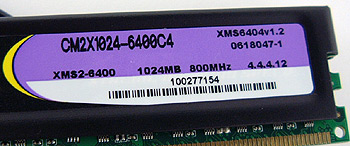 Traditionally the maximum overclocking chart goes here but since we've just started testing DDR2 memory on the Socket AM2 platform, we do not have any other numbers. One thing is for sure though, Corsair definitely has itself a winner with its awesome Twin2X2048-6400C4 memory!

In the past the biggest deterrent for a hardware enthusiast from moving to a DDR2 system was that Intel DDR2 Pentium 4/D systems were simply slow. Now with AMD's Socket AM2 Athlon64, the excitement has definitely heated up in the enthusiast community.

Corsair and nVIDIA have been working together to develop a new type memory standard that will help unlock more performance from one's PC dubbed EPP. Enhanced Performance Profiles or EPP is an open standard that's open to every memory manufacturer and quite a few have already jumped aboard. What EPP does is when used in a compatible motherboard and enabled in the BIOS, it will automatically adjust the speed, timings and voltages of the memory for more performance. Much like how dynamic motherboard overclocking has increased performance for end users, EPP promises to make things even sweeter by fine tuning memory settings.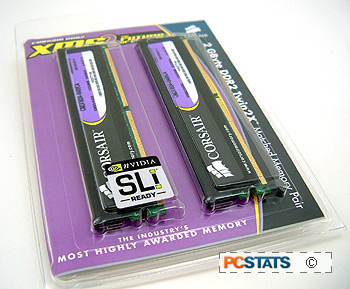 At the moment only nVIDIA's high end nForce 590 SLIs chipset support EPP but we do expect other chipset manufacturers to adopt this feature as well. Memory that is EPP compatible is dubbed SLI Ready so look for that nVIDIA sticker on the packaging if you want EPP friendly memory.
Performance of the Corsair Twin2X2048-6400C4 memory was excellent as expected and is perfect memory for Socket AM2 Athlon64 users. It's amazing to see how efficient the Athlon64 memory controller is compared to Intel's DDR2 memory controllers.
In terms of overclocking the Corsair Twin2X2048-6400C4 was also very good, the DIMMs tested were able to crack the 1000 MHz barrier while keeping 4-4-4-12 memory timings! Loosening it up to 5-5-5-15 allowed the memory to hit 1104 MHz before the motherboard topped out, pretty impressive wouldn't you say?
With a retail price of $300 CDN ($270 US, £143 GBP) , the Corsair Twin2X2048-6400C4 is actually quite reasonable. If you're looking for some high capacity, quality memory, remember Corsair can deliver the goods!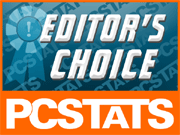 Find out about this and many other reviews by joining the Weekly PCstats.com Newsletter today! Catch all of PCSTATS latest reviews right here.
Related Articles
Here are a few other articles that you might enjoy as well...
- Buffalo FireStix FSX1000D2C-K2G PC2-8000 DDR-2 Memory Review
- Patriot Memory PDC22G8000+XBLK Rev.2 DDR2-1000 Memory Review
- Patriot Memory PDC2G4000ELK 2GB Memory Kit Review
- Patriot Memory PDC22G8000ELK PC2-8000 DDR2 Memory Review
- Super Talent PC2-6400 T800UX2GC4 DDR-2 Memory Review