Enthusiast brand memory manufacturers have been looking forward to AMD's Socket AM2 Athlon64's to hopefully provide a lift to sluggish DDR2 sales. While Intel has been using DDR2 for almost two years now, it has not generally appealed to overclockers because... well Intel systems are slow.
In recent months, memory manufacturers have started to lower memory timings in its DDR2 memory modules which is great news for AMD's Socket AM2 Athlon64. With official DDR2-800 support and lower latency memory modules coming out, things are looking very bright for AMD!
To make things even sweeter, Corsair and nVIDIA have been working together to create a new memory standard dubbed EPP which stands for "Enhanced Performance Profiles". When used in a compatible motherboard, EPP helps the system automatically overclock the memory and tighten up timings to improve performance. We'll get into the technology behind EPP in a bit but it will definitely make overclocking easier for those who do not want a lot of fuss.
Corsair has just released a set of its DDR2-800 memory that is perfect for Socket AM2 Athlon64 processors. Fast memory modules with low latencies, its new Twin2X2048-6400C4 memory is exactly what the doctor ordered. This state of the art 2GB set of memory retails for $300 CDN ($270 US, £143 GBP) which is quite an aggressive price for such great memory.

Corsair Twin2X2048-6400C4
RAM Memory Type: DDR2-800 / PC2-6400
Individual Module Capacity: 1GB
Native Speed & Latency: 800 MHz @ CAS 4-4-4-12
When running in dual channel mode, the Corsair Twin2X2048-6400C4 provides 12.8GB/s worth of memory bandwidth which happens to be exactly what the dual core Socket AM2 Athlon64 X2/FX processors need. What a coincidence. ;-) While timings of 4-4-4-12 might sound high to DDR memory users, it's actually quite aggressive already compared to most regular DDR2 memory on the market.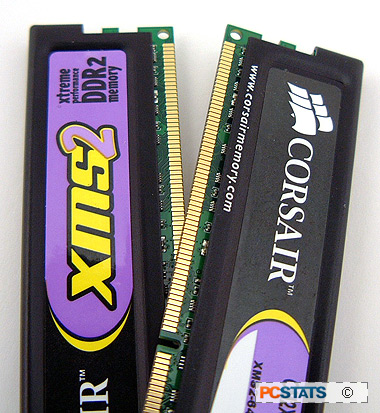 Please keep in mind that while we've been talking a lot about AMD and Socket AM2, this memory will function just fine with Pentium D systems as well. In fact the Corsair Twin2X2048-6400C4 will most likely perform faster than what's currently on the market due to its tight timings, yes Intel systems benefit from this as well.

What is EPP?

Corsair and nVIDIA have co released Enhanced Performance Profiles (EPP) DDR2 memory which are intended to be used with Socket AM2 Athlon64's. EPP takes over where the Serial Presence Detect (SPD) EEPROM leaves off and allows the motherboard to dynamically adjust memory timings and voltages for improved overall performance.

In additional to the settings the SPD provides to the computer, EPP memory contains up to two full performance profiles and up to four additional abbreviated profiles which allow the computer to switch various settings on the fly. CAS Latency, RAS to CAS Delay, Command Rate and memory voltages are just some of the options that EPP can adjust on the fly.

With automatic motherboard overclocking already a hit in the retail market, EPP compatibility adds memory tuning to the performance mix. EPP will appeal more to the novice or moderate overclocker who does not know or like to muck around with memory timing adjustments. Enthusiasts can still override EPP's performance profiles by setting memory timings manually in the BIOS however.

At the moment EPP memory is only compatible with the nVIDIA nForce 590 SLI chipset. We do expect other chipset manufacturers to adopt EPP memory support for high end products soon. If you are wondering whether the set of memory you're looking for is EPP compatible, just watch out for the nVIDIA SLI Ready sticker. If it has that sticker on the packaging, then it's EPP compatible, if it doesn't then it's not.

PCSTATS Test Methodology

On AMD test systems, we're only interested in seeing how high we can go with the memory running 1:1, as running with other dividers puts the overclocking bottleneck elsewhere and not with the system memory. The DDR2 RAM latency must run at its lowest possible setting, as quick access is more important to the CPU design. Just for arguments sake, we will also be conducting overclocking tests to see how high the memory will go with lax timings (5-5-5-15), although we will only benchmark the system with the tight memory timings mentioned above. Let's get started!