The price of energy is increasing world wide, and any reduction in the amount of power a computer draws is welcome in our books. Power supplies which employ power factor correction (PFC, or A-PFC) help ensure efficient conversion of AC to DC, and reduce the amount of energy wasted as heat. The following power tests were all conducted with an Extech Model 380803 Power Analyzer located between the mains 120AC supply and the PC power supply. Power jitter is measured with a Mastech MS8230B Multimeter at the device power connectors.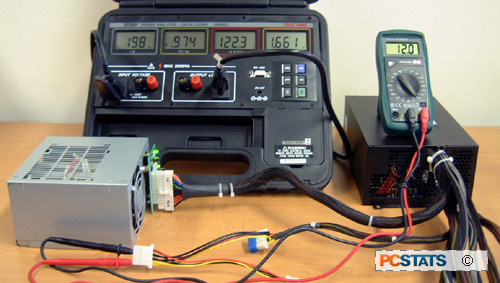 Here is a picture of the test set up for the PC Power & Cooling Turbo-Cool 1KW power supply.

Power Jitter Observations - Motherboard
Voltage jitter is read by accessing the power options displayed in the motherboard BIOS, with the system obviously in an unloaded state. *All voltages were read from the BIOS of an MSI K8N Neo4 Platinum SLI motherboard.
| Listed Voltages | Lower Voltage | Upper Voltage | Jitter |
| --- | --- | --- | --- |
| +3.3V | 3.26V | 3.33V | 0.07v |
| +5.0V | 4.99V | 5.01V | 0.02v |
| +12V | 11.8V | 12.13V | 0.33v |
| -12V | -11.99V | -12.00V | 0.01v |
| -5.0V | -4.99V | -4.99V | 0.00v |
| +5.0Vsb | 5.0V | 5.0V | 0.01v |
The PC Power & Cooling Turbo-Cool 1KW motherboard BIOS values are fairly stable, the 12V line jumped around quite a bit but was nothing out of the ordinary.

Voltage Level Measurements - Multimeter
The +3.3V, +5.0V, and 12V voltage levels were measured directly with the aide of a Mastech MS8230B Multimeter. The power supply was connected to a stock computer system operating in an unloaded state, and the voltage values were taken directly from the power cables.
Target Voltage
Measured
Lower Voltage

Measured
Upper Voltage

+3.3V
3.30V
3.30V
+5.0V
4.80V
4.80V
+12V
12.01V
12.00V
The three voltage rails that were measured are all pretty much on the mark, or very close. The +5V rail is 0.2V below what it should be, and the 12V rail is right on the money. Lastly, the 3.3V rail is on the mark as well.
Next, load tests with the Seasonic PSU tester and then our final conclusions on this unit.