Aside from perhaps the optical drives, the power supply is the most underrated component inside the modern PC. It's understandable since the benefits of a high quality power supply versus a low end piece of junk are not immediately apparent. To most, the only value worth considering is the overall wattage; but frequent PCSTATS readers will know there is more to a power supply than just this one number.
Big numbers like wattage numbers like 400W, 500W and 600W are nothing if there is insufficient Amperage supplied to the 12V rail, and even less impressive if the unit doesn't employ Power Factor Correction (PFC). The best thing you can do for your PC when selecting a power supply is to take a moment and read the specs, specifically the 12V rail ratings. If the value listed is in the area of 30 Amps on a single, or combined 12V rail, that's good. If you see anything less power related issues can crop up - particularly in a fully loaded PC - non-dual videocard computers don't require as much current. As a general rule of thumb though, it's more important to buy a reputable power supply brand than a generic type or lesser known brand with better "specs".
PC Power & Cooling is known to make the best computer power supplies, and for good reason; its power supplies continuously stand the test of time. In fact, for many enthusiasts, a PC Power & Cooling power supply means that they can rule out power related issues if hardware problems pop up. We have already seen what PC Power & Cooling can do with its awesome Turbo-Cool 510 Express/SLI , will its new 1kW power supply knock us off our feet?
The new PC Power & Cooling Turbo-Cool 1 Kilowatt power supply is easily the baddest power supply on the market. This power supply has the ability to deliver 1kW of power continuously, and has a peak rating of 1.1kW! The PC Power & Cooling Turbo-Cool 1 Kilowatt power supply has three +12V rails with the ability to deliver 66 Amps of continuous current (70A peak).

PC Power & Cooling Turbo-Cool 1kW

Includes:

Users Manual, 20-24-pin adaptor, power cord, mounting screws, 4-pin adaptor thing-a-ma-jig
At 15 x 8.6 x 23 cm in size, the PC Power & Cooling Turbo-Cool 1 Kilowatt power supply is huge. It is almost twice as long as a standard ATX power supply, and pretty heavy. Potential users are advised to make sure that there is enough space inside their case first before buying this bad boy.
We like to judge how much confidence a manufacturer has in its products by the length of its warranty; short warranties imply poor quality control. The PC Power & Cooling Turbo-Cool 1 Kilowatt power supply comes with a long five year warranty. The MTBF (Mean Time Between Failure) has been listed at 100,000 hours or eleven years. Should the worst ever happen, PC Power & Cooling does offer phone support. If PC Power & Cooling would make its 1-800 number valid from the whole world instead of the US that would be great. ;-)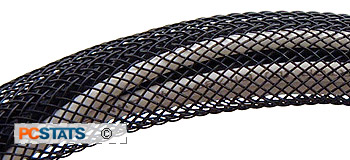 According to PC Power & Cooling, as the temperature inside the PSU rises, the PC Power & Cooling Turbo-Cool 1KW's maximum power output is lowered by ~3W per degree Celsius and the PSU has a maximum internal temperature of 50 degrees Celsius.
This temperature value is key to how some disreputable companies can get away with labeling junky units with really high Wattage figures... they do this by quoting an unlikely low operating temperature for a specific Wattage. PC Power & Cooling on the other hand give you its wattage rating with an internal temperature of 50 degrees Celsius.
Like many of the other power supplies that have passed through the PCSTATS test labs, the PC Power & Cooling Turbo-Cool 1KW supports Active PFC (Power Factor Correction). That means the PC Power & Cooling PSU does not have the 115/230V switch on the back, and will work anywhere in the world right out of the box.