AMD has turned up the heat on Intel by releasing its long awaited Socket AM2 platform, further extending the companies' technological and performance lead over Intel's best. If a new high end computer system is on the books, you really ought to have a good long look at what AMD is offering.
Behind the scenes companies like nVidia have been working on chipsets to make the most of the new DDR-2 memory AMD Athlon64 processors. nVIDIA is delivering exactly what AMDs, and thus far neither SIS nor VIA are really offering strong chipset competition for AM2 markets. nVIDIA's nForce 500 series chipsets are fast, we'll tell you that right now, but more importantly they are 'Intel-stable' and reliable. That kind of reassurance has allowed AMD to make breakthroughs in the workstation and server markets; both areas where Intel is the undisputed 500 pound gorilla.
AMD's newly tweaked socket AM2 Athlon64 chips are pretty darn sweet, and plenty of enthusiasts will surely be itching to upgrade.... which means it's time for a whole new round of cutting edge motherboards with your favourite deluxe/diamond/platinum/extreme/ultra adjectives in the name.
The Asus M2N32-SLI Deluxe is one of the first Socket AM2 motherboards to make it into the PCSTATS labs, and it's one motherboard with a lot of expectations attached. Coming out of the box, the ASUS M2N32-SLI Deluxe is extremely user friendly; in the hardware layout on-PCB, inside the BIOS, and with respect to its tweaking software. The Asus M2N32-SLI Deluxe supports 940-pin socket AM2 AMD Athlon64/X2/FX and Sempron processors and is based on the flagship nVIDIA nForce 590 SLI and nVidia MCP55PXE chipsets.

Asus M2N32-SLI Deluxe Motherboard



Includes:

User's Manual, Driver CD, Multimedia Software CD, Ultra/133 IDE Cable, Floppy Cable, Four Serial ATA Cables, Three Molex to two Serial ATA Power Cables, USB Bracket, IEEE 1394a Bracket, I/O Shield, System Fan
The boards' four 240-pin DDR2 RAM slots will support a maximum of 16GB of DDR2-533/667/800 memory in unbuffered ECC/non-ECC formats. That's quite a lot memory, and far overdue by some estimations. We'll be going over the nForce 590 SLI's long list of features shortly, but first we'd like to bring your attention to the single IDE channel that is hanging on by a thread. With the new chipset nVidia has embraced SATA hard drives fully, leaving IDE primarily for optical drives.
Moving along, on the ASUS M2N32-SLI Deluxe motherboard we find a Silicon Image SiI3132 Serial ATA II/RAID controller, dual Gigabit network connections, an "Azalia" High Definition 7.1-channel audio controller, IEEE 1394a Firewire, an external SATA jack, optical SP/DIF output, and a flurry of USB2.0 ports at rear and on internal headers. Expansion comes care of a PCI Express x4 slot, three PCI slots, and two PCI Express x16 slots which can be used with SLI videocards if you want a really kick ass gaming rig.
Uniquely, the entire ASUS M2N32-SLI Deluxe motherboard's collection of core logic and voltage regulators are cooled with a serpentine copper heat pipe and fin passive cooling system. The adjacent passive heatsinks work with exhaust airflow from the processor heatsink fan, and thus does not create any noise whatsoever. Nice, because I'm starting to hate that gnawing sound coming from the chipset fan of the labs' current Socket 939 test board.
Features Evolve
The Asus M2N32-SLI Deluxe motherboard steps away from the nVIDIA nForce 4-series with an increase to six Serial ATA II ports. Serial ATA technology has been with us for almost three years now and the majority of new drives are SATA, so it's time you migrated as well. The nForce 590 SLI chipset adheres to SATA 2.0 spec, which means the six drives it supports will receive a full 3.0 Gbps bandwidth, although there is no support for SATA Port Multiplier devices. That feature is part of the Serial ATA 2.5 spec.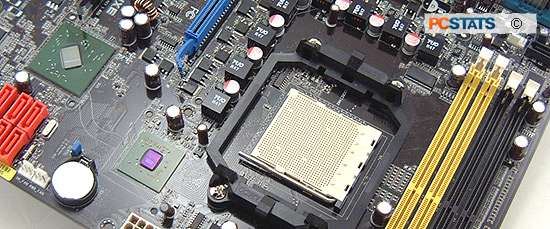 On the hard drive note, at first glance it appears as though there is a single Serial ATA channel coming from the PCI Express x1 Silicon Image SiI3132 controller, but if you look carefully you'll notice that Asus has positioned one channel at the rear I/O for external Serial ATA devices (eSATA).
The SiI3132 is a Serial ATA 2.5 compliant chipset, so the single internal channel can potentially support up to an additional five hard drives with a Port Multiplier device. The Silicon Image SiI3132 can even run RAID mode 0 and 1. The prospect of eSATA eRAID has our acronym happy fingers just giddy!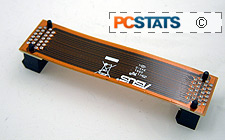 The Asus M2N32-SLI Deluxe motherboard sports two PCI Express x16 slots which run at full speed - in other words both received the full sixteen PCI Express lanes each when running in SLI, rather than eight apiece. What makes the Asus SLI option neat is its flexible SLI bridge connector.
At full length the SLI bridge can connect two videocards that are three expansion slots apart. Even though we've never actually seen a videocard with a cooling solution that occupies two additional PCI slots, ASUS engineers clearly had enthusiasts in mind when they put the M2N32-SLI Deluxe motherboard together. At the very least, the wide spacing between PCI Express x16 slots gives a healthy bit of breathing room between graphics cards.
Firewire (IEEE 1394) devices have gained much popularity the last few years and Asus equips the M2N32-SLI Deluxe with the PCI Texas Instruments IEEE 1394a controller. The overall bandwidth of a Firewire device is 400 Mbps, a little less than USB 2.0's 480 Mbps, but in reality IEEE 1394 is usually faster due to its ability to handle processing tasks on chip. USB off loads all the work to the host processor which also increases CPU utilization.
There is one IEEE1394 port on the rear I/O and an additional header available by expansion bracket. It would have been nice though if Asus could include the extra IEEE 1394a port on the USB 2.0 expansion bracket, rather than on a completely new one. Ahh well.
As an enthusiast, I'm sure you'll appreciate the seven fan headers on this motherboard. Six are available after you take the CPU fan into consideration, but in any case this boggles the mind with different fan configurations.
Next up, the nVidia nForce 590 SLI chipset.