FEAR is Sierra's latest first person shooter which relies heavily on DirectX 9 features. With its "Soft Shadows" feature enabled, even the fastest videocards run at a crawl, FEAR is definitely the new benchmark for future FPS games to follow.
FEAR 1600x1200 SS Disabled:

Anti-Aliasing

FPS

Ranking

MSI NX7600GT-VT2D256E 2x AA

28

MSI NX7600GT-VT2D256E QC AA

28

MSI NX7600GT-VT2D256E 4x AA

22
MSI NX7600GT-VT2D256E 8x AA
11
Anisotropic Filtering

FPS

Ranking

MSI NX7600GT-VT2D256E 2x AF

41

MSI NX7600GT-VT2D256E 4x AF

41

MSI NX7600GT-VT2D256E 8x AF

40
MSI NX7600GT-VT2D256E 16x AF
40
Anti-Aliasing and Anisotropic Filtering

FPS

Ranking

MSI NX7600GT-VT2D256E 2x AA, 8x AF

27

MSI NX7600GT-VT2D256E 4x AA, 16x AF

22

MSI NX7600GT-VT2D256E 8x AA, 16x AF

11
FEAR frame rates show similar results to the other tests in this section with both AA and AF enabled. The bottom line appears to be that the MSI NX7600GT-VT2D256E videocard doesn't quite have enough power to run AA above 2X.
What an awesome budget videocard!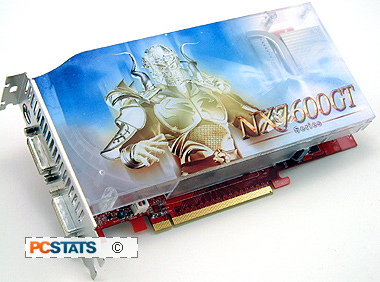 When nVIDIA released the GeForce 6600GT, it was the best mainstream core the tech community has seen in a long time. Almost two years later, it's still around and starting to show some signs of age. The new GeForce 7600GT is a worthy successor, and continues the tradition of excellent value... in other words it's not very expensive and offers good gaming capabilities.
The Geforce 7600GT is endowed with a sight increase to its GPU core clock speed, an increase in the number of pixel rendering pipelines and a large boost to its memory speed. These three changes add up to one package that offers a healthy boost in performance for the mainstream segment of videocard consumers (that means you and I, because who really buys those $800 videocards?). The MSI Computer NX7600GT-VT2D256E PCI Express videocard might not be based on the reference design, but it does right but the GeForce 7600GT GPU.
The MSI NX7600GT-VT2D256E is not just fast, MSI also improves on the already sweet GeForce 7600GT package. For starters the videocard supports the standard TV output features like S-Video and Component output, as well as video in options! Along with that is a full video software suite which includes decent video editing software. This time around MSI only include one game, but Prince of Persia: The Two Thrones is a pretty new title which definitely pushes the NX7600GT-VT2D256E a bit.
We knew right from the beginning that the MSI NX7600GT-VT2D256E would perform well but certainly didn't expect to see the frame rates that we got. In games like Splinter Cell: Chaos Theory, FarCry and Quake 4, the new mainstream GPU from nVidia performed close to that of GeForce 7800GT. Pretty remarkable for a videocard which retails in the $206 CDN ($186 US, £100GBP) area wouldn't you say?
To top things off the MSI NX7600GT-VT2D256E videocard was also a pretty decent overclocker... although if you're going to be pushing this card to the max, you'll have to have patience. The unit PCSTATS tested came clocked by default at 540 MHz core and 1400 MHz memory. PCSTATS was able to overclock it to run at 626 MHz core and 1568 MHz memory on a socket 939 AMD Athlon64 4000+ based test system with 1GB of OCZ Gold GX PC3500 DDR memory.
If you're seeking out a new PCI Express videocard, perhaps as an upgrade or because it's time to retire from AGP, I think what we've seen here underscores that the MSI NX7600GT-VT2D256E videocard offers a good price and performance ratio. As far as mainstream videocards go for gamers, the GeForce 7600GT GPU is certainly looking very promising against competition from ATI's Radeon X1600 series. Considering the amount of 3D "umph" the MSI NX7600GT-VT2D256E has, it's an absolute steal and so nVIDIA is certainly on the right track.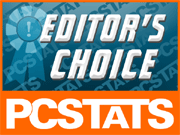 Find out about this and many other reviews by joining the Weekly PCstats.com Newsletter today! Catch all of PCSTATS latest reviews right here.
Related Articles
Here are a few other articles that you might enjoy as well...
- Asus EN7900GT TOP/2DHT/256M/A Videocard Review
- Asus EAX1600XT Silent/TVD/256M/A Videocard Review
- S3 Chrome S27 PCI Express Videocard Review
- PowerColor X1600 XT Bravo PCI Express Videocard Review
- Asus EN7800GT TOP Silent 2DHTV/256M Videocard Review