Overclocking Results:
Having never overclocked an nVidia GeForce 7600GT class videocard we didn't really know what to expect from the MSI NX7600GT-VT2D256E. Starting with the core first, we used nVidia nTune to increase its clock speed from 540 MHz on up....
Increasing the clock speed in 5-10 MHz intervals, the Geforce 7600GT core easily broke the 600 MHz barrier. Nice. Overclocking continued and eventually the GeForce 7600GT core settled on 647 MHz as its maximum speed. That's a pretty healthy overclock from the stock of 540MHz.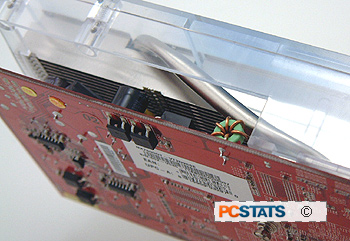 Next up was the 256MB of GDDR3 memory. Clocked at a swift 1.4 GHz by default, its speed was also increased in 5-10 MHz intervals.
The GDDR3 memory easily passed the 1.5 GHz barrier and almost cracked the 1.6 GHz barrier as well.... but not quite. The memory settled for a top speed of 1587 MHz.
Unfortunately the core and memory would not run together with each at its respective maximum speed. When we tried this the videocard would crash while running benchmarks. Those of you who have played with GeForceFX series videocards will probably remember how difficult it was to find the top core and memory speeds, the situation with Geforce 7600GT is reminiscent of this.
After some fiddling around, we settled on a 7600GT GPU overclocked speed of 626 MHz and a GDDR3 overclocked speed of 1568 MHz in order to complete benchmarks without any issues.
Prelude to Benchmarks
The details of how the MSI NX7600GT-VT2D256E test system was configured for benchmarking; the specific hardware, software drivers, operating system and benchmark versions are indicated below. In the second column are the general specs for the reference platforms this nVidia GeForce 7600GT based videocard is to be compared against. Please take a moment to look over PCSTATS test system configurations before moving on to the individual benchmark results on the next page.

PCSTATS Test System Configurations