Overclocking is a ton of fun and if you're interested in getting into it, do yourself a favor and save up some money beforehand. The only way to get the most out of overclocking is by buying high quality parts and that means you'll have to spend more than the average Joe.
Ask any seasoned overclocker about the importance of good memory and they'll talk your ear off. In fact I know many a dedicated overclocker who would rather spend more on good memory than the processor. So in case you haven't noticed by now, memory is one of the most important variables in an overclocker's system. If you don't overclock, you don't need this OCZ DDR2 PC2-7200 Platinum XTC memory.
OCZ's 2GB PC2-7200 Platinum XTC SLI Ready memory offers users an interesting mix of high speeds and low latency. With a retail price of $397 CDN ($354 US, £186GBP) for the 2GB kit, the 240 pin OCZ PC2-7200 Platinum XTC SLI Ready DDR-2 memory modules are pricey. What you get for your cash is a pretty alluring package, teamed up with potentially explosive specs. This is PC2-7200 DDR-2 after all!

OCZ PC2-7200 Platinum XTC SLI Ready DDR-2
RAM Memory Type: DDR2-900 / PC2-7200
Individual Module Capacity: 1024MB
Native Speed & Latency: 900 MHz @ CAS 4-4-2-15
Enhanced Performance Profiles (EPP): Yes
The 2GB OCZ PC2-7200 Platinum XTC SLI Ready memory kit has been rated to run up to 900 MHz while keeping CAS Latency timings of 4-4-3-15. The memory requires a stock voltage of 2.1V. The DDR-2 modules come wrapped in OCZ's XTC (Xtreme Thermal Convection) "heatspreaders", and it looks like the entire package has been deep-fried in the chrome-plater. Ahh the marketing of heatspreaders, they look nice and certain do just that.
Enhanced Performance Profiles embraced by OCZ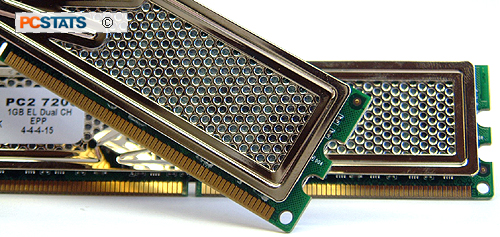 Enhanced Performance Profiles take over from where the Serial Presence Detect (SPD) EEPROM that is on every stick of memory leaves off, and adds extra information about how much faster the memory can run while remaining completely stable.
The EPP information permits compatible motherboard chipsets and BIOS' to dynamically adjust memory timings and voltages for improved overall performance without any user interaction. If you're an expert overclocker EPP provides a jumping off point, if you're a novice it does all the hard work for you automatically.
With automatic motherboard overclocking already a hit in the retail market, Enhanced Performance Profiles compatibility adds memory tuning to the performance mix. At the moment EPP memory is only compatible with the nVIDIA nForce 590 SLI chipset, but VIA and Intel are expected to follow suit the idea is being proposed to JEDEC as an open standard. We expect all chipset manufacturers will adopt EPP memory support in the BIOS for high end products soon.
Problems out of the Gate - Inadequate Documentation
The OCZ PC2-7200 Platinum XTC SLI Ready memory kit can require up to 2.1V, even just to run at DDR2-800 speeds.
This is something that we encountered in the course of testing, and if you've already picked up a pair of OCZ's PC2-7200 Platinum XTC SLI Ready modules you may have also had a similarly frustrating experience initially.
The Story:Right out of the gate, it was becoming clear that one of the two PC2-7200 Platinum XTC DIMMs would continuously reboot the Foxconn C51XEM2AA nForce 590 SLI motherboard used in the test platform. I assumed that this PC2-7200 Platinum XTC stick was just DOA, as intermittent reboots are the hallmark of bad memory (PCSTATS has an extensive guide on diagnosing bad memory here for your reference).
Faced with dead memory, OCZ's toll-free technical support phone line was put to the test. Armed with an impossible problem to fix, it would be a good way to test the mettle of OCZ's tech support staff. ;-) Eschewing any complex voice mail system, the call went directly to the support department and I was greeted by Sean, who was not informed he was speaking with PCSTATS. I described the issue that we were experiencing with the OCZ PC2-7200 Platinum XTC SLI Ready memory kit in relatively fluent tech terms (but not super-geek-speak), and gave a run down of the full system specs; motherboard, processor, videocard, that sort of thing. In a little over 2 minutes of call time, Sean had a fix for us.
The suggested fix was to insert just the working stick of PC2-7200 Platinum XTC memory, start up the PC and boot into the BIOS, then raise the memory voltage to 2.1V, save and exit. Next I was instructed to power down the system, install the "DOA" memory DIMM into the computer, and power the PC back up. I was a bit skeptical during the procedure, but kept quiet and followed the instructions given by the tech support rep. Wouldn't you know it, but thee PC booted up and the issue was solved completely! All in less than five minutes, not too shabby.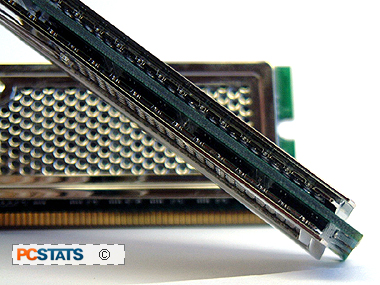 During subsequent benchmarking the test system did not display any signs of instability, and aside from the higher voltage driving the memory, everything appeared to be operating as intended. All the OCZ PC2-7200 Platinum XTC SLI Ready memory required was a higher voltage to "start off."
In conversations with an OCZ representative afterwards, it was acknowledged that this can be an issue with the PC2-7200 DDR-2 part. Clearly, OCZ should include some notice with the product to indicate higher stock voltages may be required for the memory if instability does occurs initially. It's not a far cry to assume other DIY overclockers may run into the same wall, but without quick access to the internet if their one and only PC is what's affected.
It's not often PCSTATS gets to grade a companies tech support service with a genuine problem that has us stumped, but in this case I was definitely satisfied with the response by OCZ's technical support personnel to the issues we encountered. Sean was very helpful and friendly, with none of that techie condescension that is unfortunately so common to the industry. After the system was back up and running Sean even suggested a couple ways to tighten up the memory timings, and how to enable Enhanced Performance Profiles (EPP) mode since we were testing with a Foxconn C51XEM2AA nForce 590 SLI motherboard.
OCZ's technical support receives a passing grade. However, with special extra steps like this it really ought to have included sufficient documentation in the first place. Next up, we get down and dirty with the OCZ PC2-7200 Platinum XTC SLI Ready memory and overclock it way past 1000MHz!