The Intel Pentium M processor is a product born out of necessity. In the notebook, consumers quickly discovered that the Intel Pentium 4 processor simply ran too hot, consumed too much power, and subsequently sucked batteries dry while making a racket with its critical cooling system. AMD on the other hand had the mobile Athlon 64, and later the mobile Turion processor which easily outclassed the Intel Pentium 4 in every which way.
The Intel Pentium M processor easily holds its own against the mobile Athlon64 in terms of performance and its trump card is its extremely low energy usage. The Pentium M is based on an older P6 architecture, the same key design elements which in fact powered Intel processors from the venerable Pentium Pro right through to the Pentium III. Intel reverted back to this tried and true processor core architecture because it was more efficient than the Pentium 4 NetBurst architecture.
While the Intel Pentium M is compatible with the Pentium 4 system bus, a single extra pin was added to discourage users from mistakenly attempting to install a mobile socket 479 Pentium M processor into a standard socket 478 Pentium desktop computer system. The potential of the Pentium M wasn't lost on desktop computer and motherboard manufacturers, and a few innovative companies soon ported over desktop computer designs to Socket 479 specifically for the Pentium M and its positive qualities. PCSTATS has seen a few Pentium M based computers pass our test bench, the most notable being a Shuttle xPC SD11G5 small formfactor PC. Desktop computer products for the mobile Pentium M (socket 479) processor remain fairly specialized, but owing to its superior performance against a Pentium 4, reduced heat output, and lower power demands socket 479 desktop components are being scooped up by enthusiasts quite readily.
After all, when a mobile 1.73GHz processor like the Intel Pentium M 740 can just about hold its own against a 3.2GHz Intel Pentium D 840 in office applications, something's definitely amiss....
Whether you're looking for a processor upgrade for your laptop or want to build a small but powerful system, the Intel Pentium M processor should definitely get some consideration. The processor that we'll be looking at specifically is the 479-pin Pentium M 740 model. It has a default clock speed of 1.73 GHz, runs on a 533 MHz (Front Side Bus) FSB and comes with a large 2MB of L2 cache. The processor retails for $224 CDN ($203 US, £107GBP) which doesn't make it cheap... but if you're looking for a slight upgrade for your aging laptop, or to build power efficient desktop this might be exactly what the doctor ordered.

Intel Pentium M 740 Processor

Tech Specs

Pentium M 740
Clock: 1.73 GHz
L1: 32KB + 32KB
L2: 2048KB
Multipiler: 13x
Package: 479-pin
Socket: 479
organic mPGA
Core: 90nm SOI
Vcore: 1V/1.35V
Cost: $203 USD
The Intel Pentium M 740 is physically the same size as a Socket 478 Pentium 4 processor, although it lacks the distinctive copper integrated heat spreader. This socket 479 processor is absolutely not compatible with socket 478 motherboards - in case there was any lingering doubt. There are 479 pins on the bottom of the chip and the Pentium M processor cannot physically be installed into a Socket 478 socket. The Pentium M series of processors do not come with heat spreaders to protect the silicon die, so use caution when attaching the heatsink.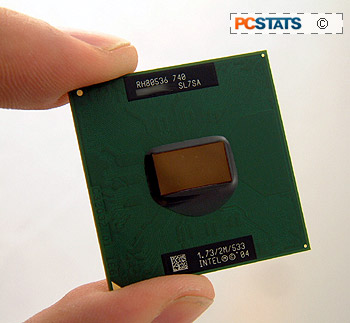 The Intel Pentium M processor is only sold in retail box and does not come with a heatsink. Notebooks already have a cooling system built into them, and Pentium M desktop motherboards or Small Formfactor PCs like the AOpen 'Mac Mini' will come with a specialized heatsink of their own.
The Intel Pentium M 740 processor that we'll be looking at today is based on 'SL7SA' stepping, and was built in week 36 in 2005. The processor has a default clock speed of 1.73 GHz and runs on a 533 MHz FSB. The large 2MB L2 cache really improves performance compared to Intel Pentium M processors with just 1MB of L2.
Other technological features include support for MMX, SSE, SSE2, Intel's Enhanced SpeedStep technology and Execute Disable Bit.
The 'M740 processor is built on Intel's 90 nanometer manufacturing process and the core contains a whopping 140 million transistors. The biggest knock one can make against the Intel Pentium M is that it dose not support 64-bit software. Most mordern processors do, so if you need WindowsXP-64 compatibility this is not the correct processor for you.
The Intel Pentium M bus is compatible with two specific chipsets, the Intel 855 and 915. Asus was able to get the Pentium M to run on the Intel 865PE..... however that required the use of a special converter card. Virtually all desktop Pentium M processors use the mobile 915 (915PM or 915GM) chipset as it's more modern than the Intel 855 series.
Aside from the ultra portable notebook class (which usually have the CPU soldered directly onto the motherboard), replacing a notebook processor is very simple process once you get past all the chassis and electrical components. If you're considering the Intel Pentium M 740 for a notebook upgrade, take a moment to double check that your laptop is based on the Intel 855 mobile platform, and that it supports the Dothan core. Laptops using Intel's newer 915 based chipsets are compatible with the Pentium M 700 series processors, so upgrading is a snap. If you're not sure what chipset your laptop is using, CPU-Z will identify it for you.
Intel's success with the Pentium M processor teamed up with the manufacturing problems with die shrinks lead to the demise of the Pentium 4. In fact the successor to the Pentium 4, the Intel Core 2 Duo is based on the Pentium M design, not bad for what was initially thought of as an interm BandAid fix.