For most computers, the coolest cutting edge technology really isn't necessary - it's nice, but overkill for simple workstation tasks that haven't changed too much in the last three years. You know, normal everyday stuff like checking email, doing work on the 'puter or surfing the web.
There is no bigger luxury item in the world of computers, aside from videocards, than tuned memory. And don't get me wrong, with the right computer components highly overclocked low latency RAM is the stuff of legends... The flip side is that killer enthusiast grade DDR-II costs a fortune, and unless you're really stressing your computer system with bleeding edge applications and a processor overclocked to the hilt, it just isn't necessary. Welcome to the world of the everyday computer, and it is here that mainstream memory suppliers like SyncMAX dish out nice dual channel memory kits.
It can be hard to wade though a sea of generic memory modules, and so it helps to read the reviews on prospective candidates for your PC first. In this review PCSTATS is going to walk past the isle with the flashy memory all decked out in heat spreaders, lights, bells, and inflated price tags, and head towards this pair of PC2-6400 DDR-II 800 memory modules from a company called SyncMax. If you're looking for memory that won't break the bank and still offers up respectable performance, the retail price of $170 CDN ($150US, £80GBP) makes SyncMax's 1GB kit of dual channel DDR-2 seem like quite a bargain.
Here are the juicy details. The 240-pin SyncMAX Express PC2-6400 DDR-II memory kit (2 x 512MB) has been certified to run in a dual channel configuration at speeds of 800 MHz, with CAS latency timings of 4-4-4-12 (on 1.9V). The memory does not come with an SPD which is EPP enabled.

SyncMAX PC2-6400 Express DDR2-800
RAM Memory Type: DDR2-800 / PC2-6400
Individual Module Capacity: 512GB
Native Speed & Latency: 800 MHz @ CAS 4-4-4-12
Enhanced Performance Profiles (EPP): No
The SyncMAX PC2-6400 Express DDR2 DIMMs are single sided which means there are only DRAM modules on one side of the module. That information will be important to users with limited memory bank support, usually only the case with budget-oriented chipsets. SyncMAX memory is vendor neutral and its memory functions just fine in both Intel and AMD systems.
SyncMAX are based in Canada, and it offers the industry standard one year warranty on its mainstream memory products. The company has a technical support phone line if needed too, but a worldwide toll free 1-800 number would have been nicer.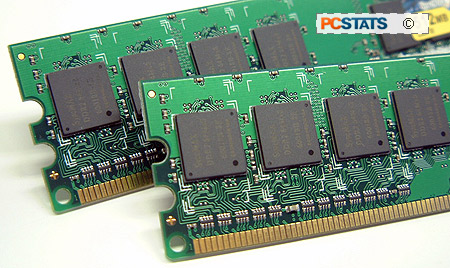 The modules PCSTATS received for testing are remarked under the SyncMAX brand, and each DRAM module carries the lable '60018B-8E'. That doesn't tell us much, but considering the memory's low price, it shouldn't matter fishing for Cas-to-ras settings is unimportant.
PCSTATS Test Methodology
On AMD test systems, we're only interested in seeing how high we can go with the memory running 1:1, as running with other dividers puts the overclocking bottleneck elsewhere and not with the system memory. The DDR2 RAM latency must run at its lowest possible setting, as quick access is more important to the CPU design.
Just for arguments sake, we will also be conducting overclocking tests to see how high the memory will go with lax timings (5-5-5-15), although we will only benchmark the system with the tight memory timings mentioned above.

Overclocking Results:

Before I got down to overclocking the Syncmax Express PC2-6400 DDR2 memory, I first lowered the multiplier of the Socket AM2 AMD Athlon64 FX-62 processor used in the test system to 6x mode. This adjustment ensures it will not affect the memory overclocking process.

Starting at 200 MHz and keeping the default 4-4-4-12 CAS latency memory timings, I pushed the Syncmax Express PC2-6400 DDR2 memory clock speed up in 2-4 MHz increments. The PC2-6400 modules didn't get very far before the first roadblock cropped up, at 220 MHz. The memory voltage had to be increased to 2.0V in order to stabilize it. The SyncMAX Express modules hit another snag at 228 MHz and the voltage had to be increased to 2.1V before the system would reliably boot into WindowsXP when overclocked to this degree.

With 2.1V applied the Syncmax Express PC2-6400 DDR2 memory reached a maximum overclocked speed of 238 MHz in our tests... I didn't push the memory voltage much higher because the SyncMAX PC2-6400 Express is not intended for overdclocking so we left it at that.
Considering the sticker price and CAS latency timings of 4-4-4-12 I think 238 MHz is pretty respectable from a mainstream pair of DDR2-800 modules.
On a hunch I also tried loosening up the memory timings to 5-5-5-15, just to see how much further the SyncMAX PC2-6400 Express would overclock in that plane. Starting at the 238 MHz mark, and moving up in 2-4 MHz jumps, the modules quickly reached a max of 266 MHz motherboard clock speed (1064 MHz memory clock speed). Nice.
Up next, several rounds of benchmarks and the maximum overclocking tests