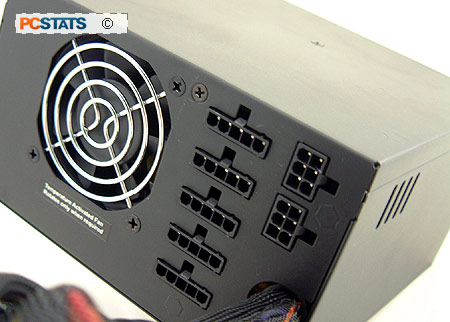 The modular power supply design is trendy, and practical. It addresses a common problem of excess cables in the chassis, and you have to wonder why this type of thing wasn't thought up sooner...
Seasonic hasn't done anything revolutionary with its M12 power supply, it just put together a very high quality package with a 700W rating. With a retail price of $240 CDN ($214 US, £113 GBP) the M12 700 is certainly expensive, but dare I say, it is probably one of the best modular power supplies on the market. Based on our past experiences with Seasonic power supplies, we know it deliver the goods efficiently - a modular design simply sweetens things.
The Seasonic M12 700W can deliver a true 700W of power while under load, not just during peak moments.
Even though the Seasonic M12 700 has some hefty specs, Seasonic was able to fit everything into a box that's no bigger than your average power supply. That makes installation a breeze, many high wattage PSU's are physically larger and do not always play nice with mid tower cases. Inserting the modular cables into the M12 700 is easy and smooth, with the lock on top you can rest assured that cables will not slip out of position.
Performance of the Seasonic M12 700 in our battery of tests was only bettered by Seasonic's own S12 Energy Plus SS-650HT. Whether you're trying to build a flashy system for that upcoming LAN party or want to use something that's easy to maintain, the Seasonic M12 700 can handle every task.
Find out about this and many other reviews by joining the Weekly PCstats.com Newsletter today! Catch all of PCSTATS latest reviews right here.
Related Articles
Here are a few other articles that you might enjoy as well...
- Seasonic S12 Energy Plus SS-650HT 650W Power Supply Review
- Powerware 5125 1000VA UPS Review - Ready for Blackout Season?
- Mushkin Enhanced XP-650 Power Supply Review
- PC Power & Cooling Turbo-Cool 1KW Power Supply Review
- Seasonic S12 600W Power Supply Review