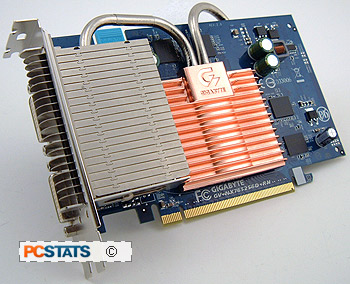 Whether you're dodging incoming enemy fire from that 'helo' in Ghost Recon: Advance Warfighter, testing that new Battlefield 2142 beta or playing your best strategy in Civilization 4; a good videocard can truly boost your level of enjoyment in all games.

nVIDIA has increased the value quotient in the GeForce 7600GT and if you're looking for a value/mainstream videocard, it'll probably have 7600GT stamped on its core. Gigabyte's take on the Geforce 7600GT comes in the form of the totally silent GV-NX76T256D-RH videocard. With the large silent cooling system, you get not just a fairly fast mainstream videocard, you also get something that's absolutely silent.

With a retail price of $195 CDN ($172 US, £97 GBP), the Gigabyte GV-NX76T256D-RH is definitely a steal. The videocard runs through the PCI Express x16 bus, supports dual DVI outputs as well as TV and component output. It is not HDCP compliant however. Whether that will be an issue or not in the future we're not sure, but it would have been nice if Gigabyte could have included this technology now.

The Gigabyte GV-NX76T256D-RH is certainly unique with its dual slot Silent Pipe II Cooling system. It takes up two slots and the two heatpipes divide the videocard core heat load between two radiators. The system depends on system airflow so it's vital that you have your fans adjusted properly in your system if you want to use any passively cooled videocard. During testing the Silent Pipe II heatsink worked quite well, and its radiators were moderately warm to the touch when benchmarks were running.

Overall the performance of the Gigabyte GV-NX76T256D-RH was good. It did well in most tests like 3DMark05/06, FarCry, Doom 3 and Quake 4. In fact framerates were in the same region as an Asus GeForce 7800GT videocard and that's not too shabby at all! Games like Splinter Cell: Chaos Theory and FEAR were tougher on the GV-NX76T256D-RH, and lower resolutions are most certainly needed to play those titles properly.

The Gigabyte GV-NX76T256D-RH overclocked very well and hit a maximum core speed of 628 MHz, while the memory ran at a blistering 1612 MHz. You wouldn't have figured it as much, but overclocking really had little to negligible affects on the benchmark results. Perhaps the GeForce 7600GT is system limited with an Athlon64 4000+ processor...

Gigabyte has put together a fairly attractive package with its GV-NX76T256D-RH. The videocard offers a great mix of value and performance, and all in a silent package. If you're in need of a new videocard, this a good mainstream solution to consider. It doesn't cost as much as the high end baby's, and it doesn't perform as quickly as they can at full resolution and with all the eye candy turned on, but as the benchmarks illustrated the Gigabyte GV-NX76T256D-RH certainly holds its own when it's in its sweet spot. For anyone that games occassionally, or just needs a silent videocard, this is a great mainstream example of what to look for.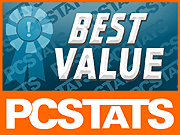 Find out about this and many other reviews by joining the Weekly PCstats.com Newsletter today! Catch all of PCSTATS latest reviews right here.
Related Articles
Here are a few other articles that you might enjoy as well...
- MSI NX7950GX2-T2D1GE Geforce 7950GX2 Videocard Review
- MSI NX7900GT-VT256E-HD HDCP-enabled Geforce 7900GT Videocard Review
- Asus EN7900GT TOP/2DHT/256M/A Videocard Review
- Asus EN7600GT Silent /2DHT/256M/A Geforce 7600GT Videocard Review
- MSI NX7600GT-VT2D256E Geforce 7600GT Videocard Review