With the GeForce 7600GT, nVIDIA not only makes good on an excellent GPU, it also raises the performance and value standards for you should expect of a mainstream videocard!


81% Rating:

Home > Reviews > Video Cards > Gigabyte GV-NX76T256D-RH
Following up on a successful product is always difficult, and is so often the case in the computer industry we're left with a sense of wanting after a fantastic videocard hit its EOL.... With the GeForce 7600GT, nVIDIA not only makes good on an excellent GPU, it also raises the performance and value standards for you should expect of a mainstream videocard!
Flashing back to the days the GeForce 6600GT took off, there are almost a million different versions of the GeForce 7600GT available now (well no, not literally ) and that's a sure sign of a strong model. From super high end overclocker friendly videocards, to the run of the mill GeForce 7600GT's or silent videocard versions, there is a variant of the GeForce 7600GT to suit everyone's needs.
Gigabyte has produced a completely silent GeForce 7600GT videocard that offers gamers who are sensitive to noise a decent 3D rendering packages. It keeps up with the latest games yet and is easy on the wallet at $195 CDN ($172 US, £97 GBP). The Gigabyte GV-NX76T256D-RH GeForce 7600GT GPU is backed up by 256MB of DDR3 memory and runs through the PCI Express x16 bus. Should you need a bit more 3D rendering power, this videocard is SLI compatible for dual videocard rendering goodness.
The GV-NX76T256D-RH supports dual monitors (digital or analog) and also has TV Output/Component output for high definition TV's - just in case you want to use your PC to watch movies. Unfortunately the GV-NX76T256D-RH is not HDCP compliant, so when this standard comes into play you may find yourself looking elsewhere. At the moment however, HDCP is just an annoyance, and is not enforced by high definition content.

Gigabyte GV-NX76T256D-RH Videocard




Includes:

User's Manual, Driver CD, Civilization IV Game CD, TV/Component Break Out Box, DVI to Analog Converter.
Like most modern PCI Express videocards of this class, the nVidia Geforce 7600GT core is built on the 90 nanometer manufacturing process. The GeForce 7600GT generates a moderate amount of heat, but rather than slap on a big thermal solution that sounds like a vacuum cleaner going at full tilt, Gigabyte have opted for a large dual heat pipe heatsink which uses system airflow and is completely silent - they call it the 'Silent-Pipe II.'
We'll talk a little more about the heatsink in just a bit, but first let's take a look at what the GeForce 7600GT GPU has to offer.

As mentioned, the 90nm GeForce 7600GT core has a die area of 125mm's square, and within this small space are 12 pixel rendering pipelines (up from 8 on the 6600GT) and 5 Vertex rendering pipelines (up from 4). The '7600GT's core clock speed runs at a smooth 560 MHz, and its GDDR3 memory at 1400 MHz! The memory controller remains at 128 bits wide.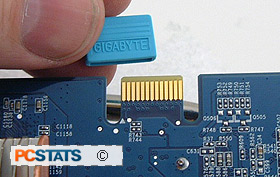 Judging by the specs, the GeForce 7600GT should significantly outperform the previous generation GeForce 6600GT's, and even possibly even the GeForce 6800''s too. We'll decide this question in a moment with the aide of several rounds of gaming and synthetic benchmarks.
The GeForce 7600GT is SLI capable so you double them up and potentially see GeForce 7900GTX style performance in certain SLI -friendly games, while saving a couple of hundred dollars.
In terms of power draw, the Gigabyte GV-NX76T256D-RH runs easy on the juice and does not require any extra power connections. Now let's have a look at this 100% silent VGA heatsink....