Abstract: This card can be great for any SOHO situation, and for $69CDN is well worth it. Occasional gamers and DVD also fly on this 16MB card. Read more to find out how QIII performs!!
75% Rating:
Home > Reviews > Video Cards > Pine Savage 4
Pine S3 Savage 4 16MB AGP review
---
With the big $443 CDN ($300 USD) video cards hogging the spotlight recently, I've decided to throw a budget video card into the fray. Today's lucky contestant comes in the form of a $69 CDN ($47 USD) S3 Savage 4GT powered, "Pine, S3 Savage4 AGP" card. Here are the specs from the back of the box: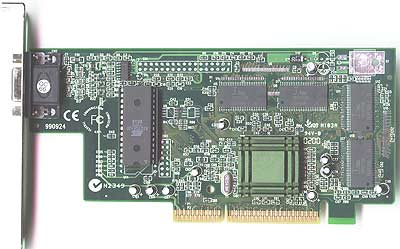 Pine S3 Savage 4 AGP (PT5987)

Graphics Engine:S3 Savage 4GT (AGP 2X)
S3TC"! (S3 Texture Compression)
32-Bit rendering
Trilinear filtered single-pass multi-texturing
16 MB Frame Buffer
Maximum 2D / 3D resolution 1920x1080
Optimized Direct3D and OpenGL acceleration
AGP Ram Sharing Technology
We all know that the Geforce DDR that is in my Box O'Pain is definitely going to be faster than the Savage 4GT but let's see exactly how much faster it is. Bear in mind that this is a $69 video card ideally suited for SOHO applications such as surfing, and doing a little bit of Excel. However the front box does claim to be a 3D VGA chipset, and I honestly believe that 3D benchmarks are a lot more exciting than 2D benchmarks (especially since 2D "matured" a long time ago.)

Bao's Box O' Pain:
Intel Pentium III 600E @ 800EB (1.75 Volts)
Abit VT6X4 Motherboard (w/ 4 in 1 v 4.20 drivers)
Pine S3 Savage 4 AGP [PT5987] (w/ latest drivers available from the Pine website: S3 Savage4 Win98 Driver Version 4.11.01.8007-8.10.23)
2 X 128MB PC-133 Micron (CAS 3)
IBM Desktar 13.6GB 7200 RPM ATA/66
Creative Labs Sound Blaster Live Platinum
"SOHO" 10/100 NIC
D-Link 530TX 10/100 NIC
Toshiba 5X DVD
Plextor 8432A CDRW
"Super Case" -- Midtower with an Enermax 350 Watt power supply.
Windows . 98 SE
SEARCH PCSTATS

---

Use the power of Google to search all of PCSTATS and the PCSTATS Forums. Tell us what you think of this new feature - FEEDBACK?