Did you ever wonder who controls the fate of the entire PC universe? You do. And you do it by adopting, or not adopting new technology like the Intel Core 2 Duo, or the 945PL Express based motherboard PCSTATS is testing today. There is power in numbers, and manufacturers make a point to ensure prices are kept down just for you, frills are trimmed, and production costs are rock bottom. This effects computer hardware quality, and even the performance of a good meat and potatoes platform... which is why online reviews are so handy. It's like test driving a computer before you spend a cent!
The Gigabyte GA-945PL-S3 motherboard is an affordable Intel platform of complementary technologies for consumers on a budget. Best suited to the upcoming 'Conroe-L' Celeron processor, the GA-945PL-S3's system bus runs at 800/533MHz FSB. The list of features here is a short one, but all the major must have's for a modern day computer are ticked off: USB2.0, multi-channel audio, 3GB/s Serial ATA support and Gigabit networking. This is a good no frills motherboard, inexpensive and ideal for office workstation environments where PCs are used for simple tasks like email, the internet, and running office applications.

Gigabyte built the GA-945PL-S3 motherboard around the mainstream Intel 945PL Express northbridge and ICH7 southbridge chipset. The board is compatible with Intel's full range of Core 2 Duo, and Pentium 4/D/EE & Celeron processors. As you know, the Core 2 Duo natively runs on a 1066MHz FSB, so there will be a performance penalty running these chips on a 945PL Express based system with an 800MHz or 533MHz FSB . Anyhow, keep an eye out for those Conroe-L CPUs, they will be the best processors to use with the GA-945PL-S3. For the purposes of this review, PCSTATS will be testing the GA-945PL-S3 motherboard with a 2.4GHz Intel Core 2 Duo E6600 processor, running at 1.8GHz.
The ATX-sized GA-945PL-S3 accommodates a maximum of 2GB of DDR2 400/533 memory in a dual channel configuration; just enough to allow Microsoft Windows Vista to squeeze by. On the short list of the GA-945PL-S3's hardware goodies we find an integrated Realtech 8111B Gigabit network card, Intel Azalia High Definition 7.1-channel audio codec (the necessary surround sound cable to take advantage of all 7.1 channels is an optional extra however), four USB2.0 jacks, four 3GB/s SATA connections and one IDE channel.

Gigabyte GA-945PL-S3 Motherboard



Includes:

User Manual, Driver CD, Ultra/133 IDE Cable, Floppy Cable, (2) Serial ATA Cables, I/O Shield.
Card based peripherals can be installed into any of the boards three 32-bit PCI slots, three PCI Express x1 slots, or its PCI Express x16 videocard slot. A videocard like the Asus EAX1950Pro would be a good gaming option for this board, or if gaming isn't your thing the Gigabyte GV-NX76T256D-RH would also be an excellent choice; it's a silently cooled Geforce 7600GT videocard.
The GA-945PL-S3 board has four 3GB/s SATA channels and a single IDE channel (up to two Ultra DMA100/66 devices). This encompasses all the storage possibilities of the GA-945PL-S3 motherboard apart from a floppy connector if you still use those little 1.44MB slabs of plastic. RAID is not supported. There are two USB2.0 headers, but they go unused as no brackets are included with the slim pickings bundled along with the board.
The Gigabyte GA-945PL-S3 retails for $98 CDN ($80 US/£40 GBP), making it an incredibly affordable solution with which to build a 'Conroe-L' or Intel Core 2 Duo-based computer from. With passive cooled heatsinks on both the Intel 945PL Express and Intel ICH7 chipsets, there are no fans to add noise or fail in the long term either, so it's quiet too.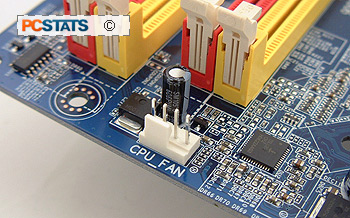 The layout of components on the GA-945PL-S3 is organized and generally easy to access. If a PCI Express x16 videocard is installed, there is still enough room so DD2 memory can be inserted. The board is equipped with a 24-pin ATX power (20-pin compatible) and 4-pin auxiliary 12V power connector. Use a 300W or greater power supply, and be sure to connect both cables.
The one IDE channel is a bit annoying, so if you are building a completely new system ensure all hard drives are SATA. Get in the habit of leaving IDE to the DVD-burners. Rather surprisingly, the Realtek 8111B Gigabit network card connects to the Intel 945PL Express chipset over a dedicated PCI Express x1 connection.
There's nothing particularly notable bundled in with the motherboard itself, and certainly no brackets for the PCB-level USB headers or the bracket for 5.1/7.1 HDA surround sound. The driver CD includes a copy of EasyTune 5 and a Windows based BIOS update utility.
The printed user's manual that accompanies the GA-945PL-S3 is well written, and will guide newbies through the steps of getting this board up and running. The motherboard PCB is well labeled; most headers and ports have a description close by. For a detailed guide on the subject building your own computer see PCSTATS Beginners Guide to Assembling a PC.
Next up is the breakdown on the full feature set of the Intel 945 Express series chipset, including the 945PL Express which is used on the Gigabyte GA-945PL-S3 motherboard...