For gamers, there's never such a thing as enough speed, or eye candy, or graphics details, or physics processing, or.... well you get the idea. From framerates to eye candy, we're all looking for ways to get more from our computer gear. Overclocking is usually the quickest and most affordable route, and manufacturers (motherboards to videocards and memory) have certainly made things easier with custom utilities that support such tweaking.
While enthusiasts have been overclocking videocards for years now, one of the biggest limitations has been a lack of voltage controls. Perhaps it's not surprising, voltage options for videocards will probably dramatically decrease the lifespan of the components tuned to run together in harmony, and swapping out videocard heatsinks for custom coolers is tricky for those without much experience.
Well, Biostar is about to turn the videocard enthusiast market on its head with the release of the Sigma-Gate GeForce 7600GS videocard.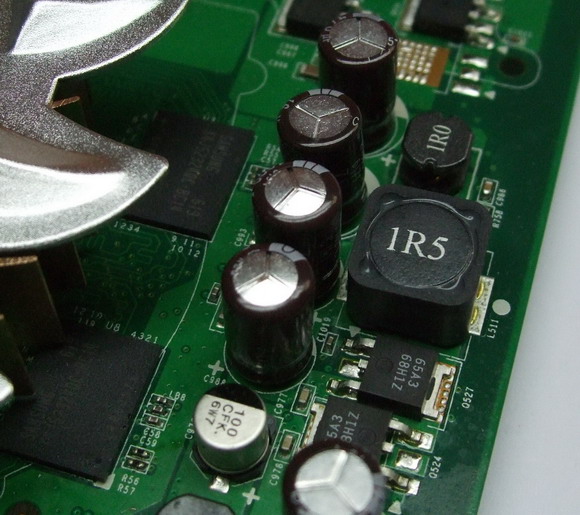 Update Spring 2012: This Biostar Geforce 7600GS videocard FAILED due to burst capacitors. Two visible capacitors have burst, causing loss of stability and secondary screen to the card which was in use.
At first glance the Biostar Sigma-Gate GeForce 7600GS looks like a rather vanilla mainstream videocard, but included in the package is a very very unique piece of software. Biostar's two videocard overclocking programs allow you to not only tune the core and memory clock speed from within Windows XP, but also adjust the GPU core and memory voltages! The application even recognizes other models of nVIDIA videocards from other vendors...
What's it like to overclock a videocard with full control over the voltage fed to the Geforce 7600GS GPU, and GDDR3 memory? Pretty darn cool! You can play it safe and overclock with the default voltage settings (for GPU/memory) of course, but the real fun happens when you open up a tool called the "V-Ranger" and key in some pretty serious voltage adjustments. There is enough room to manoeuvrer with the voltage values, that mainstream and hard core overclocking enthusiasts alike will be satisfied... again, all from the comfort of your Windows XP desktop.
The Biostar Sigma-Gate GeForce 7600GS (model: V760GS-21) retails for $149 CDN ($131 US, £66GBP). This PCI Express x16 videocard comes with a video output break out box which includes component output for high definition video, and S-Video output for standard definition displays. There are no games included with the videocard. The nVidia Geforce 7600GS GPU is paired with 256MB of Samsung GDDR3 memory.

Biostar Sigma-Gate GeForce 7600GS Videocard




Includes:

User's Manual, Driver CD, Video Break Out Box
Don't let the rather plain look of the Biostar Simga-Gate GeForce 7600GS fool you, it's a pretty wild videocard. When the card is running under load the GeForce 7600GS core does not generate a lot of heat. A small actively cooled single-slot aluminum heatsink is all that is required, and thankfully the fan does not generate much noise.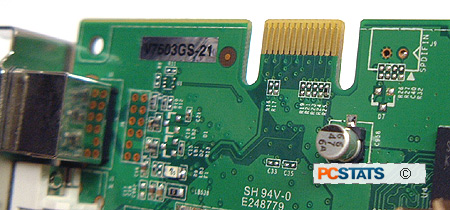 The 90nm nVidia Geforce 7600GS supports two outputs, one analog and the other digital DVI, plus an additional s-video TV-output. The card supports a maximum video resolution of 2048x1536 at 60Hz, and is SLI compatible.
When a second Geforce 7600-series videocard is installed into an SLI compatible motherboard, the Biostar Simga-Gate GeForce 7600GS can be configured to run in SLI mode with it by connecting a SLI adaptor to the card edge connector at the very top of each graphics adaptor.
The Geforce 7600GS GPU supports DirectX9.0c, CineFX 4.0, OpenGL 2.0 and Shader Model 3. The card also supports High Dynamic-range Lighting (HDR), H.264, MPEG-2, WMV9 High Definition Video, nVidia PureVideo and nView multi-display technologies.
 The Biostar Simga-Gate GeForce 7600GS is Microsoft Windows XP and Windows Vista compatible. Biostar does a decent job with the user's manual even though it's fairly generic. It will be able to guide even novice computer users through installation and basic software set up.
We're going to get our hands dirty overclocking the Biostar Sigma-Gate GeForce 7600GS videocard with the Sigma-Gate and V-Ranger overclocking utilities, but first a little High Definition testing is in order. Skip ahead if you want to jump right into the GPU and memory voltage control section...