In the world of computers, compact PCs always finish first. If you've never seen a small form factor PC in real life, it's remarkable how much a conventional PC can be shrunk down, how small technology can get. Using mainly desktop components and custom sized motherboards, there's practically no limit to how small a PC can go without loosing all the coolest features. That is until a point, a motherboard can be miniaturized, drives can be shrunk, but there's only so much you can do to decrease the total volume of standard off the shelf parts...
The majority of small form factor PCs are about the size of the average toaster, which is considerably smaller than a regular desktop PC. Yet to build a compact PC that's even smaller, designers must depart from desktop components and utilize parts originally made for laptops.
AOpen has employed an unorthodox method of building its super small, super compact, super quiet miniPC MP945-VX small formfactor system. It has essentially turned a laptop (minus the LCD display) into a uber-compact macMini-esque desktop computer. Albeit one that is barely larger than a stack of six CD cases. Laptop components definitely allow smaller and more energy efficient systems to be built, but such luxuries come at a financial and performance cost. The high level of miniaturization with laptop parts tends to dictate a higher price than an equivalent desktop small formfactor box. Even with a small price premium, AOpen has succeeded in creating a rather nice Mini system here.

AOpen Mini PC MP945-VX Super Multi Small Formfactor PC

Includes:

AC Adapter, Video output cable (Analog & DVI), DVI to analog converter, driver CDs, antenna, user manual, software CDs.

Installed Specifications
Memory: 1024MB PC2-5300
Processor: 1.86 GHz Intel Core Duo T2400
Hard Drive: 80GB Fujitsu 2.5" HDD
Optical Drive: UJ-845S DVD/Combo
Motherboard: i945GMx-F
Wireless: 802.11 b/g
The miniPC MP945-VX is built with Intel's very reliable 945GM and ICH7M chipsets (a pair of mobile core logic), and supports the Intel Core Duo Socket M (478-pin) mobile processor family. Everything else is based on notebook hardware which is compact, cool running, and quiet. The barebones AOpen miniPC MP945-VX system does not include a processor, memory or hard drive but does come with everything else including a dual layer slot loading DVD burner and wireless LAN! Not too shabby for a retail price of $420 CDN ($375 US, £203 GBP)!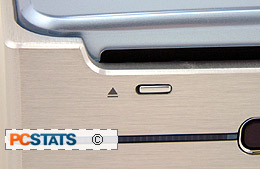 The unit PCSTATS will be testing in this review came fully installed with a 1.86GHz Intel Core Duo T2400 (socket M 478-pin, Yonah) processor, 1024MB of PC2-5300 CL5 SO-DIMM Acer memory, an 80GB Fujitsu MHV2080BH 2.5" SATA hard drive and 802.11g/b wireless miniPCI WLAN card. The slimline slot loading DVD/Combo drive is standard to the miniPC MP945-VX system.
The AOpen Mini PC MP945-VX is physically the same size as the AOpen MP915-B Super Multi PCSTATS previously tested out to much acclaim, although the casing has been modernized and no longer resembles the Apple Mac Mini. With everything completely installed the Mini PC MP945-VX weighs in at just under 1.5kg, and occupies a volume of 1.36 liters. The slot dual layer DVD writer is an especially nice touch.
The Mini PC MP945-VX system supports a socket M (478-pin) Mobile Intel Core Duo/Solo processor (533/667MHz FSB) and up to 2GB of DDRII-433/533/667 SO-DIMM memory. Onboard video is delivered via the Intel GMA950 videocard. The onboard graphics processor is HDCP compliant and has a multitude of video outputs that we'll cover in a moment.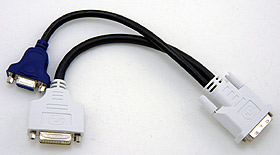 The system has one miniPCI slot, which came populated in the system PCSTATS tested with a Liteon WN2302A 802.11b/g wireless LAN network card. A gigabit ethernet jack supports wired networking out the back. There are no internal PCI Express or PCI expansion slots, no PS/2 keyboard or mouse ports, no printer or serial ports.
As there are just two USB2.0 jacks for peripheral devices we highly recommend connecting a USB hub to the MP945-VX system first, and then your USB keyboard, mouse and printer to that. There are three internal USB headers on the small motherboard itself, but there is no way of actually using them given the non-expandibility of the compact aluminum chassis. If there is anything to grumble about with the Aopen MP945-VX, it is this lack of USB2.0 ports right out of the gate.
The MP945-VX system is powered by a 65W external Delta DC12V power supply - basically the same as you would find with a notebook. The input voltage range is 100-240VAC, so the the AOpen Mini PC MP945-VX can be used anywhere in the world. This PC is also so compact that it can be used virtually anywhere, say even on the back of a 50" plasma screen....