Overclocking Results:
Asus is well known for its overclocking abilities and we had some high hopes from the P5B-E motherboard. The board was equipped with an Intel Core 2 Duo E6600 processor and a set of Corsair Twin2X2048-6400C4 memory. Before the overclocking began though the memory frequency was first set to run at DDR2-533 MHz mode, this way the memory will not hold the system back.
Starting at 266 MHz FSB, the motherboard clock speed was increased in small 5 MHz steps. The Asus P5B-E motherboard was definitely up to the overclocking challenge and passed the 300 MHz mark very easily. 350 MHz came and went by pretty easily too which was impressive, we didn't even increase the Northbridge voltage yet.
At 360 MHz the system started to show signs of instability and the Northbridge voltage had to be increased to 1.6V. Once that was done the motherboard FSB was increased yet again. At 385 MHz the system would start to BSOD while loading WindowsXP, increasing the Intel P965 Express Northbridge voltage to 1.7V fixed that issue.
To our pleasant surprise the Asus P5B-E motherboard was even able to crack 400 MHz, however it didn't go much further and fizzled out at 406 MHz FSB. That's a very quick speed to reach with an air cooled system, with better cooling I'm positive the P5B-E could go even higher. To reach this speed, the CPU voltage also was increased to 1.55V. It could have gone higher but that's about as far as we wanted to go with a simple air cooler.
The Asus BIOS: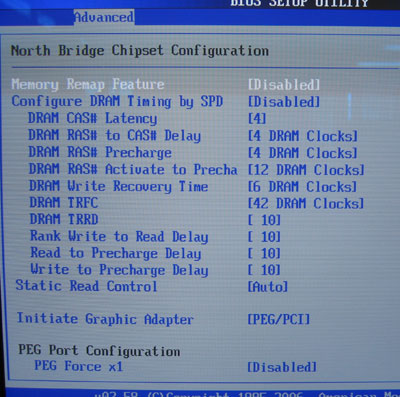 The Asus P5B-E has all the usual memory timing adjustments that we've come to expect from mainstream performance motherboards. In fact it has some memory timing adjustments we're not use to seeing so find out where the Clear CMOS jumper is before you start tweaking! ;-)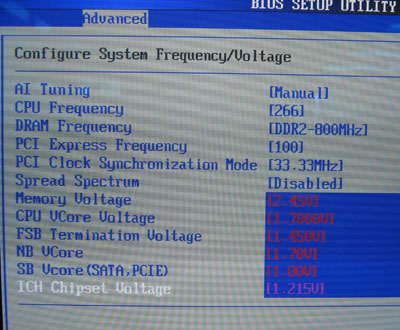 You can adjust the FSB between 266-650 MHz in 1 MHz increments, there are a whole slew of DDR2 memory options from DDR2-400 to DDR2-800 and even DDR2-889 and DDR2-1066 (not officially supported). Memory voltage goes up to a maximum of 2.45V, CPU voltage to 1.7V, Northbridge voltage to 1.7V, Southbridge voltage to 1.8V and ICH Chipset voltage to 1.215V.
Prelude to Benchmarks
The details of how the Asus P5B-E motherboard test system was configured for benchmarking, including the specific hardware, software drivers, operating system and benchmark versions are indicated below. In the second column are the general specs for the reference platforms this Intel P965 Express based system is to be compared against. Please take a moment to look over PCSTATS test system configurations before moving on to the individual benchmark results.

PCSTATS Test System Configurations