One of Intel's greatest strengths is its manufacturing capability. It has completely flooded the motherboard market with chipsets from the entry level on up, which is just one of the reasons why there are hundreds of Intel based motherboards out there.
Even though the Intel P965 Express chipset is officially designated mainstream, it's arguably a more advanced chipset compared to the 975X Express. That's what makes P965 Express based motherboards such a steal, great performance and a strong list of features for a moderate price.
Now is an excellent time to upgrade your PC if you've been itching to do so. All the revolutionary parts have been completed and for the next year or so there will only be evolutionary changes to current technologies. There won't be any big CPU releases that will make everything obsolete until at least the end of 2007, that is when native quad core processors will be introduced by both Intel and AMD.
Asus has a large selection of Intel motherboards to choose from, and its P5B-E looks pretty good for a no fuss Core 2 Duo motherboard. With the Intel P965 Express Northbridge and Intel ICH8R Southbridge, the motherboard supports all current Socket 775 processors. From the Celeron D to the Pentium 4/D series and the Intel Core 2 Duo/Extreme processors (FSBs from 533-1066 MHz) the Asus P5B-E makes upgrading for current Socket 775 owners a breeze.
The Asus P5B-E motherboard sports four DDR2 memory channels which can be installed with a maximum of 8GB of non-ECC unbuffered DDR2-400 to DDR2-800 memory. Onboard goodies include an Attansic PCI Express x1 Gigabit network card, an Intel Azalia compatible 7.1 audio controller, IEEE 1394a and of course an IDE controller since Intel removed IDE from the ICH8 series Southbridges. There are a fair amount of expansion options too. A PCI Express x16 slot for videocards, three PCI Express x1 slots for high bandwidth devices and three 32 bit PCI slots for legacy peripherals. The board supports one IDE channel, seven SATA devices, and even has an external SATA port at the rear IO. RAID comes standard with the ICH8R southbridge.
The Asus P5B-E motherboard has a retail price of $173 CDN ($151 US, £76 GBP) which puts it in the middle in terms of price range for P965 Express motherboards. It is RoHS compliant as well.

Asus P5B-E Motherboard



Includes:

User's Manual, Driver CD, Ultra/133 IDE Cable, Floppy Cable, 4x Serial ATA Cables, 2x Molex to 2 Serial ATA Power Cables, Q Connector, I/O Shield
The Asus P5B-E motherboard is almost retro looking with its tan coloured PCB. Those of you with smaller cases will be happy to hear that the P5B-E is smaller than most Intel Core 2 Duo motherboards on the market at 305 x 229 mm.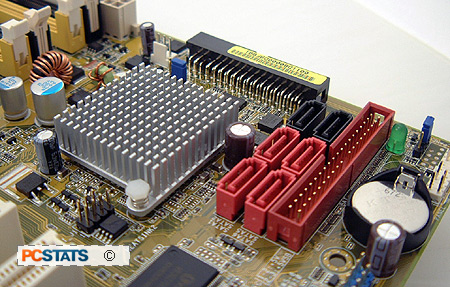 The layout of the Asus P5B-E motherboard overall is good. Asus does a good job at putting the headers from USB to COM and IEEE 1394 at the edge of the PCB which keeps cables out of the way.
I'm scratching my head though as to why Asus puts a Serial ATA channel at the bottom left hand corner of the motherboard. Hidden away down there it's in a poor location, Asus should have placed it hear the Intel P965 Express Northbridge instead. The little Serial ATA cable is not much and would not disrupt airflow.
I do like how Asus stacks all the Southbridge Serial ATA II channels and parallel port together at the bottom right hand corner, it makes connecting hard drives easy.
Enthusiast users will be happy to hear that the Clear CMOS jumper is easy to access to the right of the ICH8R Southbridge. I'm a huge fan of the Asus Q Connector, it allows you to connect the front panel I/O pins without hunching over the motherboard. It makes system maintenance easy too as you don't have to spend a lot of time connecting the pins when reinstalling the motherboard.
It's nice that motherboard manufacturers finally recognize the needs of modern users and equip the rear I/O with useful ports. It would have been nice if Asus could include a few more USB ports on the back, but four isn't bad. There's also an IEEE 1394a and eSATA port, both of which can be handy too.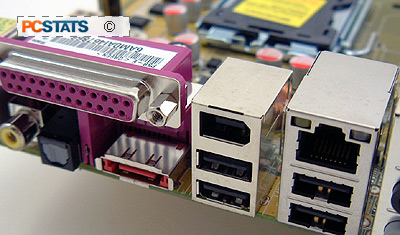 If I must pick on something it's that Asus does not include two physical PCI Express x16 slots on the P5B-E motherboard. The motherboard might not be targeted towards high end gamers, but if the Intel P965 Express supports CrossFire, there's no excuse not to include a second PCI Express x16 slot. More options is always good and would increase the P5B-E's value.