Did you ever wonder who really controls the fate of the PC universe? You do. And you do it by adopting, or not adopting new technology like the Intel Core 2 Duo, or the 945P Express based motherboard PCSTATS is testing today. There is power in numbers, and manufacturers make a point to ensure prices are kept down just for you, frills are trimmed, and production costs are rock bottom. This effects computer hardware quality, and even the performance of a good meat and potatoes platform.
The Epox EP-5P945 Pro is a budget performance motherboard is an affordable Intel platform of complementary technologies for consumers on a budget. The EP-5P945's system bus runs at 1066/800/533MHz FSB, so you can use high end Intel Core 2 Duo or Core 2 Quad processors as well. The list of features here is a short one, but all the major must have's for a modern day computer are ticked off: USB2.0, multi-channel audio, 3GB/s Serial ATA support and Gigabit networking. This is a good no frills motherboard, inexpensive and ideal for office workstation environments where PCs are used for simple tasks like email, the internet, and running office applications.

Epox built the EP-5P945 Pro motherboard around the mainstream Intel 945P Express northbridge and ICH7 southbridge chipset. The board is compatible with Intel's full range of Core 2 Duo, and Pentium 4/D/EE & Celeron processors. The ATX-sized EP-5P945 Pro accommodates a maximum of 4GB of DDR2 400/533/667 memory in a dual channel configuration; enough to allow Microsoft Windows Vista to operate nicely. On the short list of the EP-5P945 Pro's hardware goodies we find an integrated Realtech 8110SC Gigabit network card, high definition 5.1-channel audio codec, four USB2.0 jacks, four 3GB/s SATA connections and one IDE channel.

Epox EP-5P945 Pro Motherboard



Includes:

User Manual, Driver CD, Ultra/133 IDE Cable, Floppy Cable, (2) Serial ATA Cables, I/O Shield, thermistor, pack of BGA heatsinks.
Card based peripherals can be installed into any of the boards three 32-bit PCI slots, two PCI Express x1 slots, or its two PCI Express x16 videocard slots. A videocard like the Asus EAX1950Pro would be a good gaming option for this board, or if gaming isn't your thing the Gigabyte GV-NX76T256D-RH would also be an excellent choice; it's a silently cooled Geforce 7600GT videocard. It's important to note that the Epox EP-5P945 Pro and the Intel 945P chipset are not compatible with nVIDIA SLI or ATi CrossFire, the dual physical PCI Express x16 slots are for multiple displays.
The Epox EP-5P945 Pro board has four 3GB/s SATA channels and a single IDE channel (up to two Ultra DMA100/66 devices). This encompasses all the storage possibilities of the EP-5P945 Pro motherboard apart from a floppy connector if you still use those little 1.44MB slabs of plastic. RAID is not supported. There are two USB2.0 headers, but they go unused as no brackets are included with the slim pickings bundled along with the board.
The layout of components on the Epox EP-5P945 Pro is organized and generally easy to access. If you want to access the memory slots and are using a longer videocard, the PCI Express x16 videocard must be removed. The board is equipped with a 24-pin ATX power (20-pin compatible) and 4-pin auxiliary 12V power connector. Use a 300W or greater power supply, and be sure to connect both cables.
The one IDE channel is a bit annoying, so if you are building a completely new system ensure all hard drives are SATA. Get in the habit of leaving IDE to the DVD-burners. Epox equip the EP-5P945 Pro with a Realtek 8110SC PCI Gigabit network card. It's cheaper than using a PCI Express alternative but means when running at full speed will sap all the available bandwidth on the PCI bus.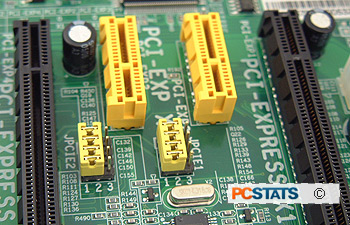 There's nothing particularly notable bundled in with the motherboard itself, and certainly no brackets for the PCB-level USB headers or the bracket for 5.1/7.1 HDA surround sound.
The printed user's manual that accompanies the Epox EP-5P945 Pro 945P is well written, and will guide newbies through the steps of getting this board up and running. The motherboard PCB is well labeled; most headers and ports have a description close by. For a detailed guide on the subject building your own computer see PCSTATS Beginners Guide to Assembling a PC.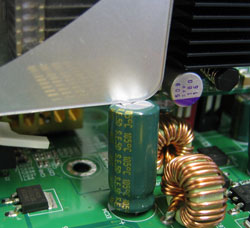 Overall the layout of the Epox 5P945 Pro is good however there's this one large Sanyo 6.3V 3300 microfarad capacitor that gets in the way with videocard heatsinks. The MSI NX7800GTX-VT2D256E uses a single slot cooler and as you can see from the picture on the right, the capacitor comes in contact with the videocard. The way the capacitor is soldered onto the motherboard, you cannot bend it out of the way. When installing videocards you must use caution, potentially you can damage both the videocard and motherboard!
Port 80 Diagnostics card
Epox has long equipped its motherboards with Port 80 diagnostics card and the EP-5P945 Pro is no different. The two digit Port 80 display is located right on the PCB on the lower right hand corner just above the floppy drive connector. Whether you're a tweaker or not, in times of hardware trouble the little Port 80 device makes life a lot easier.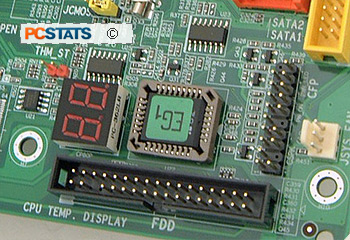 The standards that dictate what codes are displayed on the Port 80 card have been around for years, and the values are the same no matter what brand or model of motherboard you use (if it has the card anyhow). Even if your motherboard doesn't have one, it's possible to get a Port 80 diagnostics PCI card to install into the system if you do a lot of troubleshooting.
Here's a quick rundown on the most common Port 80 errors. 'C1' usually indicates a system memory problem, usually that the memory has been overclocked too high for the computer to POST. 'C0' tells us that the L2 cache on the processor is running too fast, a '26' error is a bit more vague but usually indicates to enthusiasts that the system has overclocked too high and cannot POST. 'FF' means hardware wise everything was able to pass the POST tests although it's still possible for you to have other hardware stability issues.
If you do run into problem with your system the Port 80 should be the first thing you check. It's possible that it may display an odd two digit value so keep the user's manual handy because Epox has a reference at the back of its user's manual.
Next up is the breakdown on the full feature set of the Intel 945 Express series of chipsets, including the 945P Express which is used on the Epox EP-5P945 Pro motherboard...