The iStar Nitro AX is a full tower steel computer chassis based on a very familiar and accessible internal layout; drives are caged on sliding rails up front, panels and doors are tool free and there's more than a few nods towards reducing computer noise. We have all suffered a noisy hard drive or loud cooling fans at some point in the past, so it is nice to see mainstream PC chassis like the Nitro AX with parts that help to address this. The case stands 21" tall, and will house five 3.5" hard drives in sliding trays. The trays are mounted at 90 degrees to the motherboard, so hard drives can be removed from a fully installed system without first pulling out the videocards, or memory modules first. On top of that convenience, the hard drives each rest on four rubber mounting points which help absorb vibrations and prevent them from being transmitted to the rest of the chassis.
The all black case is constructed of 1mm thick SECC steel, with a plastic front bezel that incorporates a large decorative extruded aluminum shield which can support two CCFL lights behind (not included). The aluminum rounds out the front of the case, and it looks fairly professional when closed. Once opened up it does have a slightly odd appearance though, since the metal extends down quite a ways. Up top, a secret flat allows access to the first CDROM without even opening up the front of the chassis.
The iStar Nitro AX case has a honeycomb vented side panel that meshes up with an internal fan duct to provide a cool air source directly to the CPU fan. The case side panel lockable, and on the inside there are plenty of quick install expansion spaces for hard drives & CDROM. The case will accommodate a full sized Intel or AMD motherboards on a removable board tray
iStar's Nitro AX case retails in the region of $130 CDN ($115 USD, £65GBP), and does not come with a power supply. Most aftermarket chassis do not ship with a power supply, so if you need one you'll want to look though some of the SLI friendly power supplies PCSTATS has recently reviewed.

iStar Nitro AX Full Tower Case

Includes

Instructions and necessary mounting hardware (screws, brass stand offs and rails), keys, fan scoop. No power supply is included.
The Nitro AX is a full tower case, and it measures 8" wide, 19.75" deep and stands 21.5" tall. This model comes in a couple of different colours, but the black unit PCSTATS reviewed looks the best in our opinion; you can never go wrong with an all black case. The iStar Nitro AX is based on the ATX formfactor and the removable motherboard tray in it accepts ATX, Micro ATX and Flex ATX motherboards with a footprint up to 10" x 12" mm. Up to seven PCI slots are available, and true to form there is a tooless mechanism for fixing the PCI brackets in position. A single, 120x120mm thermally responsive case fan is mounted at the rear of the case to help exhaust warm air from within the chassis quietly.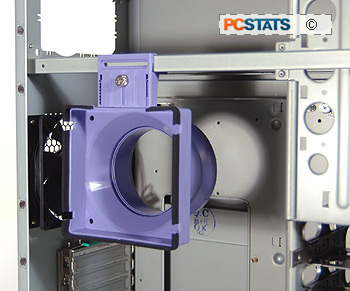 There is space for an additional 120mm fan to be installed behind the front bezel, but this is an optional extra. A third 120mm fan (optional, not included) fits into a purple fan duct which is positioned over the CPU area, and its exact position is adjustable by a few inches in either direction. The fan duct extends in depth so it can snugged right up to the processor fan, set to deliver a stream of fresh cool air through honeycomb grill on the chassis side panel.
Nitro AX Highlights and Raw Details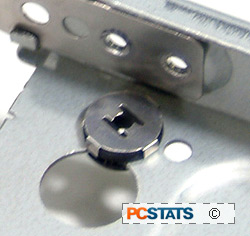 The iStar Nitro AX has five 5.25" drive bays, two 3.5" FDD drive bays that fit into one quick release tray, and five internal 3.5" hard drive spaces. Each hard drive has its own individual quick release drive tray, complete with vibration reducing rubber mounting pads. The 3.5" drives need only be screwed onto the quick release tray, and from then on installing or removing both drives is tool free.
Regrettably, the way the 3.5" FDD drive tray is constructed, one really can't use it for extra hard drives without the front of the drive being visible from the outside. The optical drives are first attached to plastic quick release rails (cleverly stored on the backside of each of the five 5.25" drive bay bezel covers!), and then slide in or out with the push of a finger.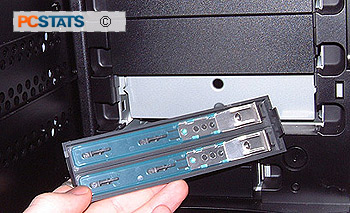 A single page manual comes with the iStar Nitro AX case, and along with the assorted screws and motherboard standoffs are ten sets of rails for 5.25" ODDs and an adjustable purple plastic fan scoop. The front bezel panel is pre-wired with a bunch of front panel connectors, which we'll go over in just a moment.
At lest two optional extras not included with the model PCSTATS reviewed, can be added to further customize the iStar Nitro AX case. On the underside of the bezel's large aluminum shield two CCFL or LED strip lights can be installed to give an erie glow. A 120mm fan can be mounted just behind the front bezel to improve through-case airflow as well.
The front panel bezel has two USB jacks, two audio jacks, and a IEEE 1394 port ready for quick access on a clever little revolving tab. The block of front panel I/O ports can be rotated 90 degrees, to face the front of the case or the side. No matter if the iStar Nitro AX is packed in side-to-side with other computers, or just sitting on top of your desk, the front panel data jacks are immediately accessible.