The face of the Icy Dock MB452 is easily what sets it apart from the other external removable racks on the market. Nice and simple, clean lines, and no flashy LEDs to distract. The silver lever allows the drive caddy to be pulled out, and hids the lock. The lock has three positions, locked with power and without, and unlocked. In locked mode, the HDD is given power and is accessible to the system. In unlocked mode the HDD does not receive power and the drive caddy can be removed.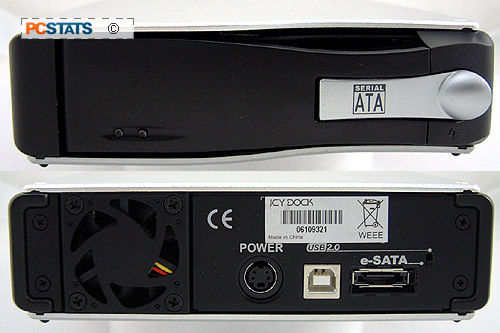 At the rear of the Icy Dock MB452 is a 40mm cooling fan, the power jack, USB2.0 jack and eSATA socket. Above the two data ports is a small switch that toggles between USB or eSATA (it is hard to see here, and easy to forget about.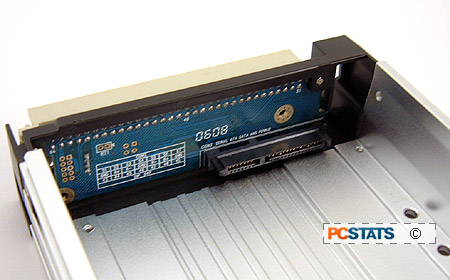 As you can see, the Serial ATA back plane in the drive caddy sports a single Serial ATA/power connector which is physically compatible with every Serial ATA HDD on the market. Just slide in a SATA hard drive and secure it via the mounting holes at the bottom of the caddy with a few screws.
We're not going to benchmark a SATA hard drive in the Icy Dock MB452 because serial ATA devices like this do not have any significant impact on data transfer speeds. When used in USB2.0 mode, data transfer speeds are a little slower.