To be honest, I can't recall many good experiences using removable hard drive racks, particularly the single slot kind. PCSTATS has tested a few of these devices over the years and they've all worked, but just about every one has eventually been pulled and set aside for one reason or another. You probably have a similar pile of unused hardware too. What is it about the luxury of removable hard drive racks that is so geekily alluring, but so short lived?
Installing a removable hard drive rack necessitates a little PC on PC tinker time, so it's best to have a phillips screwdriver handy before beginning. Dropping the hard drive into its aluminum or plastic removable shell and remembering to not loose that futile key is about all it takes though.
Removable hard drive racks allow the drive to be pulled from the bay of the computer in a matter of seconds, should the need arise. It most often never does. This is most likely why removable hard drive racks fall out of favour so quickly; once installed there is nowhere to remove the hard drive caddy too. Wouldn't it be great if we could pull out that removable hard drive rack from the PC, and instead of sliding into another computer, pop it into a portable external hard drive chassis that can go anywhere?
Well, lucky for us Icy Dock have introduced just such a product. The Icy Dock MB452 is an external eSATA and USB2.0 hard drive enclosure whose removable drive caddy is compatible with the companies PC mounted MB122SKGF system. The removable serial ATA hard drive caddy's are interchangeable with each product family, allowing internal and external drives to be swapped in a few moments.

IcyDock MB452 External HDD Enclosure

Includes:

Installation Guide, Screws, Keys, eSATA cable, USB2.0 cable, AC power adaptor.
Of the data transfer standards used by the external hard drive enclosures, eSATA is the best by far. The Icy Dock MB452 supports External SATA, and USB2.0 which is 100 times more common, but slightly slower.
In our specific case, with an Icy Dock MB122SKGF installed in the computer case and one MB452 sitting on the desktop we've got a system of removable hard drive enclosures which make it practical to have removable hard drives in the first place. Pull the SATA drive out of the computer and drop it into the external enclosure, and vice versa. Regardless of what computer the external hard drive enclosure connects to (notebook, desktop, server, etc) the data is portable and always within easy reach. The internal hard drive removable racks are basically limited to full desktops, servers and mid-tower cases, so it kind of begs the question why these two seemingly important components were ever sold separately in the past, doesn't it?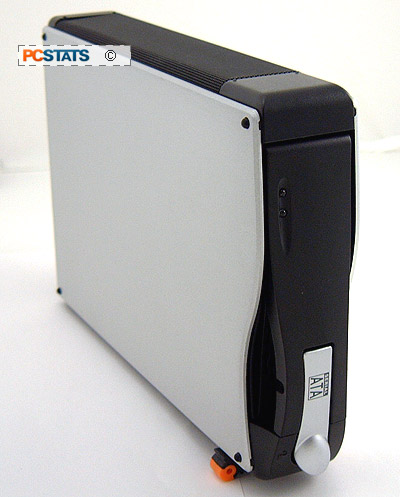 In this review PCSTATS will be looking at the Icy Dock MB452 external SATA hard drive enclosure and its removable drive caddy. The unit is black in colour with some nice aluminum detailing and vibration reducing rubber feet; multiple units can be stacked one atop the next, or it can be stood on its edge on rubber feet. The HDD caddy is made of aluminum, supports serial ATA I and serial ATA II hard drives only.
At the rear of the external chassis is a small 40mm to help draw warm air out the back and keep an active hard drive cool. The chassis is vented along the sides as well, but since the hard drive is full enclosed in the aluminum caddy this is all rather pointless in our opinion. On the front of the HDD caddy are a pair of status LEDs.
The Icy Dock MB452 is powered by an AC adaptor, and comes with a set of keys, one 6 foot shielded USB cable and one 42" long shielded eSATA cable. The unit must be plugged in to operate, neither eSATA nor USB deliver enough power to support a hard drive. IcyDock include everything a user will need to set up the M122SKGF, aside from a Serial ATA hard drive of course. The installation guide is a one page affair, but detailed enough to be useful.
Two Things To Remember
There are only two things you need to be aware of when using the Icy Dock MB452; first the caddy must be fully in the slot and locked before it will power up. Serial ATA is hot swappable, so this is a bit annoying although understandable. Second, and this is the one thing likely to cause any user the most trouble with the Icy Dock MB452 is that you have to tell it which mode to operate in.
A small sliding switch on the rear of the MB452 chassis determines if it connects through eSATA cable or USB2.0 cable. If you get the cable and setting mixed up, the MB452 will not work once it powers up.
Next up we'll go over getting the Icy Dock MB452 running, and talk about the differences between eSATA and SATA.