Usually when there's one dominant player in the market, its products are far and away better than anything else its competitors have to offer. In the microprocessor land, there's a very interesting situation. Intel's Core 2 Duo does hold a lead over AMD's Athlon64 X2 series, however in most applications you probably won't even notice this!
That has given AMD and its partners a bit of breathing room. As the saying goes, if you can't match Intel then drop your prices. That's the strategy that AMD has been following, and it has resulted in some good success. AMD also has the whole entry level market going for it, AMD computers can be converted to higher end PCs with less changes. With AMD it's usually as simple as installing a bit more memory and perhaps a faster videocard. With Intel you often have to swap out the motherboard for something with a more powerful chipset.
nVIDIA's GeForce 6100 series AMD motherboards have been a hit by any measure you like, and most come in the MicroATX motherboard format. That limits the motherboard's ability to expand and support more features, so PCSTATS was pleased to see Epox release a full sized ATX motherboard built on the nVidia GeForce 6100 chipset.
The Epox EP-AF550G Pro supports all Socket AM2 AMD Athlon64/X2/FX and Sempron processors, and up to 16GB of DDR2-800 memory. The board obviously includes an integrated DirectX 9.0C compatible Geforce 6-series videocard. The EP-AF550G Pro hits all the standard bullet points like Gigabit networking, high definition 5.1 channel audio, Serial ATA II with RAID options, nearly a dozen USB 2.0 slots, and one lowly IDE channel. The nVIDIA nForce 430 Southbridge supports RAID modes 0, 1, 0+1 and 5.
Expansion comes care of the PCI Express x16 slot for videocards, a PCI Express x1 slot for higher bandwidth devices and four 32 bit PCI slots. All this for a retail price of just $105 CDN ($90 US, £45 GBP). The Epox EP-AF550G Pro a very enticing board for those looking to build an inexpensive PC, and with onboard graphics you can differ buying standalone videocard until you really need one.

Epox EP-AF550G Pro Motherboard



Includes:

User Manual, Driver CD, Ultra/133 IDE Cable, Floppy Cable, (2) Serial ATA Cables, I/O Shield
The Epox EP-AF550G Pro motherboard is very well laid out and it is an easy board to install. The onboard GeForce 6100 videocard will be just fine for typical 2D office applications, email, web, and things of that nature. It produces satisfactory 3D gaming framerates, but if you desire to play the newest game titles you're best of installing a PCI Express x16 videocard. There's plenty of space between the PCI Express x16 slot and the adjacent slot so videocards with dual slot heatsinks are not a problem.
The Epox EP-AF550G Pro motherboard board has four 3GB/s SATAII channels, and one IDE channel (up to two Ultra DMA100/66 devices). There's also a floppy drive connector if you still use that medium.
The EP-AF550G has three USB2.0 headers, but they will probably go unused as no USB brackets are included with the slim pickings bundled along here.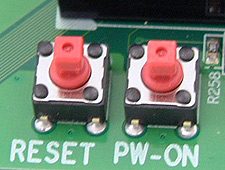 If you're building a new machine you might as well get a new power supply that supports the ATX 2.0 spec. While the EP-AF550G Pro will run on ATX 1.4 type power supplies, it's not recommended.
Rounding out the list of things that stood out to use was a PCI Express x1 based Realtek 8111B Gigabit network card. With the device running along the PCI Express bus, it won't sap any bandwidth from any PCI peripherals you may install down the road.
The Port 80 Diagnostics card
Epox has long equipped its motherboards with Port 80 diagnostics card and the EP-AF550G Pro is no different. The two digit Port 80 display is located right on the PCB on the lower right hand corner just above the floppy drive connector. Whether you're a tweaker or not, in times of hardware trouble the little Port 80 device makes life a lot easier.
T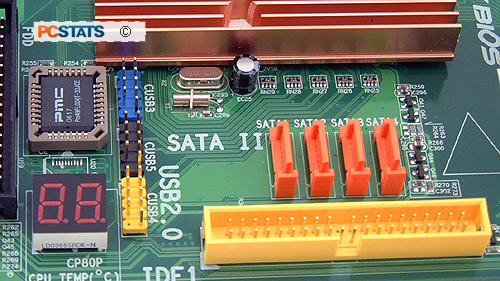 he standard that dictates what codes are displayed on the Port 80 card have been around for years, and the values are the same no matter what brand or model of motherboard you use (if it has the card anyhow). Even if your motherboard doesn't have one, it's possible to get a Port 80 diagnostics PCI card to install into the system if you do a lot of troubleshooting.
Here's a quick rundown on the most common Port 80 errors. 'C1' usually indicates a system memory problem, usually that the memory has been overclocked too high for the computer to POST. 'C0' tells us that the L2 cache on the processor is running too fast, a '26' error is a bit more vague but usually indicates to enthusiasts that the system has overclocked too high and cannot POST. 'FF' means hardware wise everything was able to pass the POST tests although it's still possible for you to have other hardware stability issues.
If you do run into problem with your system the Port 80 should be the first thing you check. It's possible that it may display an odd two digit value, so keep the user's manual handy because Epox has a reference at the back of its user's manual of all the codes.