If you're a gamer in need of a new system, you've definitely got some difficult decisions on your hands. Intel's Core 2 Duo processor is quite a bit more powerful than AMD's Athlon64 X2 and FX, however AMD's trump card is that it has better videocard support.
After almost two years, we're finally starting to see game developers start to truly support nVIDIA SLI and ATi CrossFire technology. Games like FEAR or Ghost Recon: Advance Warfighter do have a noticable increase in performance when running with two videocards. Future titles will surely expand on this further, SLI and CrossFire is not just for looks anymore!
Between ATi and nVIDIA, the Santa Clara squad has definitely been more successful, due mainly to a strong one-two combination of good chipsets and fast performing videocards. The nForce chipset not only outperforms the competition, it also comes with features. The nForce 500 series chipsets for example include technologies include Media Shield, and for the high end nForce 590 SLI chipset, FirstPacket and LinkBoost.
These days a PC has to have a lot of bling to really catch your eye. It's the same thing with car enthusiasts supe up their rides, computer enthusiasts are spending more and more time trying to make things cool. Not only does the Asus M2-CROSSHAIR have a bunch of LEDs, it also has a host of useful lit buttons (Power, Reset, Clear CMOS) and an LCD display! Based on the nForce 590 SLI chipset (C51XE Northbridge, MCP55XE Southbridge) the Asus M2-CROSSHAIR motherboard retail for $266 CDN ($240 US, £126GBP).
Onboard accessories include dual Gigabit network jacks, IEEE 1394a firewire, six Serial ATA II/RAID ports via the MCP55XE Southbridge and two eSATA Ports on the rear I/O (thanks to an onboard Marvell Serial ATA II controller), eight USB 2.0 slots (four at the rear I/O, four via headers) and a stand alone ADI 1988B high definition Intel Azalia 8-channel audio card. The Asus M2-CROSSHAIR supports all current Socket AM2 AMD Athlon64/X2/FX and Sempron processors that run on a 2 GHz HyperTransport. The four DDR2 DIMM slots accommodate up to 8GB of PC2-6400 (DDR2-800) unbuffered, ECC and non ECC memory.
There are two PCI Express x16 slots for SLI compatible videocards, an additional PCI Express x4 slot, and three 32-bit PCI slots. The two SLI videocard slots operate with a full 16 PCI Express lanes apiece, and are spaced far enough apart that videocards with dual-slot cooling solutions can be used.

Asus M2-CROSSHAIR Motherboard




Includes:
User's Manual, Driver DVD, WinDVD Suite Enhanced CD, PCI Express x1 Soundcard, Microphone, 1x Ultra/133 IDE Cable, 1x Floppy Cable, 6x Serial ATA Cables, 3x Dual Serial ATA to Molex Power Cables, Heatsink Fan, 3x Thermistors, Zip Ties, Asus Q Connector, USB Bracket, IEEE 1394 Bracket, Key Chain



Accessories and Features for Gamers
There's little doubt that the Asus M2-CROSSHAIR is designed for the gamer. From LED lights all along the PCB to the LCD display on the rear I/O and the massive chipset coolers, the M2-CROSSHAIR is as fancy as it gets. Asus include a few special extras that any enthusiast can appreciate; thermistors for temperature monitoring, an electroluminescent rear I/O shield with LCD display, flexible SLI bridge connector, and a few other items pictured below....
For the hardware enthusiast, there are three thermistors which can be placed anywhere on the board or on internal peripherals like the videocard. This allows you to track and log temperatures of various devices in your system with a software application Asus provide. Keep tabs on the temperature of the videocard(s), memory and even the MOSFETs. The values can be read with the Asus Probe software that's included on the driver CD.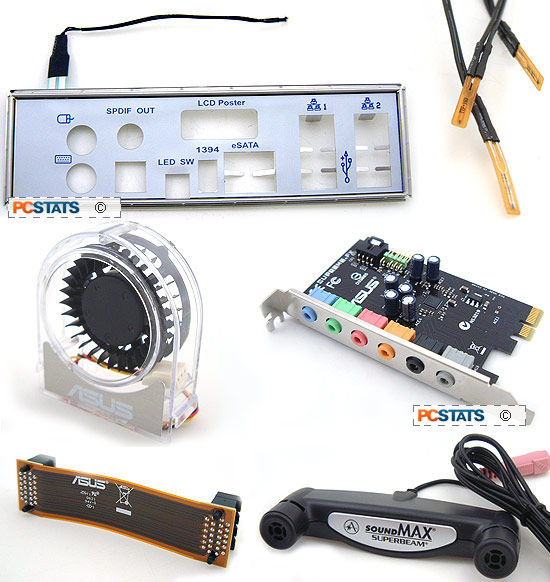 The squirrel cage fan that comes with the Asus M2-CROSSHAIR is a nice touch. The copper fin heatsinks around the AMD AM2 CPU socket are designed to be cooled by the exhaust airflow from the processor fan itself, however if you choose to go water or phase change cooling, that fan won't be there to do that job. The squirrel cage fan installs onto the heatsink directly in such a case, ensuring that it, and the nVidia nForce 590 SLI chipsets which are connected via heatpipe remain operationally stable and do not overheat.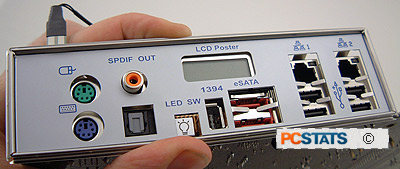 Real estate is precious on the Asus M2-CROSSHAIR, so instead of integrating the soundcard on the motherboard PCB and taking away a good majority of the space along the rear i/o panel, Asus has made the device into a standalone soundcard. Now mind you, the ADI 1988B high definition Intel Azalia 8-channel audio card runs in a proprietary slot, but it's nice that you can remove it if necessary.
A stereo microphone is bundled in so gamers chatting during a game can have better fidelity. The SoundMAX SUPERBEAM has a Velcro pad on the bottom so it can be stuck to the top of your monitor, or pretty much on any other ledge. This is a nice change from the standard mono-microphone, and a handy feature for gamers as voice communication is much quicker than typing!
All motherboards have their own custom I/O shield, but the one that comes with the Asus M2-CROSSHAIR is certainly unique. Not only does it have excellent labeling (a rarity), all the lables lights up! With the power cable connected to the motherboard, the electroluminescent backlight shines and all markings are visible even in low light situations! It makes connecting up cables under a dark desk so much easier, and looks pretty cool too. The little light bulb button shown here is backlit, and turns the boards' LED lighting system on or off.At the center of the illuminated I/O shield is a small backlit LCD display called the "LCD Poster." The Asus LCD Poster displays actual boot error messages, and few other bits of information we'll be discussing in more detail momentarily.

Next is one of the cooler features on the Asus M2-CROSSHAIR, internally illuminated detailed user buttons. There are Power, Reset, Clear CMOS and LED Switch buttons which shine bright blue. If you're a case modder the LED buttons will add a distinct feel to you system for sure. The buttons are all in easy to access locations and function well.